Sailing and Selling the Great Lakes: What to Know About Cruise Offerings
by Brittany Chrusciel /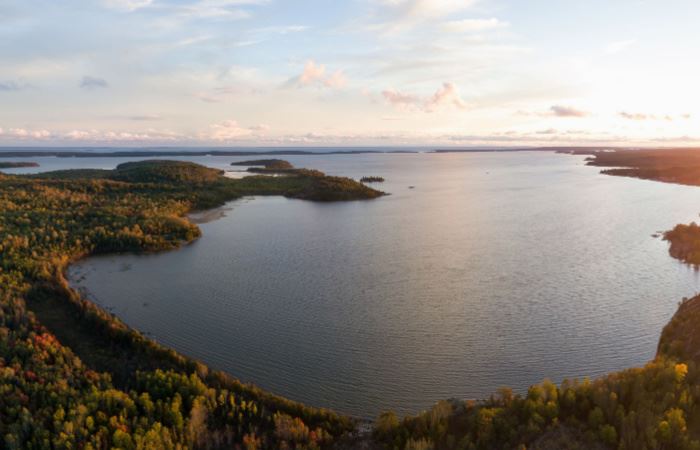 The appeal of the Great Lakes as a cruise itinerary was gaining traction prior to 2020, but a global pandemic has only accelerated interest in this multifaceted destination spanning the U.S. and Canada, considered "close to home" by North Americans. The entrance of Viking into the region gives this cruise option even more household recognition, and it's also expanding the definition of a Great Lakes cruise from quaint, sleepy sails into lakeside ports to expedition-style voyages with active excursion options and science-based enrichment.
Primarily summer vacation communities for Canadians and Midwesterners, the territory of the five Great Lakes is still being charted by cruise lines; providing 20 percent of the earth's fresh surface water, these lakes contain a whopping 6 quadrillion gallons and at times feel more like sailing a sea than a lake, with water stretching beyond the horizon line. It's a lot of land and lake to cover in one voyage, giving cruise companies exciting opportunities to develop and expand on Great Lakes offerings into the future.
So, what do clients need to know if they're considering a Great Lakes cruise vacation? This overview of cruise lines, itineraries, and practical tips aims to help answer those questions.
American Queen Voyages
American Queen Voyages has shed some of its slow-paced associations as the former American Queen Steamboat Company, which includes its two oceangoing ships, Ocean Navigator and Ocean Voyager. With more than a dozen Great Lakes itineraries between them, these 202-passenger coastal vessels are an ideal size to navigate the St. Lawrence Seaway, which connects the Atlantic Ocean to the five Great Lakes. Staterooms range from 146 to 335 square feet, and the line includes unlimited guided tours and beverages; in-room dining; Wi-Fi; and a pre-cruise hotel stay with ground transfers to the ship. Featured Great Lakes itineraries include Chicago to Niagara Falls or Detroit to Montreal.
Pearl Seas Cruises
Pearl Seas is a small ship lake and coastal cruise brand affiliated with American Cruise Lines. Its one ship, the 210-passenger Pearl Mist, is a pro at sailing the Great Lakes, with two featured itineraries: a seven-night or 11-night Milwaukee to Toronto (and reverse). Staterooms are generous in size, ranging from 210 to 600 square feet. Pearl Seas Cruises prides itself on its cabins with private balconies; a daily included shore excursion; wine and beer with meals along with a nightly cocktail hour; room service for breakfast; Wi-Fi; and daily lectures from historians, naturalists or other local experts who join each sailing.
Viking
Viking took the cruise industry by surprise when it announced that its foray into expedition cruising would include not only seasons in Antarctica and the Polar Regions, but also the Great Lakes. The 378-passenger Viking Octantis debuted in spring 2022 and its twin, Viking Polaris, sets sail in the fall. Its itineraries, including Milwaukee to Thunder Bay, aren't entirely unusual, but its status as a state-of-the-art expedition vessel allows for once-in-a-lifetime experiences in the region, like touching down in a submarine, taking a ride in a Norwegian Navy-designed special operations boat, or observing the work of scientists onboard who are conducting research in real-time with partners like the National Oceanic and Atmospheric Association (NOAA). These experiences, along with a Nordic-style thermal suite, beer and wine at lunch and dinner, and more, are included in the price. Onboard, former Viking customers will recognize its hallmark Scandinavian design; staterooms on Octantis and Polaris range from 215 square feet to an Owner's Suite that spans 1,238 square feet.
Ports
From charming tourist-laden retreats like Mackinac Island in Michigan to the remote nature of the Georgian Bay bioregion in Ontario, the ports of the Great Lakes are extremely varied. This is an excellent selling point, as clients can choose an itinerary based on their preferences (hiking and kayaking versus souvenir shopping in town), as well as enticing return and repeat guests with new lakes and routes. With domestic embarkation port options, it's relatively easy for U.S and Canadian residents to see a great deal in just one week or stretch out the journey to a two-week expedition that visits all five Great Lakes in one sailing (Toronto to Duluth or reverse, onboard Viking).
Popular Great Lakes cruise ports include Milwaukee, Wisconsin; Detroit, Michigan; Parry Sound, Ontario; the Soo Locks of Salt Ste. Marie; Cleveland, Ohio; Niagara Falls (Port Colborne) in Ontario; and more.
Tendering and Accessibility
An important distinction to make when recommending a Great Lakes product to a client is the accessibility of the vessel. In popular Mackinac Island, Pearl Mist was conveniently docked, while Viking had to tender. Nearly every single port on the Viking "Great Lakes Explorer" itinerary requires a tender or Zodiac to reach land, which can be challenging for some guests with mobility issues. Additionally, the use of submarines and kayaks requires a short mobility test and waiver that might also exclude select guests with health concerns from participating. Conversely, the unique loading platform for Viking's special operations boats, along with their smooth suspension system, allows for nearly every guest to board and disembark the boat with little difficulty, allowing for them to participate in an expedition-style experience on the Lakes.
Excursions
As mentioned, all cruise lines in the Great Lakes region offer some kind of tour option in each port. The ports in this region are rich with historical significance (Mark Twain used to speak at the Grand Hotel in Mackinac) along with stunning natural history (the quartzite of Georgian Bay is more than a billion years old), so a guided tour with context is helpful in appreciating each port of call and the lake that surrounds it. On AQV, for example, a close-up look at Niagara Falls on a mini cruise is an included tour.
Featured speakers are key to the enrichment on each ship that sails the Great Lakes, though Viking staffs scientists who are dedicated to full-time research, along with an expedition crew who use their respective specialties (ornithology or geology) to help passengers interpret their surroundings. The opportunity to spend time on the water with these folks is a rare and wonderful chance to pick the brains of literal nuclear physicists and marine experts, though it is important to note that Viking's "toys," including its boats and submarines, are only allowed to be deployed on itineraries primarily outside of U.S. waters due to the Jones Act. If clients are interested in taking advantage of the expedition-style experience offered, make sure the ports are primarily Canadian.
Price Point
The Great Lakes aren't a cheap cruise option, despite the ability to avoid long-haul flights or overseas jet lag. Couples can expect to spend about $10,000, on average, for an eight-day sailing. We found the prices listed by Pearl Seas Cruises to be nearly double those of American Queen Voyages ($805 per person, per night versus $418 per person, per night for an 11-night cruise). Viking is closer to the $800-plus per person, per night range, with their eight-day "Great Lakes Explorer" standard itinerary starting from $6,495 per person, though we would advise touting Viking's brand-new facilities and inclusions when talking clients through their options.
The most budget-friendly Great Lakes sailing found is American Queen Voyages' nine-day Niagara Falls to Milwaukee cruise departing May 2024, from $2,299 per person.
Packing and Shopping
Between strolling small towns or sailing around the scenic shores of Lake Superior, the Great Lakes is a mostly casual itinerary. Packing lists might vary slightly by season, but clients should think of the region almost like they would Alaska — pack light layers for sun or squalls and aim to be comfortable above all. Sturdy water shoes from brands like Keen or Teva are always a useful item and can take you from kayak or boat ride to hiking or walking around Main Street in style.
For those who have never considered carry-on packing, the Great Lakes is a good place to try — all three cruise lines and their respective ships in the destination allow guests access to clean clothes free of charge. Pearl Seas and American Queen Voyages offer a free laundry service, while Viking has free self-service launderettes onboard, complete with laundry soap.
Depending on the itinerary, manage expectations for souvenir shopping. Of course, itineraries that call on Chicago or Cleveland will allow for ample gift-buying, but purchasing opportunities are next to nil on voyages with ports primarily in the Georgian Bay or other natural areas. However, there are small communities along nearly every Great Lakes port, so keep an eye out for the general store hawking silver treasures in Silver Islet, Ontario, or shops selling art and goods from the indigenous or First Nations people of the Great Lakes region.