Six Ways to Get the Best ROI at Your Next Industry Conference
by Steve Gillick /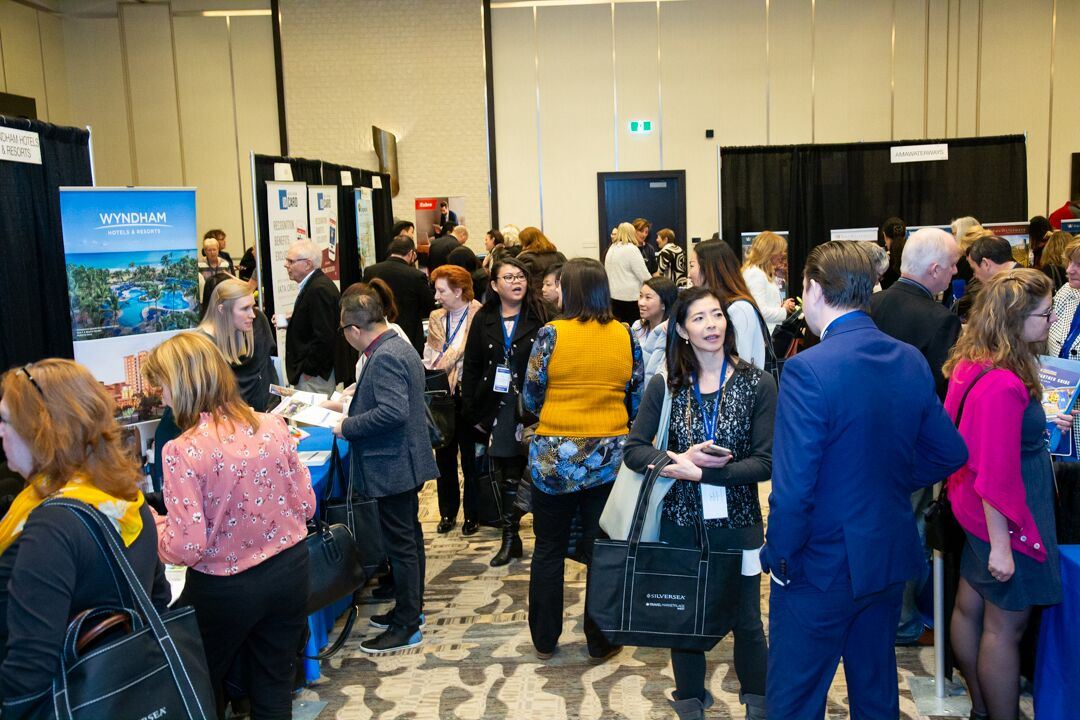 When it comes to registering for travel industry conferences, travel advisors understand that time is a precious commodity that should be evaluated in terms of whether or not it is spent wisely. And "wisely" can translate into a range of activities: professional development, networking, meeting key suppliers, taking a break from the daily routine (stress relief), and being inspired to initiate change.
Whether the next travel conference is in your hometown, across the country, or across the globe, attendance should never be an impulsive decision. In fact, it comes down to the ROI (the return on investment).
And what exactly are you investing? First and foremost, it is about your willingness to keep learning your profession. The expression often used is "Learn More - Earn More." The more you know, the better you are able to respond to the needs of your clients; the better you are able to fine-tune your customer service skills; and the better you are able to add new sales skills, marketing skills, time management skills, and destination know-how to your repertoire.
Of course, you are also investing time; time to attend the conference, which inevitably means time away from your current and potential clients, as well as family and friends. And, there is a monetary investment. Someone has to pay for the transportation, the accommodations, and conference fees.
Many travel advisors harbor wishes for a transformational experience at the next conference they plan to attend. They want the secret to success, those golden words from a speaker that will inspire them to make changes with staying power; changes that will elevate their current practices to new levels. They hope to see their client base and their sales increase, which in turn will add more stability to their career and, it follows, add more enjoyment to their personal and family life.
Are these lofty goals or patently realistic expectations? Both! Here are six ways to achieve that conference ROI.
1. Set goals.
Make a list of the take-away: What you need to get out of the conference. Then check out all the details to see if the conference responds to these needs. Be open-minded. A travel agent who only specializes in weddings and honeymoons can learn from specialists in other unrelated areas.
A travel agent who has that "Been there, done it" attitude can feed off the enthusiasm of colleagues and speakers to reenergize. Be honest with yourself and make sure your list of goals is both in the service of your career, as well as accountable to your personal expectations.
2. Study the program in advance.
This includes the general and breakout session topics. Don't just read through the clever titles of the sessions — read the details and mark down the ones you will elect to attend. Write down a few points that you must get out of each of these sessions.
3. Collect speaker contacts.
Sometimes a topic may not sound that great, but the speaker has a reputation for instilling enthusiasm, thought-provoking ideas, and even a few laughs along the way. Who knows, you may learn something about a topic that you initially decided was not for you, or from that speaker that you've listened to at previous events.
And there is a bonus factor: Many speakers offer their email to respond to post-conference questions. Keep this information handy. It may be gold to you in the future and add to the valuable list of industry contacts that allows you to fulfill special client needs and, in turn, make your clients think you are the most amazing travel agent in the world.
4. Build relationships with suppliers.
Look at the sponsors for the sessions, the experts selected for the panel discussions, and the exhibitors at the trade show. Which suppliers can you greet in order to solidify a working relationship? Which suppliers can you chat-up to develop new business or resolve a specific client situation? With which suppliers can you collaborate with regarding a fam trip opportunity to further enhance your effectiveness in selling a product or service? And remember that the more quality business cards in your files, the more resources you have to enhance the travel advice you offer.
5. Network with people you don't know.
Networking is one of the key rewards of any conference. Resolve not to just sit and talk with the colleagues you work with every day. Initiative conversations, find well-traveled travel agents and specialists to reciprocate favors — you help them from time to time, and they help you. Add to your social media network through dynamic relationship-building.
6. Consider teaching what you know.
If your agency or consortium has paid for you to attend a conference, then you need to consider their ROI, too. They want an agent who is up-to-date on industry knowledge and will contribute revenue to the bottom line. But, they also want someone who can help grow the agency.
One of the tips from "7 Habits of Highly Effective People" is to learn and then teach what you've learned. And by teaching (or assisting in staff training and professional development), you are put in a position to understand, empathize, master the material, and avoid falling into the syndrome that sees many travel agents wax enthusiastic about the new skills they picked up at a conference one day, and then forget about them a few days later and resume their old routine.
A huge amount of time and effort goes into organizing a travel industry conference. The decision to register calls for you to take some time and effort to determine what you will get out of the event; how it will benefit your clients; how it may make your life easier; and how it will continue to grow and promote your passion for your career in the travel industry.