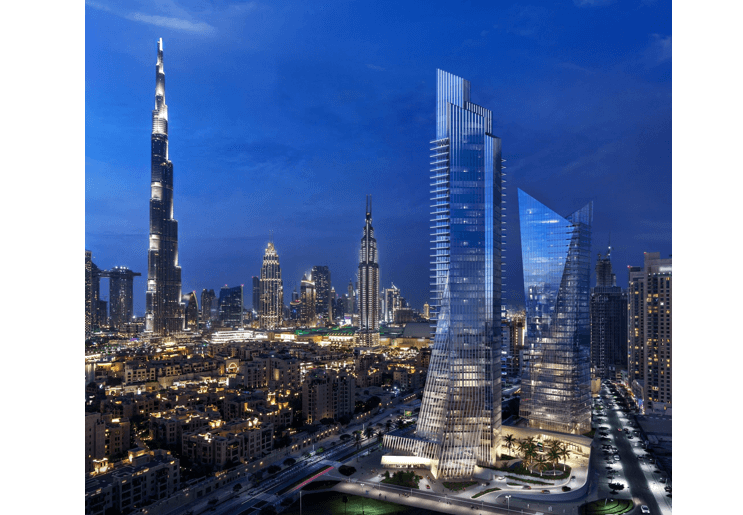 SH Hotels & Resorts will open a new Baccarat Hotel & Residences in Dubai in 2026, the luxury hotel company, which is owned by Starwood Capital Group CEO Barry Sternlicht, announced on Monday.
The property will take up space in a new mixed-use development in Downtown Dubai facing the Burj Khalifa, the world's tallest building. The new building, located close to both new and old Dubai, will feature twin tapering towers with glass facades that will reflect the surrounding desert sand and sea.
The Baccarat will include 144 guestrooms, a third of them suites, along with 49 branded residences. Plans also call for a formal dining room with indoor and outdoor seating, a casual poolside bar, and a Grand Salon that will serve morning pastries, afternoon tea, and wine in the evening.
"We are thrilled to be partners in the development of this extraordinary hotel and residences in one of the top travel destinations in the world," said Sternlicht. "The Baccarat brand celebrates the quality of light and where is the sun more spectacular than in the Middle East. Our artisans will work to create a spectacular property to take its place among the most revered in the world. We are excited for this project's gleaming future."
The Baccarat brand is relatively new to the hotel industry—the brand, which gets its name from the 250-year-old Baccarat crystal brand, was launched in 2015 in New York with a flagship hotel directly across the street from the Museum of Modern Art. That hotel has earned both Forbes Five Star and AAA (American Automobile Association) Five Diamond Awards.
The company is currently in the midst of adding more properties, including new hotels in Florence, Riyadh, and Rome, along with the new Dubai hotel coming in 2026.