Sandals Adds New Suites, Villas to Beaches Negril and Halcyon Beach
by Daniel McCarthy /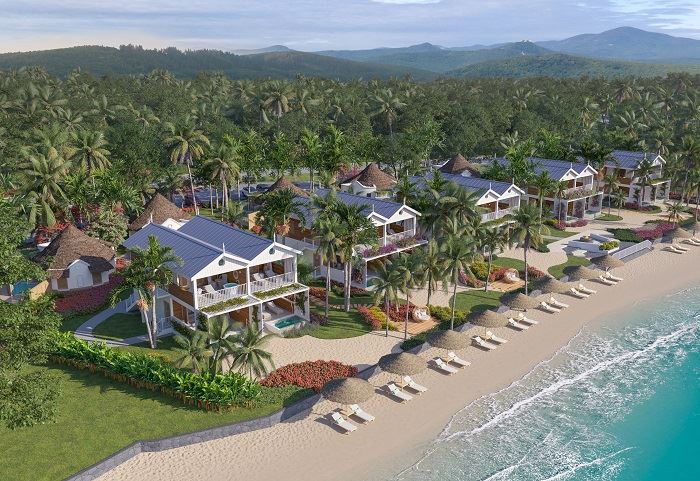 Sandals Resorts International this week unveiled some major enhancements to two of its Caribbean resorts—Beaches Negril and Sandals Halcyon Beach in St. Lucia.
All the additions are expected to be done it time for the spring travel season—new accommodations at both resorts are available for reservations beginning Dec. 12 for travel starting April 6, 2023.
"Our guest experience drives everything we do and these new suites are emblematic of our unrelenting move across the brands as we challenge ourselves to reimagine every facet of the business," said Adam Stewart, Executive Chairman of Sandals Resorts International.
"We wanted to go beyond traditional luxury and these new suites are stunners; it's about design and amenities that make connecting with each other more comfortable and more fulfilling."
Beaches Negril
Sandals is adding a total of 12 new butler suites to Jamaica's Beaches Negril property, bringing its total room count to 197.
Six of the 12 are all-new Firesky Reserve Villas, which are located on the beach at the resort's northern end. The 3,700 sq. ft. villas each include four bedrooms across three stories, accommodating up to 10 guests, making them some of the most expansive across the Sandals portfolio of resorts.
They also include separate kitchens and living rooms, private oceanfront plunge pools, and rooftop decks with dining terraces.
The other six are Eventide Penthouse Collection suites, which are located at the opposite end of the resort's coastline and range from three to bedrooms, accommodating up to 18 people each.
Those rooms include separate kitchens and living areas, expansive balconies, walkout terraces, and more.
At the same time, Sandals is also adding a new building that will house Camp Sesame, which is designed around Sandals' new partnership with Sesame Workshop.
Sandals Halcyon Beach
St. Lucia's Sandals Halcyon Beach is also getting some major additions, including 25 butler accommodations.
Twenty of those 25 are Joli Beachfront Suites, built right on the shore's edge, offering walkout beach access and private pools. Second-story accommodations with balconies also feature Tranquility Soaking Tubs.
The other five are new Koko Rondoval Villas, also just a few steps from the sea. The villas are a first for Sandals Halcyon Beach and include rounded walls and a thatched roof that Sandals says will bring the outside in with windows spanning nearly the entire wall.