Why Travel Advisors Should Check Out a President's Cruise
by Dori Saltzman /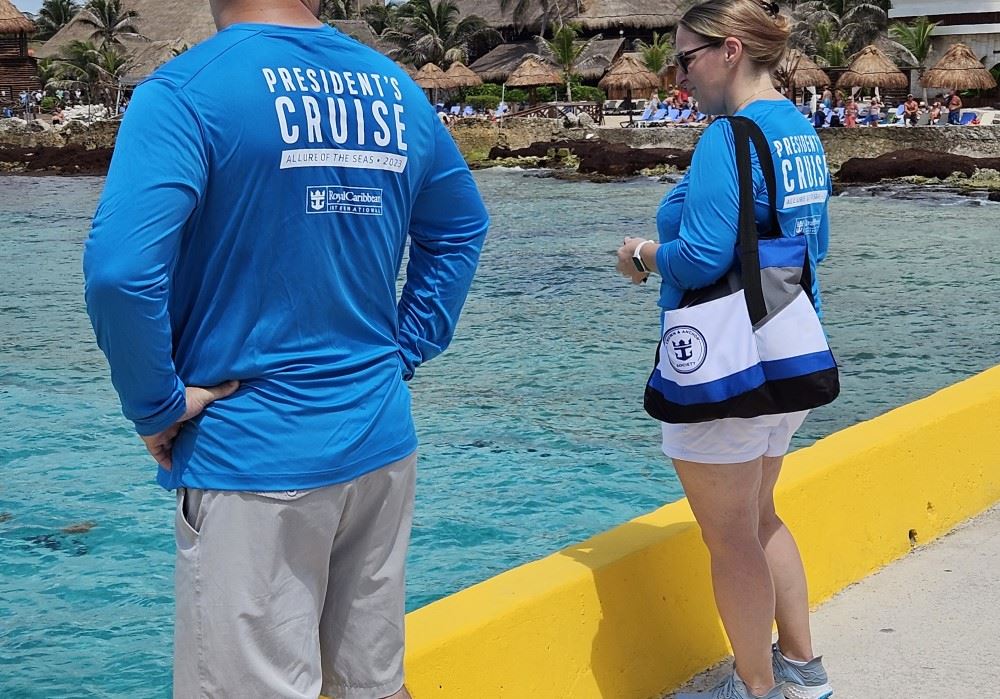 Travel Market Report returned early last week from Royal Caribbean's sixth annual President's Cruise, this year on Allure of the Seas out of Galveston.
The one-week cruise brought together Royal Caribbean International president and CEO Michael Bayley, along with a smattering of other Royal Caribbean executives, to mingle and mix with the line's most loyal cruisers and travel advisors. While not all cruisers are at the highest level of the Crown & Anchor Society, the cruise did have the largest gathering of Pinnacle-level cruisers of any sailing in the line's history.
Onboard events included a sneak peek at Icon of the Seas and Utopia of the Seas from a senior vice president, a Q&A with Bayley, and a Royal Caribbean-themed trivia hosted by top Royal Caribbean cruiser "Super Mario" Salcedo and featuring Bayley, former cruise director Ken Rush, and one other executive. (Questions like which animal doesn't feature on the Oasis-class ships' carousels and who was the first female captain for Royal Caribbean had all three execs stumped.)
There were also multiple balloon drop parties, a Royal Caribbean takeover of the Costa Maya port, a variety of cocktail parties for various levels of Crown & Anchor Society members, two performances from Grammy Award winner Chaka Khan, and much more.
The Solarium restaurant even takes on a special theme for each year's President's Cruise, giving cruisers an extra for-fee dining option. (This year it was a barbeque joint; last year for the Alaska-based sailing it was Alaskan specialties like Elk burgers.)
"The extra entertainment that they provided. Granted it was so much that you had to pick and choose," said Josephine Glapion, a travel advisor at Chatman Destinations, who sailed with her teen daughters. "I really enjoyed having that and having multiple timings of the shows."
Just about everyone onboard had a blast, but for advisors onboard the President's Cruise is about more than just having fun.
"The first-hand experience, knowing what it is instead of reading about other people's experiences," said LeAnn Rigsby, MCC, owner of Cricket Cruise and Travel, a Travel Leaders Network affiliate agency, speaking of why she believes other travel advisors should do a President's Cruise.
"It's something they should experience for themselves, as well as promote to clients," said Glapion. "It was really worth it."
Both Glapion and Rigsby said having the first-hand knowledge of what cruisers will experience allows them to market these cruises better. Though next year's President's Cruise will be in Europe (something they both said was harder for their Texas-based clients), they plan to market it, and future President's Cruises more proactively.
Rigsby was pretty proactive about marketing this year's President's Cruise, building and leading a group of 75 people onboard.
"This cruise, it's meant a lot to me because people did go to NextCruise and have booked. I have been slammed with NextCruise bookings and with people calling me this whole week, booking other cruises," she said. "It's been a benefit to my business. My sales production has increased significantly."
Though she has no plans to take out a group on next year's European President's sailing, she does hope to book interested clients into group space that Travel Leaders has taken out. She's also considering checking out Celebrity Cruises' 2024 President's Cruise.
Only for loyalists?
Rigsby told TMR she doesn't believe a President's Cruise is only for loyalists. Though the vast majority of those onboard any President's Cruise tend to be higher tier members of a cruise line's loyalty program, the abundance of onboard activities can be enjoyed by anyone.
"All the events, the top name entertainment that you're not going to get on a regular cruise… They're going to enjoy it just as much," she said, adding her group had a handful of new-to-Royal cruisers, as well as Gold- and Platinum-level Crown & Anchor Society members.
When asked what advice they'd give to other travel advisors considering booking clients onto a President's Cruise – or going themselves – both Rigsby and Glapion recommended booking as early as possible.
"Prices will doing nothing but go up," Rigsby said.