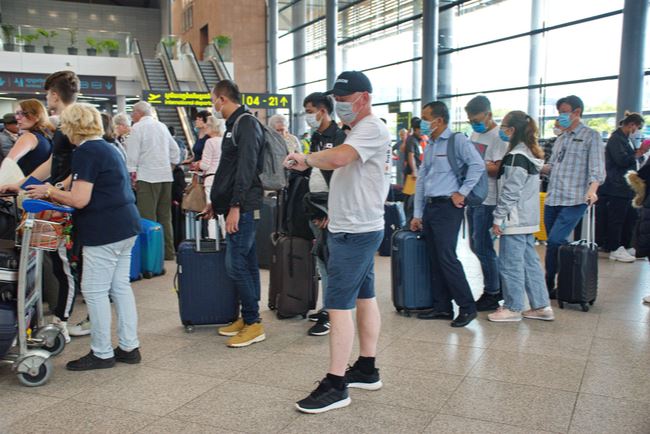 The number of airline tickets sold and total air sales strengthened the week ending June 14th, Airlines Reporting Corp's (ARC) data shows, giving the travel industry reason to believe that a recovery is accelerating.
As more U.S. states have reopened to travel, and more airlines have built capacity back into their schedules, the negative variance in tickets sold for the week of June 14, 2020, compared with the corresponding week in 2019, dropped to 75.2%. That was down from 81.1% for the week ending June 7, 2020.
That nearly six full percentage point drop in one week is a significant acceleration from the average two percentage point weekly drops ARC's data has shown for the preceding three weeks.
"We have seen a very good jump this week over previous weeks," said Chuck Thackston, ARC managing director, data science and research. "The recovery is beginning to strengthen as things open up."
Similarly, the week-over-week improvement in airline ticket dollar volumes had been averaging around 1.3 percentage points recently. For the week ending June 14, 2020, ARC's data shows a 3.1 percentage point improvement versus the corresponding week in 2019. (ARC's ticket sales data includes taxes and fees.)
The strongest improvements in tickets sold were registered by leisure travel agencies. Their variance in tickets sold are down 78.4% for the week ending June 14, 2020, versus the same period in 2019. That was a 4.2 percentage point improvement over the week of June 7, 2020, when the variance was 82.6%. The variance for the week ending May 31 was 84.6%, according to ARC, and 86.4% for the week ending May 24.
"Over the last week or two, we've seen a pretty good increase in demand for the 20 to 80-day advance purchase range of travel," Thackston said. These fares tend to be purchased by leisure travelers.
"We're also seeing for the fall and end of the year, trends are starting to normalize. We could see toward the end of the year, only a 30-40 percent year over year variance in those last several months in number of travelers," he said. "And that might skew to the lower end of the forecast."
Still, Thackston was not ready to declare victory over the pandemic. "While there are a lot of positive signs," he cautioned, "it's difficult to predict yet what the curve will look like."
Corporate travel agencies are experiencing more modest improvements in tickets sold in ARC's year over year comparisons. Tickets sold are still off more than 90% last week, ARC data shows, with weekly improvements only showing a 1.6 percentage point increase in the week ending June 14. Still, that increase was 60% stronger than the improvement seen in the week ending May 31, and 400% better than the improvement seen in the week ending May 24.
Another indication that current bookings are skewed towards leisure is ARC's number of ticketed flights. "That's recovering a little faster than the number of tickets. That says leisure travel is leading the way. As those ticketed flights show a better recovery, that is also a good indication for the hotel industry," Thackston said, because these air travelers likely are needing a place to stay.
Average fares are lower, but why?
At the same time that ticket sales are improving, average fares calculated by ARC have dropped significantly. It is not clear, however, whether that is due to the airlines trying to stimulate demand through lower prices, or the mix of travelers flying.
For the month of May 2020, the average fare was $353, down 31% from the average fare of $511 in May 2019. The average fare in April 2020 was $336, ARC's data shows, down 32% from average fare in April 2019. In March, as the pandemic first began to shut down travel, ARC average fares were off around 23%. For January and February 2020, average fares were trending slightly above 2019 levels.
With so few business travelers aloft, leisure fares represent a stronger mix of what is being purchased, Thackston said, depressing average fares.
"We're not seeing those high value tickets, premium international business cabins," he said. Still, he cautioned against pinning the lower fares to any specific factor. "There are lots of moving parts at this point. So, we will continue to watch this very, very closely."
ARC's data also indicates that consumers are returning to online travel agencies faster than other channels for their airline tickets. For the week ending June 14, OTA airline ticket volume was off 63.5%, down from a variance of 73.1% for the week ending June 7.
Thackston believes the OTA's strength is further proof of their ability to stimulate demand. "They're looking at travelers, and telling them, 'you didn't travel yet this year. Let's book your travel going forward.'"
Indeed, the gap in year-over-year ticket variances between OTAs and leisure travel agencies has been growing substantially week to week as the spring has progressed. In the middle of May, OTAs had only a 7.4 percentage point edge over leisure travel agencies. Today, the gap between the variances has doubled.