CDC 'Not Quite Ready' to Roll Back International Travel COVID Testing Rules
by Daniel McCarthy /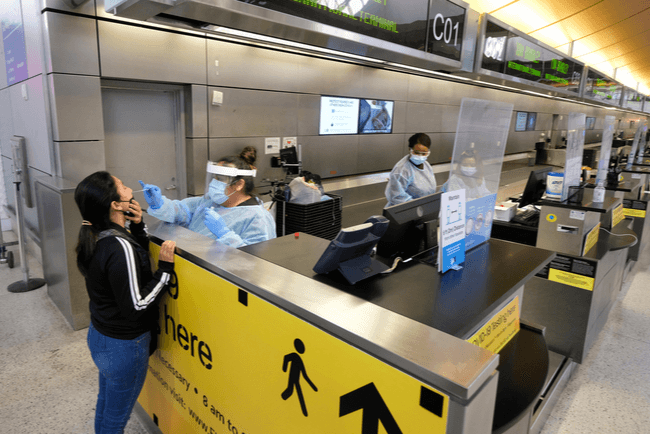 Despite news that a number of U.S. states were removing indoor mask mandates, and letting other Omicron-era rules expire, the Centers for Disease Control and Prevention (CDC) is still not ready to lift the inbound COVID-19 testing requirement.
In an interview with Yahoo Finance, Dr. Rochelle Walensky, the CDC director, said that she and the CDC are optimistic about the continued decline of COVID-19 cases in the U.S.
According to Worldometers, after reaching a peak of over 900,000 daily cases twice in early January, the U.S. has recorded under 200,000 daily cases on each of the last three days, a good sign for the continued return to normalcy post-COVID, something that seemed to be trending until the emergence of Omicron in December.
However, Walensky added, the CDC is maintaining the status quo due to the remaining uncertainty with the virus.
"We came down from a very high level and our hospitalizations right now are higher than they ever were during the peak of our Delta surge. So, while we will look down the field and say 'what does this look like?' and 'how can we relax some of our mitigation strategies?' first we always need to be prepared for what may come around the corner. Second, we're not quite ready to do so yet."
Travel associations and groups in the U.S. have continued to push for the removal of the testing requirement, something they say is in the way of the industry's full recovery, both with inbound and outbound travel. According to those groups, international travel is still down 38% compared to 2019, and that testing requirement is responsible for a lot of that gap.
Last week, the American Society of Travel Advisors (ASTA) sent a letter to the White House explaining that the testing requirement was presenting a number of practical challenges to both consumers and to its members.
"These challenges range from uncertainty as to the availability of timely testing in-destination to avoid disruption to their return trip to the financial and psychological burdens associated with being prevented from returning home due to a positive (or false positive) test result to a general chilling effect on international bookings," ASTA president and CEO Zane Kerby wrote.
That letter was followed by another letter to the White House signed by Airlines for America, the trade group for the major American carriers, along with the U.S. Chamber of Commerce, the International Air Transport Association, the U.S. Travel Association, and more.
That letter called the inbound testing requirement the "leading factor in the decision not to travel internationally," and a major reason why the international travel recovery continues to lag the domestic recovery.
"Surveys of air passengers indicate that pre-departure testing is a leading factor in the decision not to travel internationally. People simply are unwilling to take the chance that they will be unable to return to the U.S.," the letter read.