Headquarter Happenings: Avoya Travel Tackles 100% Commission Splits
by Dori Saltzman /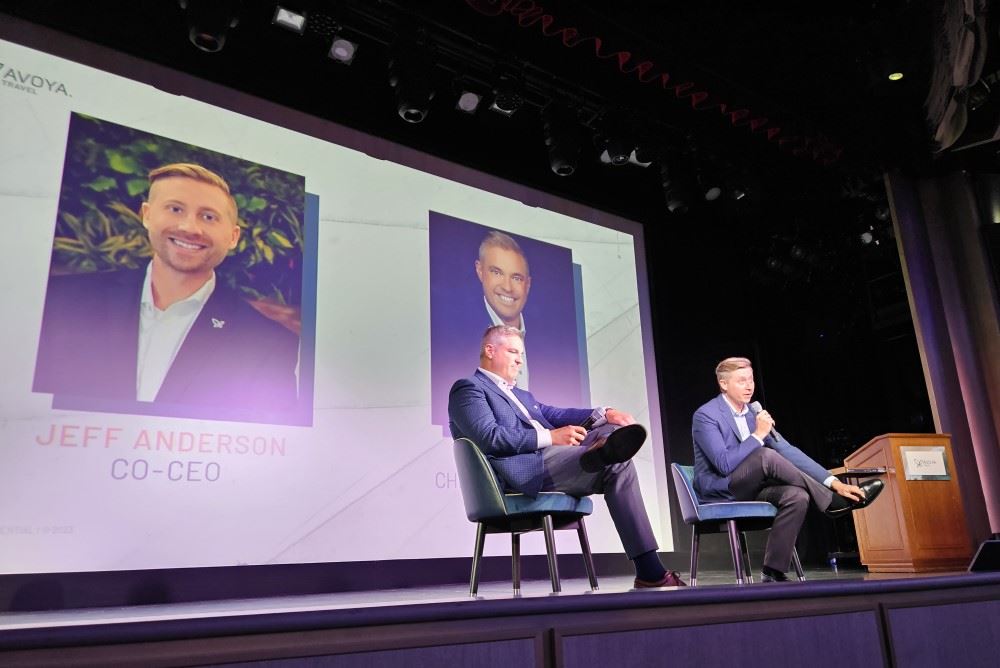 Avoya Travel is going where few host agencies have gone before, offering 100% commission splits to agencies within its network that meet a specific sales criteria.
The Elite 100 program was just one of several announcements the host agency made during its annual conference onboard Discovery Princess last week. The event was attended by more than 250 independent advisors, making it the host's largest ever conference at sea.
This year's theme, "Reach New Heights" – in part a play on the ship's journey north to Alaska – was all about the ways in which Avoya can make advisors' work life easier and faster, while also putting more money in their pocket.
Conference is a time to "reflect and decide, how do you want to reach new heights with your business," said Ashley Hunter, senior vice president of partnerships and de facto conference emcee.
Elite 100
Avoya saved its biggest announcement, the details of its 100% commission split program – the first change to the host's commission policies in more than 15 years – for last.
Calling it a "fundamental shift," Jeff Anderson, co-CEO of Avoya told audience members "We are really excited about re-engineering the way that we have been thinking about how we work with all of you."
Speaking of the reasons Avoya is willing to give up some of its commission revenue, Anderson said "Number one we want to be loyal to you. And number two, we think the industry is ready for a new competitor at the 100% level, to shake things up, make things more interesting."
He added that while Avoya might be a little late to the party, "it's time for us to show up" and even "disrupt" a few things.
Currently Avoya's top payout is 80% for personal clients. Avoya clients, those that are fed to advisors via Avoya's lead system, earn advisors 30% of the commission, which will remain unchanged with Elite 100. (A new commission program for Avoya Lead clients will be coming in 2024.)
For advisors who qualify for Elite 100, commission will be 100% for preferred vendors and services fees, and 80% on on-preferred vendors and on air.
To qualify, advisors need to have $50,000 in departed commission on preferred vendors over the last 12 calendar months – again with personal clients only. The $50,000 is calculated after any offer matches and processing fees, and they will be checked at the end of every month.
The $50,000 entry point is pretty achievable Anderson told TMR.
"Right now, we're about 20 to 25% of our network qualify," but he expects more advisors to qualify in the coming year.
"We want the number to be large enough to protect the idea behind it, because it's a very expensive thing for us to do, the way we've priced it for them."
Elite 100 is not free. There is a fee associated with the program, though Avoya is keeping that number to itself. However, Anderson did say, "We think it would be fun to have some fun disruptive pricing," and called the price "absurdly low."
Invitations to the program went out to the initial group of qualifying advisors (about 250) over the weekend and Anderson told TMR he anticipates two-thirds to three-fourths opting in.
"We know this costs us millions of dollars annually. We've done the math to know how favorable this is for them."
"The majority of the technology that we've discussed over the course of the week is way ahead of the curve."
New technology
Among the announcements Avoya made during the weeklong conference were a number of technological enhancements (mostly built in-house) to tools advisors use to keep track of clients, plan travel, and make bookings.
"The majority of the technology that we've discussed over the course of the week is way ahead of the curve," Anderson told TMR, particularly the changes to Cruise Explorer, which sees Avoya create direct connection to the cruise lines to populate is cruise search and booking engine.
"Very few have done it," he explained.
"The goal of all these endeavors," Anderson told advisors during the first general session, "is we want more money in your pocket." Another goal is "to be easier and more efficient. If you're working really efficiently, you make more money. You want to convert your time into maximum dollars."
For the most part, the new technology ties together existing initiatives, another piece of the puzzle that Anderson told TMR can be difficult to do.
"Individual apps are easy to launch and build. The complexity comes with integrating it with a giant app suite so that everything is talking to everything else so that it makes usability infinitely easier," he said.
For instance, Avoya Connect – the system through which advisors claim live leads – has been enhanced to add features like customer search, push notifications and reminders, live conversations, and the ability to input completed conversations into Customer Comments.
Another system undergoing an upgrade is Cruise Explorer, which is being taken off of a third-party Sabre framework and rebuilt to have a direct connection to Avoya' cruise partners – an announcement that garnered a loudly positive reaction from the crowd. As a result, it will show updated pricing and available capacity more quickly. The new system also opens the doors to cruise lines that didn't work with Sabre.
Additionally, an Avoya Travel Insurance app is being added to Cruise Explorer to make selling insurance easier – and more trackable.
A third system undergoing upgrades is Avoya Flights, an initiative that was only announced last year and is still in beta testing. The main upgrade is the addition of commissionable fares and enhanced search functionality. Additionally, the basic system is being opened to the entire Avoya network for the first time, with a beta test of the new functionality starting soon.
Finally, advisor profiles in Agent Power (previously called Expert Profiles) is being upgraded and the name changed to Trusted Advisors. The profiles will have a ton of new content, such as reviews, number of years of experience, awards and certification, and specialty-specific bios. They are being built to be SEO friendly to help advisors show up in search results, and searchers will be able to schedule appointments straight from the profiles or reach out by phone or email.
New hires
This year's conference also saw Avoya's brand new chief sales officer, Phil Cappelli, mark nearly two weeks at the company. He is one of several new additions to the Avoya strategic leadership team.
"Phil is the sixth senior executive that we've hired this year. All of those are new rules to the company," Anderson told media at an early morning Q&A before the conference kicked off. "We're not done hiring. We have a pretty ambitious vision for what Avoya should be bringing to the marketplace and we need lots of really broad shoulders, strong hands, big hearts, clear minds to build an organization that is successful in its own right but hopefully doing something a little bit better in the world, than what its's doing for itself."
Cappelli, the former senior vice president of Signature Travel and a past president of Insight USA, will be responsible for overseeing the growth of both the independent agency network (ie, adding advisors), as well as supplier partner expansion, particularly on the land side.
"I'm excited about the new executive team that's been brought on," Cappelli said. "It tells me that you want to grow the business… Everything that you IAs have done to build this business is tremendous but when you bring in executives like we did what you're saying is we're happy where we are but we want to grow."