Reunited and It Feels So Good: Family Reunion Travel Surges
by Laurie Wilson /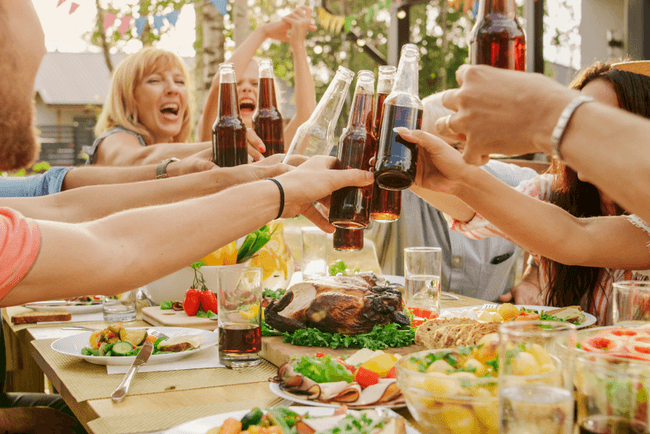 Used to be potluck dishes at a local American Legion hall or church parish that set the stage for the perfect family reunion. Reunion travel surged after 9/11 and is having a Kumbaya moment again, especially after the pandemic lockdown when many were forced to stay home to bake bread alone. Now, we're breaking bread together—in dude ranches, on cruises, in resorts, both domestic and international.
"We've definitely seen an uptick in family and reunion travel since the pandemic," says Jeremy Palmer, chief operating officer, Tauck. "Our strong bookings are indicative of something we've seen time and again in our 96-year history. When external events prevent people from traveling, the desire to travel doesn't wane—it only becomes stronger. Virtually every downturn we've seen has been followed by a rapid and dramatic recovery once people felt they could responsibly travel again. We're seeing this across our business for 2022, and it continues to give us great optimism heading into next year."
Palmer says preseason bookings for 2022 Tauck Bridges trips are up double-digits over pre-pandemic levels in 2019 and pre-season group bookings for 2022 are already up double-digits over the total number of group travelers in all of 2019 and booking are continuing on a steady basis.
"Our Tauck Bridges collection of tours and cruises, which have been designed from the ground-up specifically for families, are enjoying incredibly strong demand for 2022, and we're seeing great interest in many of the same destinations that were popular for families pre-pandemic," says Palmer. Particularly popular, he says, are itineraries in Italy, European river cruises, and the Castles & Kings: London to Paris tour. Domestically, the Alaska: Call of the Wild family adventure is the best-seller, says Palmer.
"For larger reunion groups—whether family reunions or large groups of friends—we're seeing very strong interest (in both bookings and inquiries) in our Private Departure trips; specific departures of selected tours that can be reserved exclusively for a reunion or private group," says Palmer. The minimum size is ten travelers, and pricing is based on a sliding scale. "Private Departures are a great way for travelers to ease back into seeing the world, and for 2022 they've helped us achieve the highest number of preseason group bookings we've seen in several years," says Palmer.
Limor Decter, a luxury travel/lifestyle advisor with Embark Beyond, concurs. "Families are craving time to connect and unite together after the pandemic," says Decter. "Families want to spend quality time bonding together to relish old memories and create new memories."
Easy-to-reach domestic destinations with "many cultural and natural activities" are popular for family reunions. Destinations like Orlando, Charleston, Colorado, Lake Tahoe, Las Vegas, Arizona, and California are trending as top spots for family love-ins, says Decter. As are cruises, all-inclusive resorts, dude ranches, beach villa rentals, and ski slopes, she says. Other reunion rock stars, according to Decter, are cruises like Royal Caribbean, Disney, and Norwegian. For ranches, there's Paws Up, Rawah Ranch, and JL Bar Ranch, Resort & Spa.
Tips for planning
The 'when' and the 'where' are the first two questions that need to be addressed when family reunion planning, says Decter. The 'when'—scheduling the right time for the family to unite—is usually one of the biggest challenges, she says. And so is the 'where'—coordinating the logistics of how to get to the destination. "Selecting an easily accessible destination is crucial."
Also important, families need to select a leader. This leader will be the one to communicate with the rest of the family, says Decter. "The leader can delegate specific tasks to coordinate the reunion." And, it's key to create a channel for the family to communicate about the reunion. "It can be a WhatsApp chat or a Facebook page for the family to share input," she says.
Consensus and coordination are the biggest challenges in planning and executing reunion travel, says Palmer. "Getting everyone to agree on when to travel and where to visit are the two most basic tasks, but beyond that, it often gets difficult." Things like choosing the hotel/resort, attractions, restaurants, and who's making reservations, who's driving, he says.
Another real challenge that can derail a reunion trip is handling the finances, including how do you divide myriad travel expenses fairly, says Palmer. "Should the price of a rental house be divided evenly when one couple gets the master bedroom with an en-suite bath, while other couples have to share a bathroom? Does the dinner bill get divided equally when one couple didn't have appetizers, wine or dessert? And, of course, those challenges only grow in scope as the size of the reunion group and/or the length of the trip increases."
A family trip of three (or even more) generations is a great way to reconnect after a long period apart, says Alex Shattuck, managing director, Audley Travel. "The reality, however, can often be tricky. Planning a trip with that many people and balancing all their different interests is a lot of work so speaking to an expert travel operator can take away the stress."
If the reunion will take place in a foreign country, for instance, it's important to suggest experiences that are ideal for the group's range of ages, he says. For example, food in Japan can be overwhelming for children—but a hands-on cooking lesson familiarizes them with the ingredients.
"Similarly, Audley's specialists know multiple ways to experience the same site or attraction, meaning that the family can all enjoy it in the way that works best for them," says Shattuck. "In South Africa, for example, everyone in the family will want to reach the perfectly flat summit of Table Mountain but they don't all need to go together. Audley can arrange for part of the group to hike to the top with a local guide along a lesser-trodden route while others can ascend by cable car which rotates 360 degrees to ensure no one misses any views."
And above all, it helps to remember why the family is getting together—to enjoy each other's company and to connect again. "The vacation might not be as perfect as imagined," says Decter. "The purpose of the reunion is to connect as a family and a team (leave ego at home)."