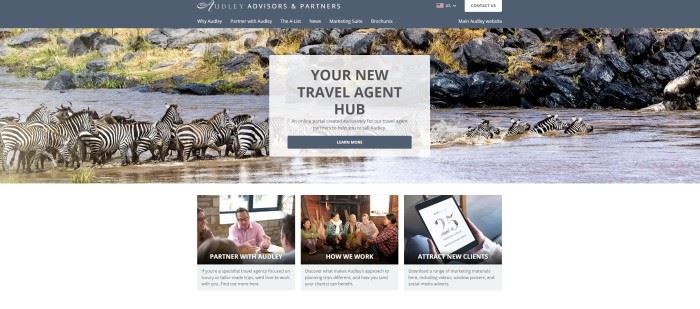 Audley Travel has launched an all-new travel advisor hub that provides a variety of marketing and educational tools. The travel operators also launched its first ever worldwide brochure specifically for advisors.
"We offer travel agencies the opportunity to be competitive in the luxury tailor-made market without additional staff or training," said Peter Worthing, head of partnerships for Audley Travel. "Our goal is to make this process as easy as possible; our agent hub and new brochure are another step to achieve this."
The advisor hub provides news and updates from Audley's trade sales team, along with access to a free suite of marketing materials including window posters, mini-brochures, social media ads, videos, and more. The only call-to-action on all the marketing materials is to "contact your local independent travel advisor."
Audley has also launched a digital brochure for travel advisors to share with their clients with information about its most popular trips and destinations worldwide. It features Audley's 44 best-selling destinations, with each one introduced by a country specialist. Each regional chapter introduces typical Audley experiences such as cooking signature regional dishes in a private home with a local chef in Italy or an early morning photography tour of Angkor Wat in Cambodia. The brochure can be ordered online or advisors can request a physical copy be sent (free of charge) to a prospective client together with a cover letter and call to action to contact the advisor directly.