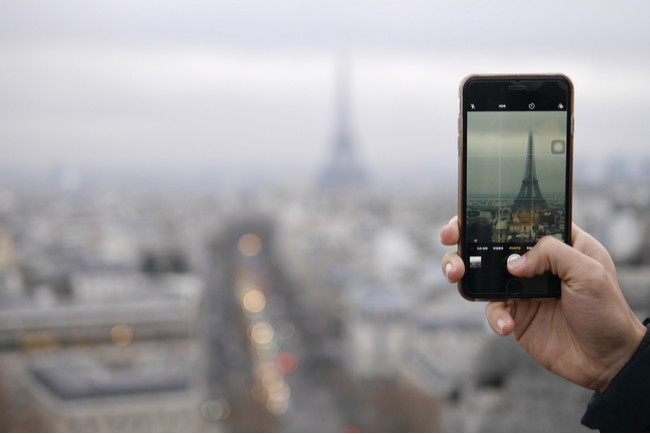 If you have ever seen a photo on social media from a colleague, friend, or family member and thought, "how did they get such a perfect photo?" the answer might not be as overwhelming as you may think.
During a session at Apple Leisure Group Vacation's Ascend Conference earlier this month, Will Byington, a freelance photographer based out of Chicago, shared some easy tips for travel advisors who are looking to improve their photo skills when on FAM trips or site inspections.
Byington, who has spent more than 15 years working as a photographer including doing work for the Chicago Cubs and Sixthman, has been featured in publications including Rolling Stone, the New York Times, USA Today, and more.
While everyone will have their own preferences when it comes to photography, Byington's goal is to shoot photos that "catch people's attention," including photos that "pop" with bright colors and big objects.
Here is just some of what Byington recommended:
1. The best camera is the one you have with you
The advent of smartphones over the last two decades has put a camera in essentially everyone's pockets. Byington's advice is to use it. iPhones and Google Pixels provide consumers with cameras that can rival a lot of professional gear.
If you are interested in improving your photography further, that is when you can consider digging into your pocket to purchase tools.
"There are a few investments you can make under $500 that really improve your photos," Byington said, including a GoPro, Insta360, or a DSLR, but if your goal is to take photos to show your clients, the smartphone camera is generally a great place to start.
2. Shoot your shots
Especially when using a smartphone camera, it's important to realize that you almost have unlimited opportunities to take photos. Your storage will run out eventually, but, until that point, shoot away.
"It's not like you have a roll of film. You literally can take thousands of photos and keep going. Don't miss the moment, just shoot away."
Take photos from all angles, go low, go high, go wide, get close, Byington said. Use your settings. It's easy to delete photos that didn't turn out the way you had hoped. It's less easy to add photos you didn't take.
The best way to guarantee you don't miss a shot is by taking more than you think you need.
3. Take advantage of built-in settings
For those using an iPhone, using live mode is an easy way to ensure you're getting the right shot as it grabs a moving photo, spread over a few seconds, that you can edit after the face in order to get the best frame.
Another this to make the task easier is playing with exposure settings, which can be done on an iPhone by touching the screen to the point you want to focus on and then dragging your finger either up or down to adjust the light. Especially when the lighting isn't the best, playing with multiple shots with different exposures will get you more options.
Also on an iPhone, photographers should make sure they are using Portrait Mode, something that "literally is a photo studio in your pocket." Portrait Mode puts some depth in your photos and, depending on your Portrait Mode settings, allows you to blur background objects up to your discretion, so the shot is focused on your subject.
4. Use apps
After you've gotten your shots from different angles, with different lighting, it's time to start editing. Almost every smartphone's built-in photo program will let you edit exposure, crop the photo, and perform other basic tasks, but there are some apps that will take it one step further.
"You can edit easily on a smartphone," he said. "I like to add a lot of saturation, some sharpness, but it's all built-in when you're using apps."
Google Snapseed is one that's free that lets you do that's tasks along with a "healing" setting that can take small objects out of the photo.
Lightleap, another free app that does have in-app purchases, can save your photo from a rainy or dreary day—it can lift a dark sky for a bright one with a simple touch of your finger—along with other tasks to improve your shot.
Others to consider are Typorama, Prisma, SCRL, and Facetune. However, be wary that the more editing, the clearer it becomes that your photo is edited, which can be the desired effect for some but not for others
5. Backup your photos…and relax
You aren't always going to get the right shot. Weather, light, bystanders hanging out in the background, and other factors will impact your photo beyond your control. It's important to realize that.
"Do remember that every picture won't be perfect and creating content is exhausting," Byington said. "You won't always get it right…Just do it, take those pictures every chance you get," he said.
Keeping track of your photos is something, however, that you can control.
Emailing the ones you like to yourself is an easy way to keep track, as is adding them to a Dropbox or Google Photos account or an external hard drive. Depending on what ecosystem you belong to (Apple, Google, etc.) there are a number of opportunities to store your images in a cloud storage system.
Take advantage of those and use keywords to make sorting through your images easier.