New Opening: Moxy Williamsburg, the Brooklyn Debut of the Marriott Brand
by Daniel McCarthy /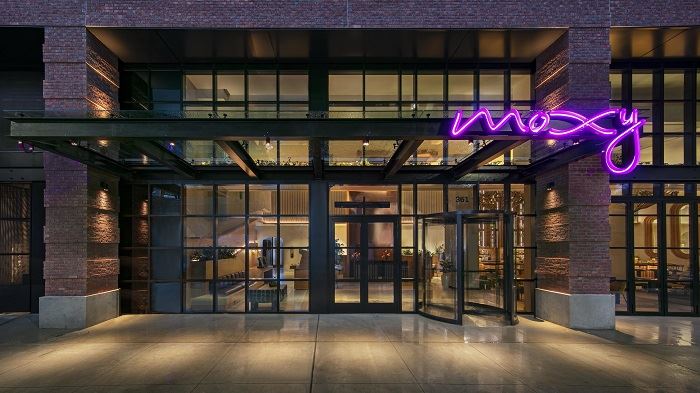 Marriott's newest Moxy hotel, and the brand's debut property in Brooklyn, New York, is now open.
The hotel adds 216 rooms to the North Brooklyn neighborhood on Bedford Avenue, within walking distance to the Williamsburg Bridge and just a quick subway ride from Manhattan.
The design comes from San Diego's BASILE Studio, in collaboration with Lightstone Design Studio. Marriott says that the public spaces "reflect the area's melting pot character, finding inspiration in both past and present with influences from both near and far."
The 216 rooms range from 125 to 210 sq. ft., including Kings, Executive Kings, Double Queens, and Quad Bunk layouts. The rooms also include an open closet, under-bed cubbies, and a desk that folds down from the wall to provide a workspace.
For food and drink, Moxy Williamsburg offers four different venues all operated by Bar Lab Hospitality. They include
Mesiba, a festive, Tel Aviv–inspired restaurant serving Levantine cuisine.
Bar Bedford, a destination cocktail bar and all-day café.
Jolene a high-energy sound room with a state-of-the-art audio and light system.
LilliStar, an indoor/outdoor rooftop bar whose vast terrace will feature views of the Williamsburg Bridge and Manhattan skyline that will open this spring.

Lillistar.
"Moxy embraces being bold through authentic self-expression and Moxy Williamsburg is the perfect place for free-spirited travelers to live in the moment and do just that," said Matthew Boettcher, Vice President and Global Brand Leader of Moxy Hotels.
With the opening, Moxy Williamsburg joins five other Moxy-branded hotels in New York City—Moxy NYC Downtown, Moxy NYC Chelsea, Moxy NYC Times Square, Moxy NYC East Village, and Moxy NYC Lower East Side.