October 12th at 1pm MasterAdvisor Series by TMR: How to Get the Most Out of a BDM Relationship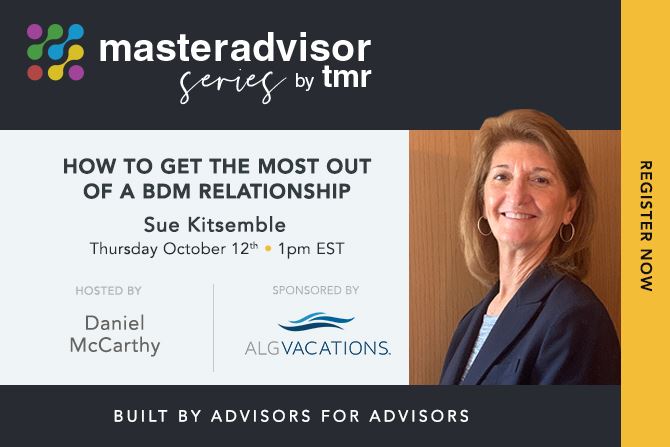 One of the most important relationships an advisor can have is with a supplier's business development manager. You might have some questions on how to start a and foster good one… How do you find a good BDM that'll support your business? What is the best way to communicate your needs to them and what are the best ways to foster this connection? Like any business relationship, there are two sides. How can a BDM help you grow your business? Will they be willing to go above and beyond being the face of a supplier in an advisor/supplier relationship? How do they make sure that webinars and other events that they host are truly beneficial and educational for advisors?
For the first time in the MasterAdvisor series, we will be hearing from a BDM on how to fully utilize and reap the benefits of an advisor/BDM relationship from their perspective. Join ALG Vacations' Business Development Manager Sue Kitsemble in a live and free discussion sponsored by ALG Vacations on Oct. 12 at 1:00 PM EST.