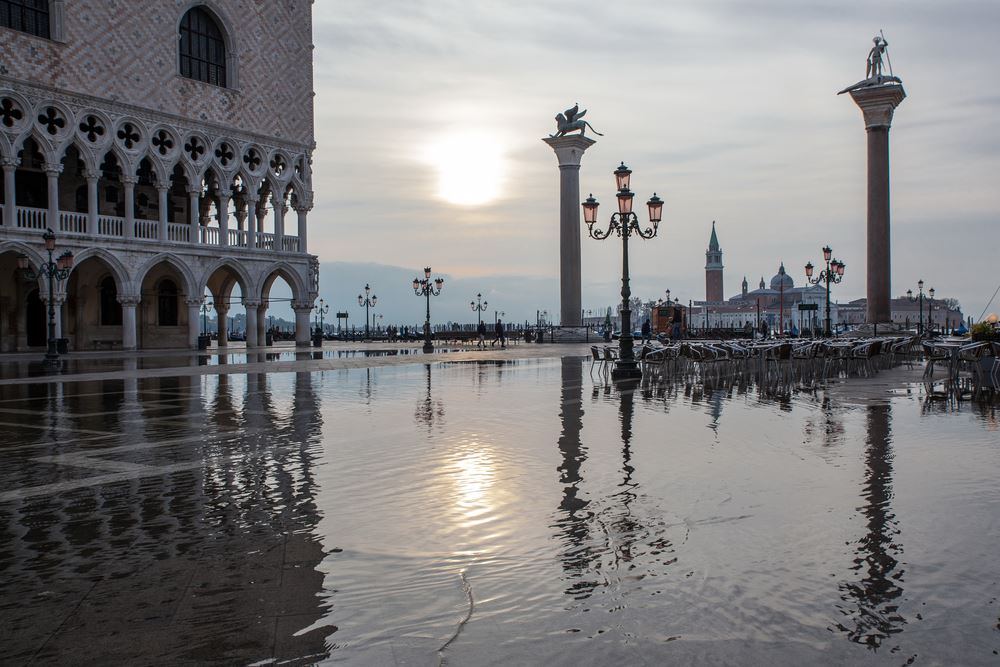 Severe weather caused historic flooding in Venice on Monday, the worst the canal city has seen in a decade, and more could be on its way.
Southeasterly winds coupled with rain could result in renewed flooding problems Thursday. The tide forecast is 120 centimeters (about four feet), according to city officials. Floods of at least 110 centimeters usually happen only about four times a year.
Italy's Civil Protection agency issued a red alert for the Veneto region, where Venice is the capital. An orange alert was put out for Trentino, Lombardy, the southern sectors of Tuscany, Umbria, Lazio, Campania, and Sicily.
Flood alarms going off in #venice now... #AcquaAlta pic.twitter.com/o8WF5XuQfb

— Bob Gatmaitan (@gotmytan) November 1, 2018
Thursday's storm comes on the heel three-days of heavy rains and strong winds, which began Sunday. Venice's central St. Mark's Square was closed on Monday afternoon, after the water level reached "acqua alta" (high water) of more than five feet. It is the fourth highest level ever recorded.
Monday's winds were so strong they ripped a 2,100-passenger cruise ship from its moorings. The Celebrity Constellation, which was docked in La Spezia, then drifted into another cruise ship, the Costa Magica, causing Celebrity Cruise Lines to evacuate in the pre-dawn hours Tuesday, the Washington Post reported.
Officials have expressed concern that the salt water flooding the famed St. Mark's Basilica will have irreparable damage to the historic artifacts.
Venice flood water rising slowly near Rialto. pic.twitter.com/6OT9AlAlrq

— mike owen (@mikecgowen) November 1, 2018
"The Basilica has aged 20 years in just one day, and perhaps I am being overly optimistic about that," said Carlo Tesserin, the church's chief administrator, told Italian media. "It is becoming ever more difficult for us and indeed could become impossible for us to repair the damage, especially in an age of climate change."
Italian media said it was the second time this century that the Basilica had been flooded, and just the fifth time there had been such high water within the body of the cathedral in the structure's 1,000-year history.