Apple Leisure Group Vacations Launches Marketing Platform for Agents
by Jessica Montevago /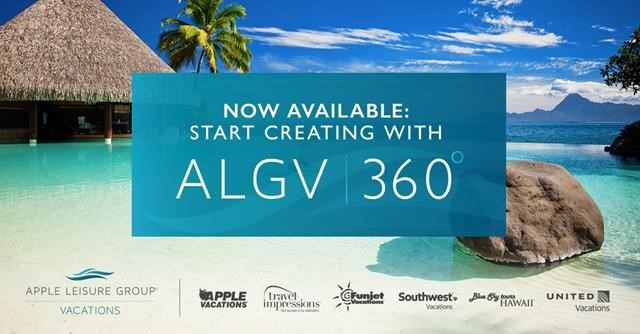 The ALGV360° marketing platform from Apple Leisure Group Vacations (ALGV) launched Thursday, providing travel advisors with fully customizable marketing materials highlighting resorts, destinations and services across multiple channels.
The new web-based tool, available on desktop or mobile devices, provides access to professional flyers, social media content, banner ads, emails, radio scripts, print ads and more.
Each ALGV brand has its own library of images and customizable templates—including Apple Vacations, Travel Impressions, Funjet Vacations, Southwest Vacations, Blue Sky Tours and United Vacations. Travel professionals can tailor collateral created in ALGV360° with their own logos, contact information and special offers.
"Travel advisors now have access to an impressive library of inspirational images and an unprecedented arsenal of social media content designed to raise their profile and generate sales," said Wendy Hoekwater, Senior Vice President, Marketing at Apple Leisure Group Vacations.
ALGV360° will continue to grow as new content is added on a regular basis.
Training videos and other support tools are available to ensure travel advisors receive an immediate marketing advantage from ALGV360°.