Heritage Tours Opens Desert Encampment Luxury Experience
by David Cogswell /

Why would anyone want to drive seven hours into the Sahara Desert to stay in a tent?
It's a travel experience that is hard to fully appreciate until you do it yourself. And yet, it is attracting high-end, luxury clients. So, what is it that draws vacationers to a remote part of the world's largest desert?
Why did Heritage Tours — a 24-year provider of custom-designed trips to Morocco, Spain, Portugal, Greece, Turkey, Africa, Israel and Jordan — recently open Thaalab Sahara, its own private luxury desert encampment in the Northwestern Sahara Desert in Morocco, near the village of Merzouga and the dunes of Erg Chebbi?
The beauty of emptiness
Mike Korn, senior manager of Morocco for Heritage Tours, takes a shot at putting the unexplainable into words. Ironically, it comes back to the old maxim: location, location, location. It's really all about "this place," and its magical ambience.
"First and foremost, is just the stunning beauty of your surroundings," says Korn, "the orange-hued dunes of Sahara. There's an emptiness to it, and there's a beauty in the emptiness. You arrive there, you ride some camels amongst the dunes. They'll take you up to the top of a high dune that's near the encampment. Most people will just sit there for the sundown, for a couple of hours, taking it all in."
It's a place you visit not because of what is there, but because of what is not there.
"It's an amazing silence, when there's no ambient noise, just you with your thoughts and surroundings," says Korn. "It's a serene beauty that is hard to find or duplicate anywhere else. A lot of people will go back up for the sunrise, which is equally spectacular. It's just enchanting. It's for people who are looking for magic in their travel."
It's an ideal setting for a romantic getaway, says Korn. But, it can be great for families, too. "When you have children, they can do dune surfing," he says, "like a snowboard on the dunes."
Ultimately, it's about the power of the large, empty spaces and silences, and the encounter with nature. "It's really just solitude, peace and beauty," says Korn. "It's spectacular in all those senses."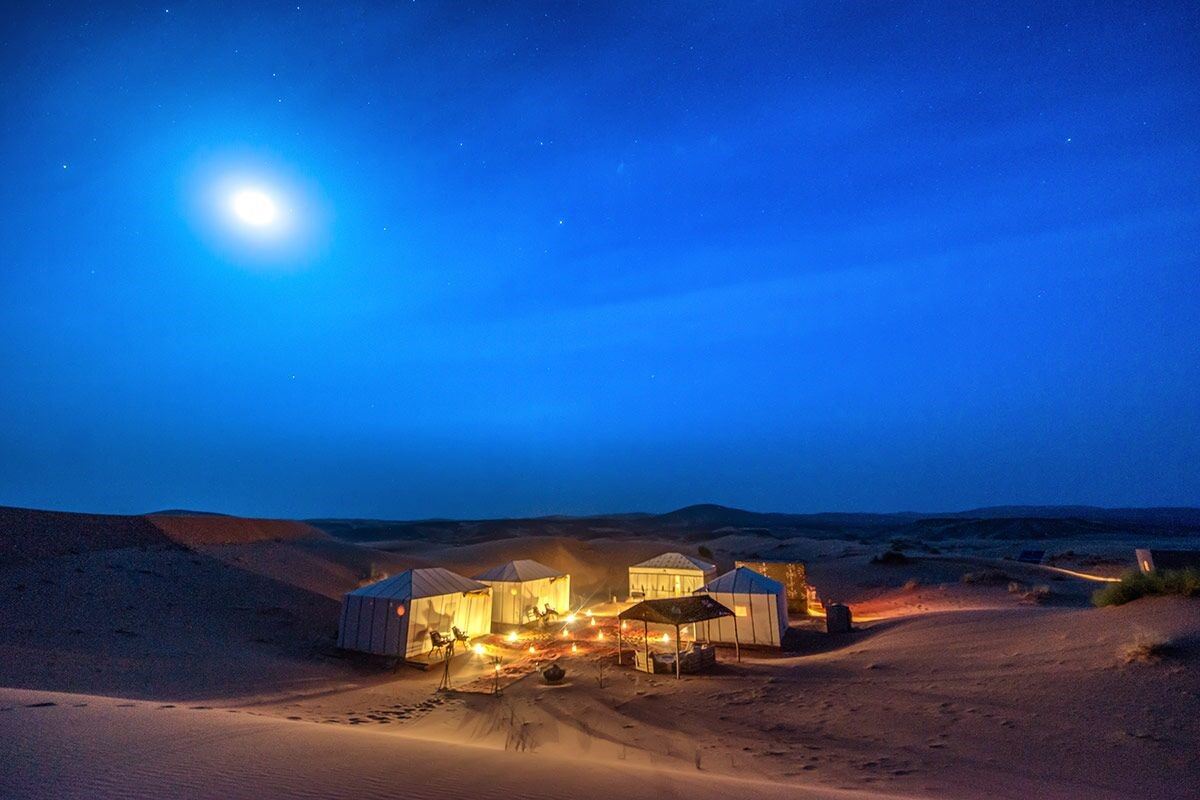 Heritage Tours' desert encampment consists of three tents on concrete blocks that house a maximum of six guests.
Luxury in the wilderness
Thaalab Sahara was created "to offer guests an authentic desert camp experience while still providing elevated service, comfort, and cuisine," according to the company's marketing collateral.
The private accommodation consists of three tents on concrete blocks that house a maximum of six guests, though there is the possibility of accommodating more children, if necessary. Heritage Tours has complete control of the property and manages it so that it is private for their guests.
"It's typically only one group at a time," says Korn. "If it's a couple going, they're the only ones staying there. If it's an extended family, they are the only ones staying there. It's a one-client trip."
Although it is in the desert wilderness, the accommodations provide all the comforts of modern civilization. "Each tent has its own king-sized bed," says Korn, "with standard sheets, blankets and pillows. It has a fully functional, normal toilet, a sink, a shower with hot water that comes from a well. We have solar panels that provide electricity, so you can charge your devices and have lamps. There is one communal dining tent."
The encampment is the fulfillment of a long-held vision of Joel Zack, the founder of Heritage Tours. Korn calls the décor "stylish Berber chic with a unique soul and a warmth in an open area. It's not too crowded. There's not too much furniture, just one or two chairs, a lamp and a bed. Joel, the founder, was the architect, and he was a Fulbright scholar."
Zack designed the tents using elements of traditional Arabic, Berber and Moorish design incorporating handpicked, locally sourced materials with modern touches woven in. The tents are made plush and opulent with embroidered draperies and rugs, handcrafted ceramics, tableware from Fez, and king-sized beds covered with authentic Moroccan throws.
Getting there is part of the fun
The seven-hour drive from the city of Fez is not just a matter of transportation from here to there. It, too, is part of the attraction.
"We get asked a lot, 'Is it worth the drive?'" says Korn. "'Oh that's such a far way to go, why would I do that?' But, the great thing about Morocco is that you see a lot of different landscapes in a short amount of time. If you're coming from Fez, you start in one of the imperial cities and drive into the mountains. Usually the first stop is an hour and a half into the trip in a little town called Ifrane."
Ifrane is one of those places that shatters your preconceptions of what a place is supposed to be like. "It's a unique place," says Korn, "like a Swiss Alps town with slanted rooftops and little cafes plopped in the middle of Morocco. If you looked at pictures, you would never think it was in Morocco. It's one of the few places that gets a decent amount of snow in the winter, and there's a ski run there. The king owns a palace there and his family loves to go. A lot of wealthy people have summer homes there. It's cooler in the summer than in the big cities."
Most clients only stop there for an espresso or snack, to use the restrooms and stretch their legs. Then, it's on through the mountains and beyond into the desert.
Alternatively, some clients go by way of Marrakech, a two-day drive with an overnight in Skoura or Ouarzazate.
Thaalab Sahara is a luxury product and appeals to luxury clients. Heritage Tours has been a preferred supplier of Virtuoso for 12 years. "That relationship goes back a long way," says Korn. "They know us extremely well and we know Virtuoso clients very well. It has been a very lucrative relationship for both of us."
And ultimately, the attraction is that it is in Morocco. "In Morocco, everything is great," says Korn. "People are amazing."