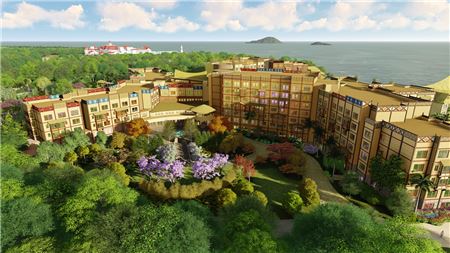 Hong Kong Disneyland will open its third – and largest – hotel next week, with the 750-room Disney Explorers Lodge.
Disney Explorers Lodge, which will begin welcoming guests April 30, offers "an exotic theme and immersive storytelling." More than 1,000 artifacts from around the world will be on display throughout the hotel. The new-build property offers an outdoor pool overlooking the South China Sea, free WiFi and three restaurants, including Chinese, international and cafe-style eateries.
Four gardens surrounding the hotel will each be named after a popular disney character: a South American-themed "Kevin" Garden named after the giant bird in "Up," an Oceania-themed "Little Squirt" Garden named after the turtle in "Finding Nemo," an Asian themed "Hathi Jr." Garden named after an elephant in "The Jungle Book," and an African themed "Rafiki" Garden named from the mandrill in "The Lion King."
Along with the Hong Kong Disneyland Hotel and Disney's Hollywood Hotel at the theme park, the park's on-site room inventory will now increase to 1,750.