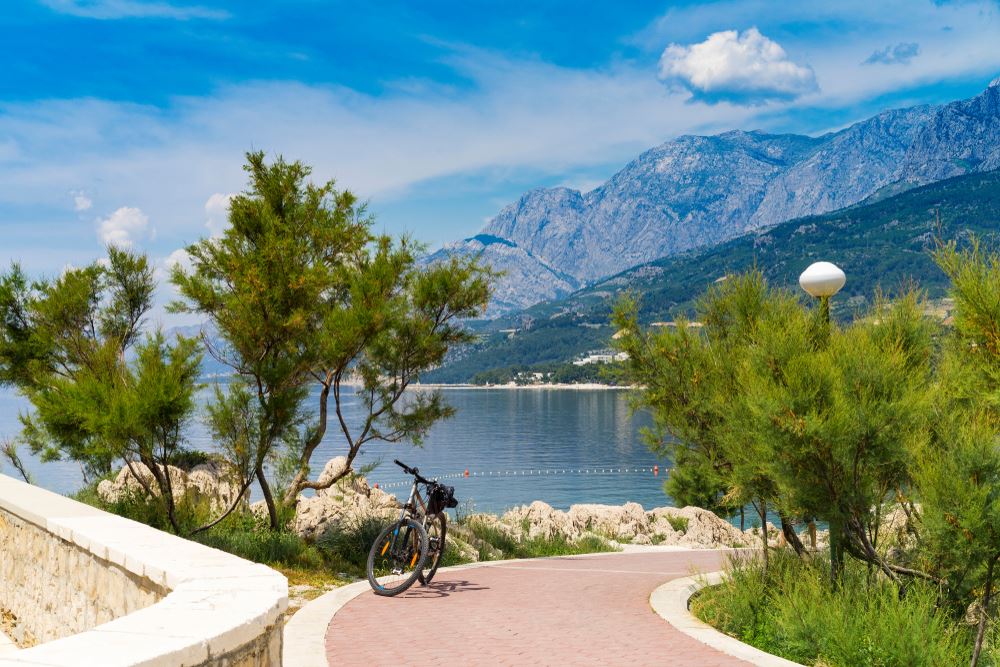 Immersive experiences and activities are increasingly becoming the key differentiator for leisure traveler vacation decisions, the driving force of where people want to go and what they want to do when they get there.
This is why it is becoming more important for travel agents to understand consumer mindsets, what past experiences have shaped their current desires for new experiences, and how to leverage clients' vacation experiences to tell and sell to future customers.
Travel Market Report recently spoke with VBT Bicycling and Walking Vacations and one of their guests, Sean Mogan, who this spring organized a 20-person bike tour in Croatia. Mogan, 43, is an avid cyclist who had taken six VBT tours previously, starting about ten years ago when he and his wife Jen joined Mogan's parents on a VBT tour from Prague to Vienna.
In May of this year, Mogan and his wife gathered with 18 friends and new acquaintances on VBT's Dalmatian Islands trip through Croatia. They were led by locals, Nevin and Natasha. Natasha, who has been with VBT for four years, grew up in Zagreb and went to college for mountaineering. Also on the tour was Jen Mogan's best friend from college and her husband.
Serendipitous experiences
"We are active people, so incorporating exercise into our vacations is important. But, beyond that, we've found it to be so much more fun to explore an area and integrate with a culture by bike," Mogan said, mentioning how Croatia's roads are small and narrow, not making it easy for buses to access the kinds of places he and his wife like to visit.
"Bikes are how you get to these little towns and villages where the true locals are," he said. And even where buses can go, they breeze by so quickly, heading to the next destination, that a traveler misses out on serendipitous, memorable experiences.
For example, riding along the coast from Supetar back to their hotel in Postira, the group happened upon "a beautiful cove with waterside seating. We decided to stop for a hard-earned Ozujsko beer, a traditional Croatian lager, while admiring the incredible colors of the Adriatic," he said. "We wouldn't have had these impromptu scenic stops if we weren't on bicycles."
A bike tour also allowed the group to appreciate the landscape and local culture. "I knew Croatia would be hilly, but I had no idea it would be so incredibly rocky. There was practically no soil and the agriculture was incredibly difficult and limited. The hillsides were covered with terraced stacked stone planting beds and fences. In some areas, it almost looked like a checkerboard, even at the top of the mountains," he said.
Mogan's May 2018 group visited two Croatian islands, Brac and Hvar. They rode through lavender fields, ancient fishing villages, and tiny hamlets, and cycled from the Adriatic's highest peak, Vidova Gora, to its sparkling beaches. On Brac island, they visited out-of-the-way beaches and towns, like Zlatni Rat and Pucisca. Mogan described most of Croatia's beaches as stony, although Jelsa on Hvar was sandy.
"We saw amazing limestone sculptures and buildings, and toured a stone-cutting school in Puciscato where we watched the students at work on the world-famous Brac stone," he said.
"The scenery in Croatia was second to none, the brilliant blue Adriatic Sea reflecting off of the bright white limestone, majestic pines intermixed with Mediterranean cypress and tropical palm trees."
By biking, meeting locals, and dining with them, Mogan and his group also learned about how history brought the country to its current amalgam of modern-day religions and practices. "I was unaware of how many different countries had ruled Croatia, and all of the different religious influences," he said.
Eating like the locals
Most importantly, staying in small villages and dining with locals introduced the group to foods they had never tasted or heard of before. For example, the welcome dinner featured "peka," a meal with fish or meat that is slow cooked for hours in a pot on a wood-fired grill with peppers and other vegetables.
Then, there was the evening they spent with Ante Vucetic, who owns the Tri Sestrica ("Three Sisters") bed and breakfast with his wife Cvita in Hvar, which is accessed by climbing winding back alleys. Originally from Croatia, Vucetic lived in Germany and was a chef there for about 35 years before returning to Hvar.
"Ante and Cvita showed us how to make Šalša, a Croatian tomato sauce from the Dalmatian coast, where tomatoes are simmered with plenty of garlic, onion, butter and parsley, which they then served on fresh bread," Mogan recalled. Ante also described their method for harvesting salt from the Adriatic, largely unchanged for centuries in the coastal town of Ston, with most of the group purchasing some to take home.
With a view of Hvar harbor below, and Vucetic's fragrant gardens competing with the inn's kitchen, the group enjoyed homemade grappa and grilled tuna in the family's private garden, while Vucetic told them stories about Hvar.
While the Mogans take more traditional vacations with their small children, who aren't yet ready for bike tours, they believe the value in food, accommodations and experiences is greater with bike tours, and look forward to taking their children with them at some time in the future.
"I can't imagine traveling any other way," Mogan said.