In Memorium: Longtime Travel Industry Veteran Jim Smith
by Daniel McCarthy /

Longtime travel industry professional and special needs advocate Jim Smith passed away this weekend at the age of 65-years-old.
Smith spent most of his career working in the travel industry after graduating from St. John's University in Queens, N.Y. in 1975. During his career, he served as sales director for National Car Rental from 1985 to 1987, before moving on to run GEM – International Association of Travel Agencies, a N.Y.-based agency consortia, from 1987 to 1998.
He then spent years as a consultant and senior vice president of industry relations for Auto Europe starting in 1998, before spending some time as the vice president of sales and travel industry marketing for Delta Vacations and the director of marketing for Cruise Lines International Association (CLIA).
Most recently, Smith, a 21-year cancer survivor, also worked as the senior travel industry consultant of the Special Needs Group (SNG) starting in 2011. Smith helped the group bring in travel advisors to become knowledgeable about accessible travel and, in November 2018, he and the rest of the SNG team celebrated over 5,100 advisors becoming SNG certified.
"Through his efforts, we have been able to spread the awareness of the necessity for accessible travel and empower tens of thousands of people to visit anywhere they dreamed of going. He has definitely left his mark on mankind in an unmeasurably beneficial way. He was a friend as well as a colleague. I will definitely miss him," said Andrew Garnett, president and CEO of Special Needs Group.
Smith was one of the industry's most colorful voices and a frequent face at industry trade shows and events. He brought his passion for people to the music industry, working, among other roles, at the Jones Beach Theater in Long Island, N.Y.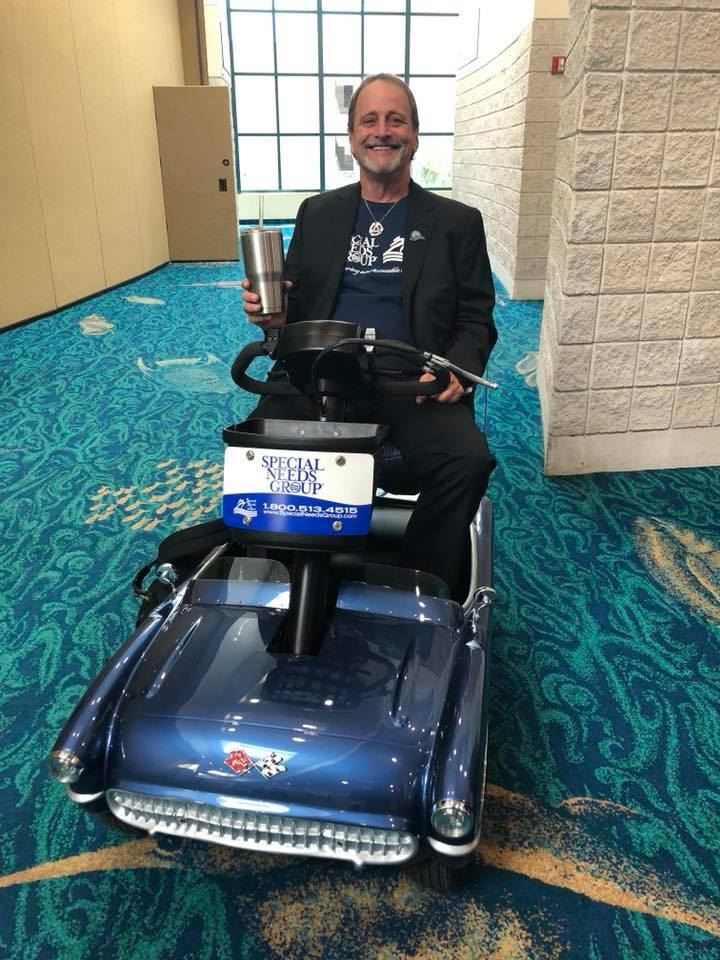 Smith in the "Special Needs Group Corvette." Photo: CruiseWorld
News of Smith's passing rippled through the travel industry on Tuesday night and Wednesday morning, with tributes filling social media timelines and coming to Travel Market Report.
Joe Jiffo, vice president of business development at NEST, told TMR that he met Smith, who he called "Smitty," more than two decades ago and the friendship was one that lasted.
"A group of us from the travel industry were a part of a special golf group that Smitty and few others started and we got together every year for the past 25 plus years. We called each other Brothers, and because we were a family of friends who loved our industry and we celebrated each year by getting together for golf, laughs, great food and our annual sports watch parties whether it be the NFL playoffs or the Masters" he said.
"I was privileged to have known Smitty, he was one of a kind who had such a passion for our industry, he was witty, fun, honest, intelligent and had a great love and knowledge of music, he will truly be missed, my prayers and thoughts go out to his sons, Trevor and Ethan and his wife Angela."
Bob Duglin, the vice president of international membership and host agencies at ASTA and the managing director of ASTA SBN, called Smith a "one-of-a-kind pioneer."
"Jim Smith was a one-of-a-kind pioneer in our industry going back to his days at GEM. He had a larger than life personality with tremendous passion for our industry and the people in it. He also had a heart and a soul that was larger than life - I was honored to play a small part in some of the charitable work he did for Camillus House as well as hurricane relief efforts in Long Island, the Bahamas & Puerto Rico. He will be sadly missed by all of his friends and colleagues."
Shawn Tubman, the vice president of strategic partnerships with Regent Seven Seas Cruises, echoed Duglin, telling TMR that Smith was truly "one-of-a-kind."
"Jim Smith was one of a kind; intelligent, warm, articulate, caring, funny, and a great mentor to so many. I first met and worked with Jim while I was at NCL and he was President of GEM Consortium back in the late eighties, and we remained friends from then on. He is loved by so many of us that knew him, and he was truly an asset to the travel industry. He was very proud of his two boys, Trevor and Ethan, and very happy with life with his new wife, Angela, and their family. We will all miss him and his amazing rock and roll knowledge."
ASTA president and CEO Zane Kerby called the news "a heartbreaking loss."
"Jim showed up everywhere ASTA went. I never saw him without a huge smile on his face. He was gentle, and always quick with a joke or a self-deprecating anecdote. For a very small company (mission rather than profit focused) with a modest budget, Jim put ASTA first. Heavy news. ASTA has lost a friend indeed."