Ireland's Passion Points and Its Sixth Record-Breaking Year
by Maria Lisella /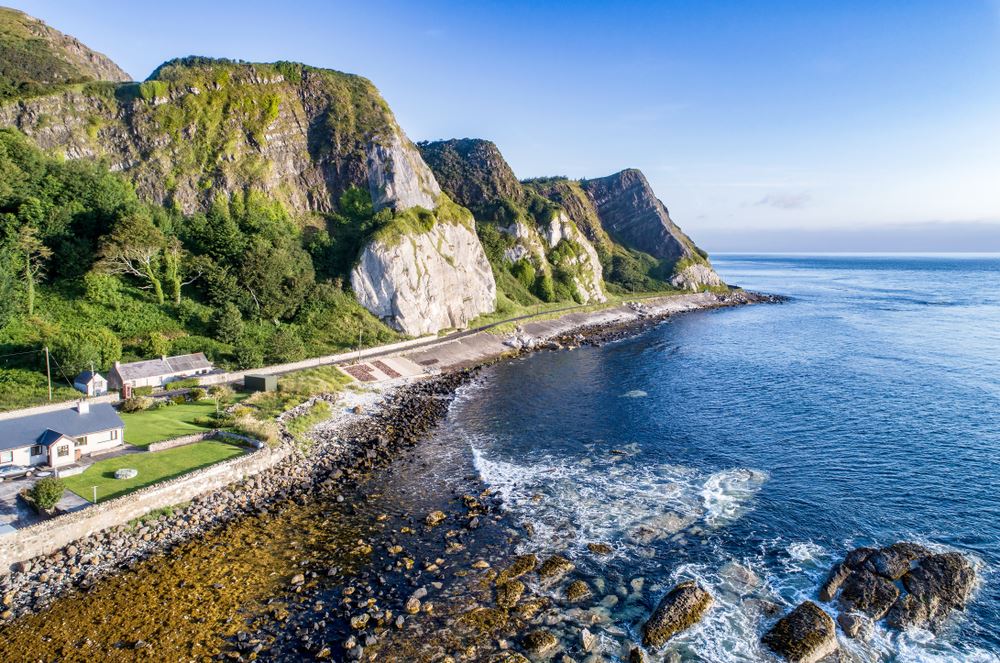 You might not link "passion" with the cool island of Ireland, or maybe you think Ireland's sixth record-breaking year for tourism is based on the "Luck of the Irish," but Tourism Ireland executives have left nothing to chance. They know exactly how to press, promote and market the passion points that have led to the country's blockbuster tourism arrivals.
The current "Fill Your Heart with Ireland" campaign was designed to reach emotional passion points by presenting a series of moments that are intended to fill hearts with joy. The content will be shown on TV and various platforms, targeting lesser-known regions such as the Wild Atlantic Way, the Causeway Coastal Route, Northern Ireland, Dublin, and Ireland's Ancient East.
Award-winning cuisine
You might also not link cuisine with a reason to visit, but Ireland has embraced its access to fresh fish, grass-fed sheep, and lamb, and considers its provenance to be as an organic island.
Alison Metcalfe, executive vice president, U.S. & Canada, for Tourism Ireland in New York, said: "Cuisine may not come to 'top of mind,' but Ireland now counts 16 Michelin-starred restaurants while it is producing and attracting great chefs and is building a reputation as a firm culinary experience." Food trails, markets, festivals and street food are fast enhancing trips to Galway, Belfast, and the smallest villages in between.
The soon-to-be-launched "Taste of Island" campaign is slated to roll out Sept. 6 and will continue through Nov. 30 – and kicks off with A Taste of West Cork Festival. Innovative artisan producers and world-class chefs are coming together in kitchens all around the island to create one of the most exciting food events in the world, with more than 500 food and drink-related experiences for visitors to savor.
Other highlights include a Harvest Moon Supper at Hook Lighthouse where guests can dine while enjoying the sunset and the Harvest moon rising over Hook peninsula in County Wexford; a feast at the foot of Mount Errigal where Donegal chefs create a unique dining experience; Armagh Food & Cider Festival; Galway International Seafood and Oyster Festival; Derry Slow Food Festival; Wild Food Foraging experiences; Oyster Shucking experiences and Whiskey Distillery Trails.
Just to give a few examples: Last year, The Wild Honey Inn located in Clare, was the first pub in Ireland to receive a coveted Michelin star. At the same time, the "2019 Michelin Guide to Great Britain and Ireland" unveiled single Michelin stars for three restaurants in Cork alone – Ichigo Ichie, the Mews and Restaurant Chestnut – while Dublin's Restaurant Patrick Guilbaud is the one to merit two Michelin stars.
Other Michelin-starred winners can be found in Galway, Kilkenny, Belfast, and Waterford. Twenty-six restaurants kept their Bib Gourmand listings while five more were added this year.
Golf and film tourism
Since Northern Ireland boasts more than one-third of the world's golf links, including Royal Portreush (host of the 148th Open in 2019), it is still a golf mecca. Tourism Ireland's website outlines detailed routes for biking, hiking, and driving to assist agents to create a more detailed framework for clients.
Tourism is the most important industry on the island of Ireland as it employs 325,000 people and attracts more than two million North American visitors a year, with a return of $2 billion dollars for a 14% increase over 2017. Since 2013, the volume of visitors has doubled, surpassing the country's goal of attracting a modest one million; that figure leapt to two million in 2018.
Film tourism has been a game-changer for Northern Ireland, as the "Game of Thrones" production took place in Belfast, as well as 20 other locales from County Antrim (Ballintoy Harbout), Down (Tollymore Forest), and Londonderry (Portstewart Strand) – and Star Wars kicked off more interest in County Kerry and Donegal.
If truth be told, Hollywood's fascination with Ireland started with the John Ford Academy Award winning film, "The Quiet Man," (1952) which starred John Wayne and Maureen O'Hara. Filmed in the village of Cong that straddles counties Mayo and Galway in the west of Ireland, it is often screened throughout the U.S. around St. Patrick's Day each year.
All of this on a not very large island that includes both North and South, which have been marketing as one island since 1998, the Island of Ireland combines the Republic and Northern Ireland under one banner. As such, it has lured one in every 10 U.S. visitors to Europe to step onto the Emerald Isle for an average stay of no less than nine days.
Trends and growth
Because of this growth, Ireland follows a set of sustainable tourism marketing principles to manage demand with a keen eye for potential pressure points at peak periods, says Metcalfe.
"We try to stay ahead of the curve and put a strong focus on marketing strategies on promotion of the regions of Northern Ireland and extending the shoulder season," she said.
The two North American markets – the U.S. and Canada – have a reputation for stays averaging eight to nine days and greater expenditures, compared to other markets. Airlift has contributed to the growth: together the U.S. and Canada have 24 gateways to Dublin and Shannon.
A savvy social media plan has also supported the growth. The total global number of Tourism Ireland Facebook fans has leapt to 4.2 million; the Ireland.com website counts 29 market sites in 11 languages that counted 20.3 million visits in 2018.
Authentic experiences
"It is easy to get off the beaten track in Ireland: The culturally curious, foodies, families and solo travelers find their way to live-like-a-local experiences. And more and more, Ireland's cuisine is attracting a new clientele together with its stunning landscape that is often showcased in blockbuster films," Metcalfe adds.
Travel suppliers concur with Tourism Ireland's findings. Says Barton Mathews, Eurobound's resident UK specialist: "The opportunity for authentic travel in Ireland is fantastic. Rather than ticking off a list of sights, we are increasingly seeing clients looking to connect with the local people and places … as the appeal of experiential travel continues, Ireland is well-positioned to capitalize on this trend."
No sooner had European Waterways announced that the Shannon Princess will be plying Irish waterways through 2020 than the company received 50% of the confirmed bookings for that particular ship and waterway. European Waterways' barges accommodate groups of six to 20 with a crew ratio of 1:2. The company boasts a high level of service and can transport guests to intimate inland waterways that are inaccessible to larger vessels.
"The classic Shannon Princess cruise is a veritable immersion into Irish history and gastronomy," says Derek Banks, managing director for European Waterways. "From the moment you come aboard, you're greeted with Irish coffee and 'black velvets' – a traditional Irish cocktail of stout beer and champagne – and are instantly transported into a world of ancient customs and lore."
Canadian-based LeBoat's Lisa McLean, director of marketing for North America, reports that Ireland sales are up 26%, compared with the same period last year. This product is like renting out a personal yacht or houseboat as travelers captain the boats on their own. Agents are paid a 10% commission on the bookings. About 2% of the buyers are Canadian while 15% are Americans, she reports.
At Insight Vacations, Jon Grutzner, president, observes that his company has fashioned an itinerary to cater to travelers who want smaller crowds and more authentic experiences. "Our 'Country Roads of Ireland' itinerary includes an opportunity to meet a local hurling player through a hands-on demonstration. Instead of waiting in long lines, participants gain VIP priority entrance to the Book of Kells, and a guided walk through Trinity College with a university insider."
Agent education
Tourism Ireland works closely with consortia such as Virtuoso, Travel Leaders, and Signature, as well as others, and conducts educational and incentive programs for agents throughout Canada and the U.S. The online specialist program is called the Shamrock Club; fam trips are by invitation only.
While no one knows exactly what the Brexit fallout will be after Oct. 31, the drop-dead deadline for the change, but Metcalfe offers this perspective: "From a tourism standpoint, it is business as usual for visitors traveling to the island of Ireland. Tourism Ireland established a Brexit Taskforce in Great Britain, following the U.K. Referendum result three years ago. "We continue to monitor the situation on an ongoing basis to ensure that the marketing plans we have in place remain fit for purpose going forward."