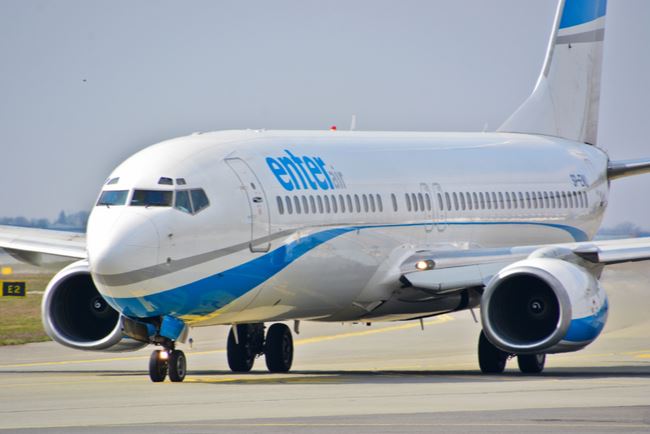 On Wednesday, Boeing announced that Polish airline Enter Air has ordered up to four new Boeing 737 MAX jets.
The news is significant for Boeing because, first, the order represents the first MAX order since December 2019 and a continuation of Boeing's decade-long partnership with Enter Air—Enter will add at least two MAX jets to its fleet, with the option of two more that could bring its MAX fleet to 10 aircraft.
Second, the order sparked rumors that it may represent the start of Boeing phasing out the "MAX" moniker from the jets—in the news release, Boeing calls the jets "737-8 Jets," a term that some thought represents a possible move away from the "MAX" name that became synonymous with the March 2019 groundings after two deadly crashes in less than five months.
"We are humbled by Enter Air's commitment to the Boeing 737 family. Their order for additional 737-8s underscores their confidence in the airplane and the men and woman of Boeing…We look forward to building on our decade-long partnership with Enter Air and working with the airline to safely return their full 737 fleet to commercial service," Ihssane Mounir, senior vice president of Commercial Sales and Marketing at Boeing said in a statement announcing the news.
A Boeing spokesperson told Travel Market Report that, despite reports and suggestions from aviation industry experts on social media, there are no plans to get rid of the MAX name and that the word choice was simply to distinguish "the variant as there are five in the MAX family (-7, -8, -9, -10 and high capacity MAX 200)." Boeing also used the 737-8 term in news releases prior to the model's grounding.
Boeing now will concentrate on getting the MAX jets fully certified and back into regular service—the FAA earlier this month released some safety issue fixes that Boeing will have to put in place before the jet can be recertified to fly again, including updating the flight control software, introducing new crew procedures, and handling other hardware and software changes onboard.
Boeing is moving closer to getting the jets back into the air, and reportedly hopes to do so by early 2021 after the changes are made.