Lufthansa Emphasizes Advisor Opportunity, Debuts Flagship A350-900 Toronto-Munich Service
by Lynn Elmhirst /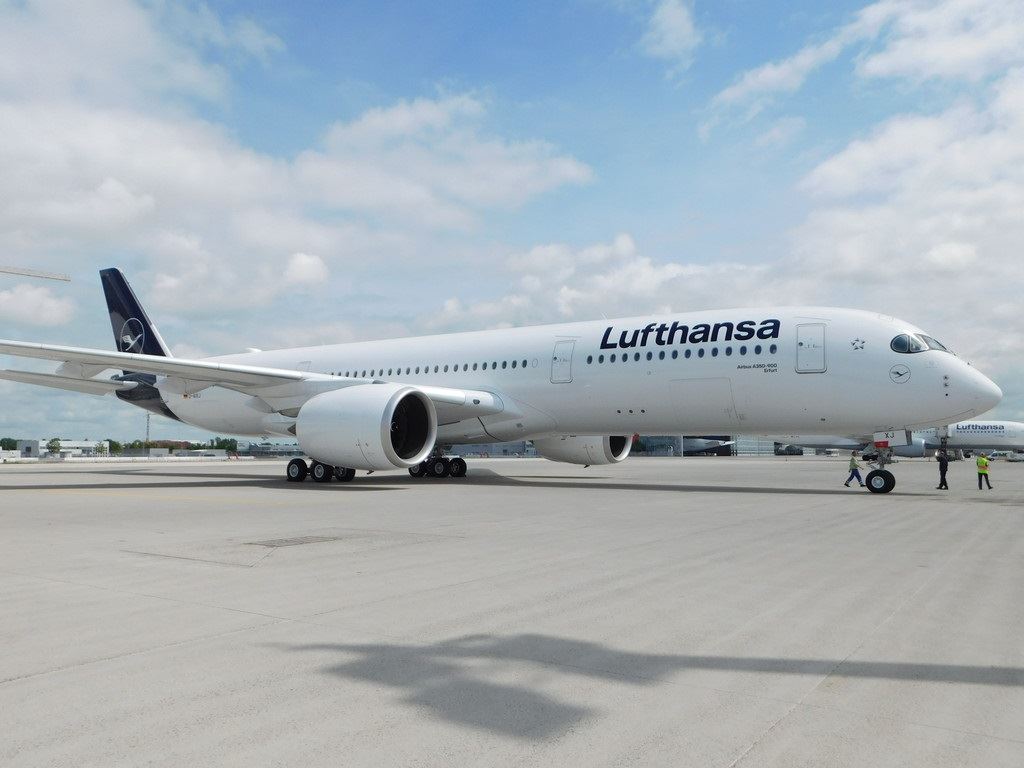 Lufthansa has launched seasonal daily Toronto-Munich flights on its flagship A350-900, bringing what it calls the world's most state-of-the-art, long-haul aircraft to Toronto for the first time.
Beginning Mar. 31, daily flights depart Toronto at 8:25 p.m. and arrive in Munich, Lufthansa's secondary hub, at 10 a.m. the following day. Return flights depart Munich at 3:40 p.m. and arrive in Toronto at 6:35 p.m. the same day.
Timing of the launch is fitting, coinciding with the weekend many cities in the world – including Toronto – darkened their skylines for Earth Hour. And in air travel, the Airbus A350-900 is an eco-game changer.
It is the world's most advanced long-haul aircraft for its environmental impact. Construction materials allow the A350 planes to be lighter and more aerodynamic. They use 25 percent less fuel, create 25 percent fewer emissions, and make less noise on take-off.
Enhanced aircraft experience
The same unique construction materials and design also facilitate truly innovative features that have a big impact on the well-being of the 293 passengers onboard.
Passengers fly overnight to Europe enjoying better cabin pressure, air hydration, and even a complex cabin lighting system with two-dozen variations that adjust with day and nighttime rhythms of passengers.
As a result, all 48 Business Class, 21 Premium Economy, and 224 Economy Class fliers arrive in Europe – or from Europe to home – better rested, more refreshed, and less jet-lagged.
That's in addition to other onboard features. The aircraft is more spacious than comparable planes in all classes, with a width of over 18 feet and clever, prize-winning design.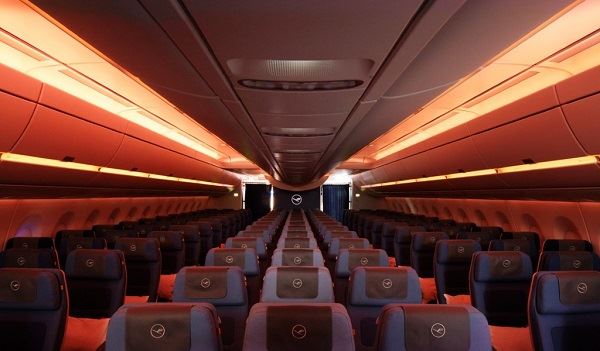 The Lufthansa A350-900
Lufthansa's Economy Class design on the A350 was given the German Design Award 2018. Ergonomically-shaped and formed seats, as well as extra personal and storage space, make a big difference for economy class passengers, especially on long-haul flights.
Passengers in Premium Economy also enjoy dinner service on porcelain plates and two checked bags at no charge.
Business Class passengers even have a self-service area for snacks and drinks, accessible at their convenience throughout the flight.
On arrival in Munich, whether connecting to Lufthansa's vast network of flights elsewhere in Europe, the Middle East and beyond, or staying in southern Germany, passengers have the amenities of Europe's first, five-star airport and the world's top terminal, Terminal 2.
Opportunity for travel advisors
Price, schedule and loyalty program membership often drive air bookings (and the Lufthansa group airlines – including Lufthansa, SWISS, Austrian and Brussels airlines – are members of the Star Alliance, along with Air Canada and United). But Lufthansa's A350 routes to Munich give travel advisors an opportunity to demonstrate their value to clients during the travel consultation process.
Identifying clients who prioritize the environment, feeling better on arrival after an overnight flight to Europe or returning home, and a top-tier airport experience in Europe, allow advisors to introduce their clients to Lufthansa's A350-900 service to Munich as a high-value travel option.
That applies to the new Toronto-to-Munich route, as well as the other Lufthansa A350 routes to Munich from North America, including Vancouver, Boston, Denver, Chicago-O'Hare and Newark.
Lufthansa is running a contest beginning next week to help Canadian travel advisors learn more about what makes the A350-900 unique. Any IATA-registered agent can sign up for free on the airline's Lufthansa Experts travel advisor portal. Advisors are asked questions about the aircraft features and they receive more information about the features in the answers. The contest runs Apr. 8-30, and 20 Airbus A350-900 desk models will be awarded.