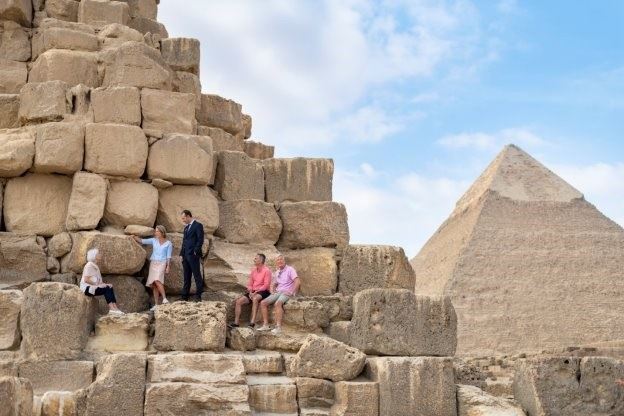 Luxury Gold is offering journeys to Egypt this winter and early spring to allow guests to avoid the crowds and travel in milder temperatures, while indulging in the luxuries of exceptional dining, VIP experiences, small group travel, and lavish hotels.
On the "Elegance of the Nile" itinerary, guests will spend 12 days sightseeing in Cairo and Giza. Along with a visit to the Sphinx hosted by a professional Egyptologist, the itinerary includes a seven-day river cruise aboard the River Tosca. Dining experiences include an onboard welcome reception and gala dinner; Nubian-style hospitality at the traditional dwelling of a local family; and a colonial English-style high tea at Aswan's Old Cataract Hotel. In Luxor, accommodations are at the Winter Palace Luxor Hotel, overlooking the Valley of the Kings.
On the seven-day "Elegance of Egypt" trip, guests will see the sites of the Great Pyramids, Tutankhamun's treasure, and the Sphinx. In Giza, travelers will enjoy the visual "Sound & Light Show" at the Great Pyramids, and explore the royal tombs and the Temple of Hatshepsut with an Egyptologist at the Valley of the Kings. On Kitchener's Island, guests will meet a sailor and learn the art of sailing on an ancient felucca during their three-day Nile River cruise on the River Tosca. In Luxor, travelers will get a taste of Egyptian cuisine while visiting a working bakery to witness local artisans making authentic Egyptian bread. Guests will stay at the Conrad Cairo, with premium rooms overlooking the Nile River.
The Travel Corporation's president for the USA for Luxury Gold and sister brand Insight Vacations, Jon Grutzner, has said Insight and Luxury Gold are beginning to see a return to the glory days of Egypt. "We have a beautiful product in Egypt. We believe it's our fastest-growing destination, along with India. It's really going to be a push. We believe it's the next Iceland."
From now until Aug. 31, travelers can pick a journey to Egypt and travel from Jan. 1 to Mar. 31, 2020, to receive: $400 off per person on Luxury Gold's 7-day "Elegance of Egypt" journey and $750 off per person on the 12-day "Elegance of the Nile" journey — a savings of up to $1,500 per couple.