MSC Bellissima: Five Things to Know About the Newest MSC Cruise Ship
by Daniel McCarthy /

In a star-studded ceremony in Southampton, UK, this past weekend that included a performance from Andrea Boccelli and an appearance by longtime MSC ambassador Sophia Loren, MSC Cruises officially welcomed its newest build, MSC Bellissima, into its rapidly growing fleet.
The ship is another addition to the MSC fleet that is set to grow to 29 ships by 2027. Here are five things travel advisors should know about the industry's newest addition.
1. Bellissima comes into service as one of the top ten largest cruise ships in the world.
The second of MSC's Meraviglia Class of ships, Bellissima enters service with a maximum guest capacity of 5,696 in 2,217 cabins. The ship is another giant for MSC — at 65 meters long, it's as tall as 13 double-decker buses. Its gross tonnage of 171,500 is just under the mark set by MSC Meraviglia (171,598) in 2017.
2. Bellissima continues with the Meraviglia-class standards.
MSC made big waves when it kicked off the Meraviglia class in 2017, with the first vessel of the new class, MSC Meraviglia.
Bellissima, the second of this class of ships, picks up right where Meraviglia left off, with a lot of the same standout features, including the top deck aqua park, the specialty restaurants of Butcher's Cut and Kaito Teppanyaki and Sushi Bar, Jean-Philippe Maury's Chocolat & Cafe and his Crepes & Gelato on the ship's promenade, the Technogym fitness area, and more.
The ship's centerpiece remains the Mediterranean-style, two-deck, indoor promenade that runs under a constantly changing, 80-meter long LED sky. The sky gives guests a different feel each time they visit. Attached to the promenade are six Swarovski staircases with an astonishing 640 Swarovski crystals per step, another feature carried over from Meraviglia.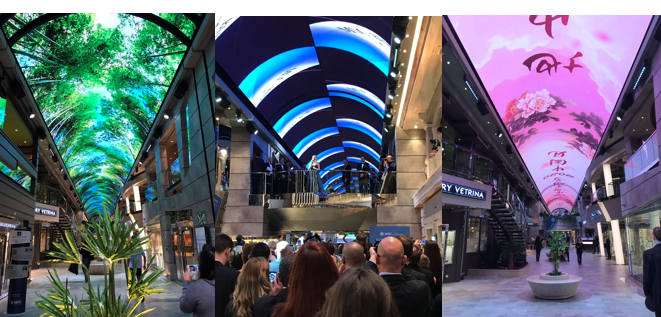 Depending on time of day, guests will get a completely different feel on Bellissima's promenade because of the constantly changing LED screen ceiling, the largest at sea.
With Bellissima's debut, MSC now has two ships that sport what is perhaps the most impressive thermal areas at sea; Bellissima, like Meraviglia, features a number of different thermal treatments at its Aurea Spa. There's no snow room, something that Meraviglia features; but there is an ice room, a tepidarium relaxation room, a set of traditional and nontraditional saunas, and more.
Bellissima also features the MSC Yacht Club, the brand's ship-within-a-ship area for its luxury guests that includes a private restaurant, lounge, and pool area along with perks like private butler service.
3. But it's not all the same.
While Bellissima carries on the traditions of MSC's Meraviglia class that started with the class's namesake, it also has some unique features.
The first is the HOLA! Tapas Bar, which was brought onboard through a partnership with celebrity chef, Ramon Freixa. The restaurant replaces Eataly from Meraviglia, sitting in a similar spot along Bellissima's promenade. It offers a classic tapas menu in both communal and individual seating along with wine, beer, and cocktails that include Spanish sangria.
Also new on the ship's promenade is L'Atelier Bistro, an 80-seat French bistro offering classic French fare including a pig bourguignon, steak tartare, and duck confit, along with some lighter fare like butter croissants.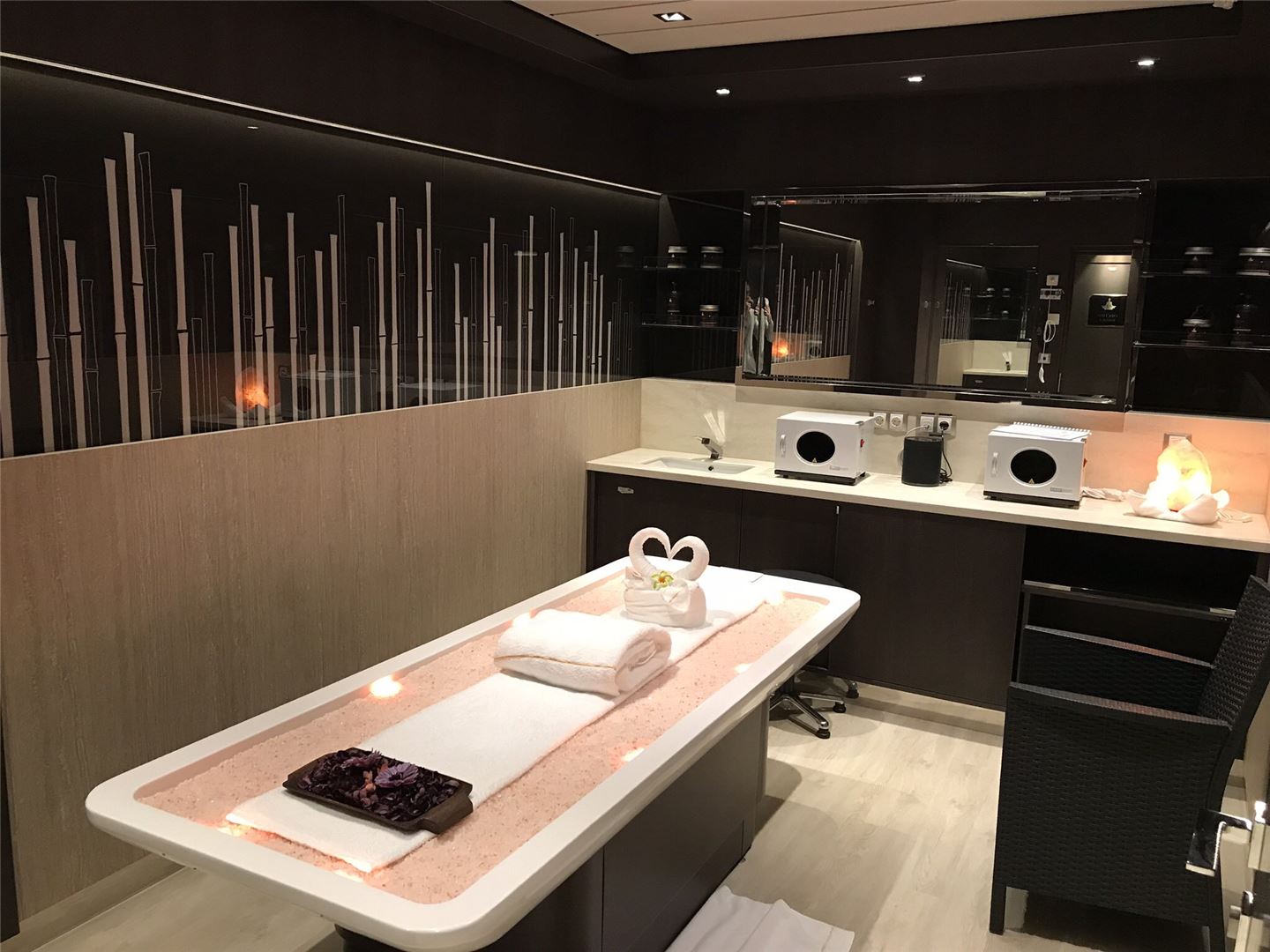 Salt room in the Aurea Spa, just one of a number of treatment rooms MSC offers onboard Bellissima.
For entertainment, Bellissima offers six original Broadway-style shows that are unique to the ship: "Pink," "Ritmo," "Solid Rock," "Incantesimo," "Quick," and "Eden." All take place in the ship's London Theater.
MSC's partnership with Cirque du Soleil continues on Bellissima, but not with the same offerings. Guests on the ship will have the chance to experience two brand new Cirque shows: "SYMA" and "Varelia." Both are performed at the Carousel Lounge, an intimate, 400-seat venue tucked away behind the ship's casino that features a 40-meter-long LED screen and a 360-degree rotating stage.
Also new for Bellissima, MSC has installed a VIVE virtual reality maze on the ship's entertainment deck.

A rendering from VARELIA, one of two new Cirque du Soleil shows offered onboard MSC Bellissima. Photo: MSC.
4. There's a new cruise crew member.
All Bellissima guests will have the opportunity to meet and interact with what MSC CEO Gianni Oronato called the "most expensive but most productive" crew member for the brand: Zoe, a new personal assistant in the vein of Amazon's Alexa.
Zoe, which MSC is calling the "first digital cruise personal assistant," is positioned in each stateroom and can be activated by saying "Okay Zoe." It speaks seven different languages and can help guests book shore excursions and spa treatments, find out what's happening onboard, and provide updates on the ship's itinerary. It learns on the fly, using artificial intelligence to adapt to each guest's preferences.

Zoe is expected to bring a new level of personalization and attention for MSC guests. Photo: MSC.
Oronato said the idea behind installing Zoe in every stateroom was to provide the "next level of guest experience for all the guests of MSC Cruises" and to allow guests to get the personalization they crave from their staterooms.
Zoe also allows guests to use it as a Bluetooth speaker.
5. Its upcoming sailings are special.
"Where we take our guests remains the number one driver for the choice of cruise," Oronato said during the ship's preview.
After its naming ceremony and christening in Southampton, Bellissima now heads to one of MSC's staple regions for its inaugural season, the Mediterranean. There it will sail Central and Western Mediterranean itineraries out of Barcelona, Marseille, Naples, and more.
After that, the ship will move to the Emirates and the Gulf for the 2019/2020 winter season. It will sail seven-night itineraries out of Dubai that include stops in ports such as Abu Dhabi, Sir Bani Yas Island, Muscat, Bahrain, and Doha.
Bellissima will then move to China for 2020, a region that MSC EVP and COO Ken Muskat told Travel Market Report will "be a home run" for the ship because of its innovative design and exciting hardware. "It is a region that is always looking for the newest and biggest hardware," he said.