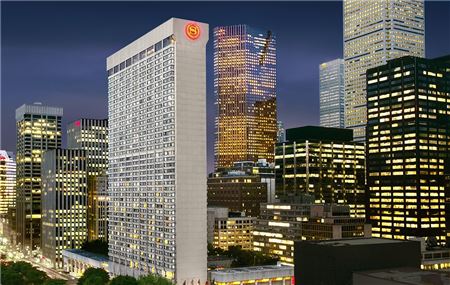 Marriott International said on Monday that it expects to open more than 1,700 hotels over the next three years.
The hotel giant outlined its plan to add between 275,000 and 295,000 rooms by 2021 (including roughly 214,000 rooms already under construction), potentially generating $400 million in fee revenue in 2021. It also estimated returns of up to $11 billion to its shareholders.
The company, which held an investor conference on Monday, expects comparable hotel revenue per available room (RevPAR) growth between 1 percent and 3 percent per year for the three-year period.
"Starwood has made us a more formidable competitor, providing a more valuable loyalty program, brands with strong appeal to loyalty members and owners, talented associates, terrific locations (particularly in the fast-growing Asia-Pacific region), significant cost synergies and meaningful scale," said Arne Sorenson, president and chief executive officer of Marriott International.
Marriott's development pipeline reflects an increasing number of legacy-Starwood branded hotels. Since the merger, the pipeline of legacy-Starwood brands has increased nearly 25 percent to represent nearly one-third of the legacy-Starwood portfolio's system size.
Sheraton, which was once uncertain after the acquisition, now has more than one-quarter of the branded hotels already under renovation or committed to a renovation. In 2018, Marriott launched a new Sheraton brand strategy, guest room prototype and design approach; and just a week ago, the company unveiled the new Sheraton logo.
"This new logo offers a modernized look-and-feel to match the reimagined space, while maintaining the powerful equity and recognition of the original logo," said Vice President of Global Brand Marketing Mara Hannula.
The first hotel to feature the new logo will be the 1,000-room Sheraton Grand Phoenix that will open later this year. Sheraton will make the logo change to its websites and marketing starting in April.
Since the acquisition, Sheraton's RevPAR index has improved to over 100, Marriott said.