Mickey & Minnie's Runaway Railway Train Departs at Walt Disney World
by Jessica Montevago /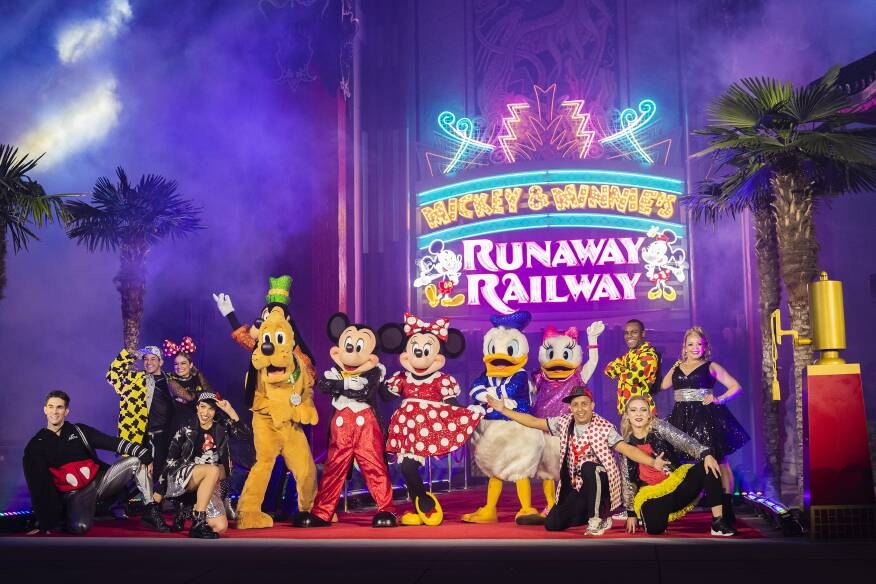 Walt Disney World's first ride-through attraction featuring Mickey and Minnie Mouse – the beloved cartoon characters that arguably started it all 91 years ago – opened earlier this week in Disney's Hollywood Studios.
Housed inside the Chinese Theater, Mickey & Minnie's Runaway Railway takes guests into the zany antics of the cartoon world, with other iconic Disney animated characters popping up along the way.
It starts off with a new short, "Perfect Picnic," featuring the Paul Rudish-version of Mickey Mouse animation that debuted in 2013. As Mickey and Minnie head off to a picnic, a train with Goofy at the helm comes barreling through and blows up part of the screen. Riders walk through the hole to enter the queue, serving as an illusion that they're now entering the cartoon world.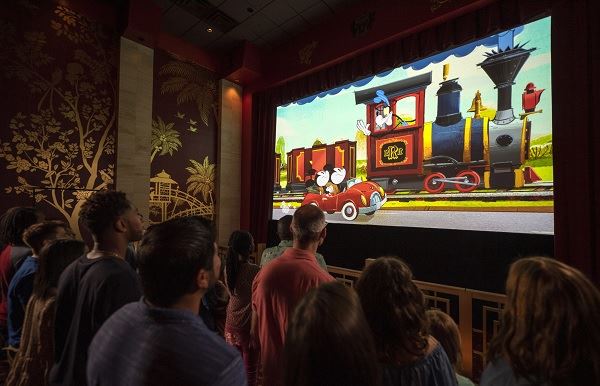 Guests watch a new "Mickey Mouse" cartoon short, "Perfect Picnic."
Passengers board Runnamuck Railroad led by Engineer Goofy, and the trackless system takes guests through several different scenes that mix 3D animatronics, projection mapping, real sets, and huge high-resolution screens. Misadventures ensue across the Wild West, a carnival, a tornado, an exploding volcano, a dive over a waterfall, a factory on the brink of explosion, and more.
"There's lots of new gags and new illusions that we're putting into it," said Ryan Adams, show systems engineer, with Walt Disney Imagineering. "We pull everything we have from our bag of tricks. You want to take this world that is very flat, and pushing and pulling all of these elements to create the illusion of a cartoon come to life."

The ride brings guests into the vibrant world of "Mickey Mouse" cartoon shorts.
The ride also debuts a brand-new song, "Nothing Can Stop Us Now," a catchy melody that is guaranteed to get guests humming and singing as they walk around.
"We're continuing a decades-old tradition of Disney Park music getting stuck in your head, like Small World, Pirates of the Caribbean, Haunted Mansion," said Kevin Rafferty, executive creative director, of Walt Disney Imagineering. "We're bringing back the magic of that."
Rafferty said he knew exactly who he wanted to compose the original music to achieve that classic sound: Christopher Willis, the composer behind all of the Disney Mickey Mouse Shorts.
"There are so many things about a ride that are different from making music for a cartoon, but there are actually opportunities, as well, that aren't possible in a cartoon," Willis said, such as having several musical elements at once that guests can experience as they move through the space. "It creates this wonderful effect that you can focus on one thing and then another and that is just not conceivable — there is no parallel to that in a movie or cartoon."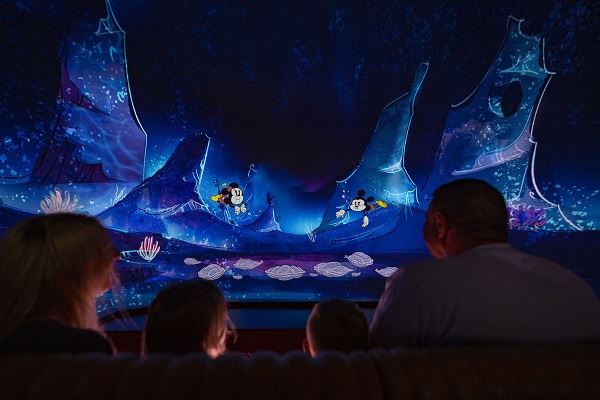 Guests follow Mickey and Minnie Mouse underwater as part of their journey.
The ride has no height restrictions, and while there are some spins, it's a great attraction for the entire family – rounding out the options at the park for younger children. It joins Slinky Dog Dash and Alien Swirling Saucers for families with kids too young to venture on the two new Star Wars rides and classic thrill rides like Rock 'n' Roller Coaster and The Twilight Zone Tower of Terror.
Complementing the ride, Mickey Shorts Theater also opened with an original short with new animation and classics like "Potatoland," "Couples Sweater" and more. Post-show, there's a space for photo ops. Trivia can also be downloaded on the Disney Parks app.

The newly reimagined Mickey Shorts Theater.
Disney's Hollywood Studios transformation
In a short time span, Disney's Hollywood Studios has seen some massive changes. The gate originally opened as Disney-MGM Studios on May 1, 1989. It centered on providing guests with a behind-the-scenes look at movie making, with rides like the Great Movie Ride and the Studio Backlot Tour. Meanwhile, re-creations of the Chinese Theater and The Hollywood Brown Derby celebrated the golden age of Hollywood.
The park was renamed Disney's Hollywood Studios in 2008, focusing more on attractions inspired by Hollywood stories. Several rides closed to make way for the new, including the Backlot Tour, the Stunt Show, and the Great Movie Ride in 2017.
First up was Toy Story Land in 2018, where larger-than-life toys from childhood set the stage for Woody and the gang. The second themed land, Star Wars: Galaxy's Edge, opened this past summer with anchor attraction Millennium Falcon: Smugglers Run. The technologically advanced attraction, Star Wars: Rise of the Resistance, joined in December.
In 2019, at the 30th anniversary celebration, the park's new identity was further cemented with the reveal of a new logo featuring Disney's three major franchises: Toy Story, Mickey Mouse, and Star Wars.
With the addition of Mickey & Minnie's Runaway Railway, this phase of transformation for Hollywood Studios is nearly complete – Roundup Rodeo BBQ is a new table-service restaurant coming to Toy Story Land in 2020.
Now, when entering the park, the new neon-lit marquee for Mickey and Minnie's Runaway Railway is the beacon for everyone to see, marking the new life of Disney's Hollywood Studios.

The neon-lit marquee welcomes guests into the Chinese Theatre, home to the new family-friendly attraction.