Quark Expeditions has released new renderings of its latest polar expedition ship, Ultramarine, which will set sail in the Antarctic for the 2020/21 season.
This game-changing new expedition ship, which was revealed last June, will enable travelers to explore deeper and further into the Polar regions.
Andrew White, Quark Expeditions' president, said during a media event last week the game-changing ship was years in the making through collaboration with naval architects, leading engineers, and top marine technology experts. Quark's own expedition team also contributed to the building of Ultramarine, sharing their knowledge gathered over leading hundreds of sailings.
"Despite being more accessible today, Antarctica is a formidable place to navigate," White said. "Typical vessels explore just a fraction of the continent. Ultramarine will feature a mix of technological design and enhancements that will enable us to explore greater areas of the Arctic and Antarctica."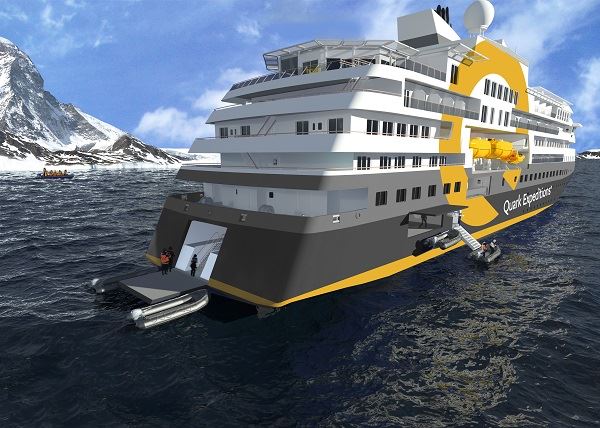 The vessel has 20 quick-deploy zodiacs.
Ultramarine will include two twin-engine helicopters and two helipads, which means the ship's adventure portfolio will feature for the first time ever flightseeing, heli-skiing and heli-hiking. With the ability to explore new places accessible only by air, guests traveling on Ultramarine can expect an ultra-immersive experience.
"Spontaneous moments are also a huge part of the polar experience," White said. Ultramarine will allow guests to make the most of those, as the ship will feature an internal zodiac hanger that can quickly and safely deploy 20 zodiacs. This unique design allows guests to get off the ship in less than 20 minutes, less than half the time of most vessels. It is all about optimizing the guest experience and getting the most of the precious time travelers have during their trip.
Ultramarine will feature 102 suites across nine categories, with spa-inspired bathrooms and heated floors throughout. There will be six solo suites with floor-to-ceiling windows, as well as the largest entry-level twin suites in its class.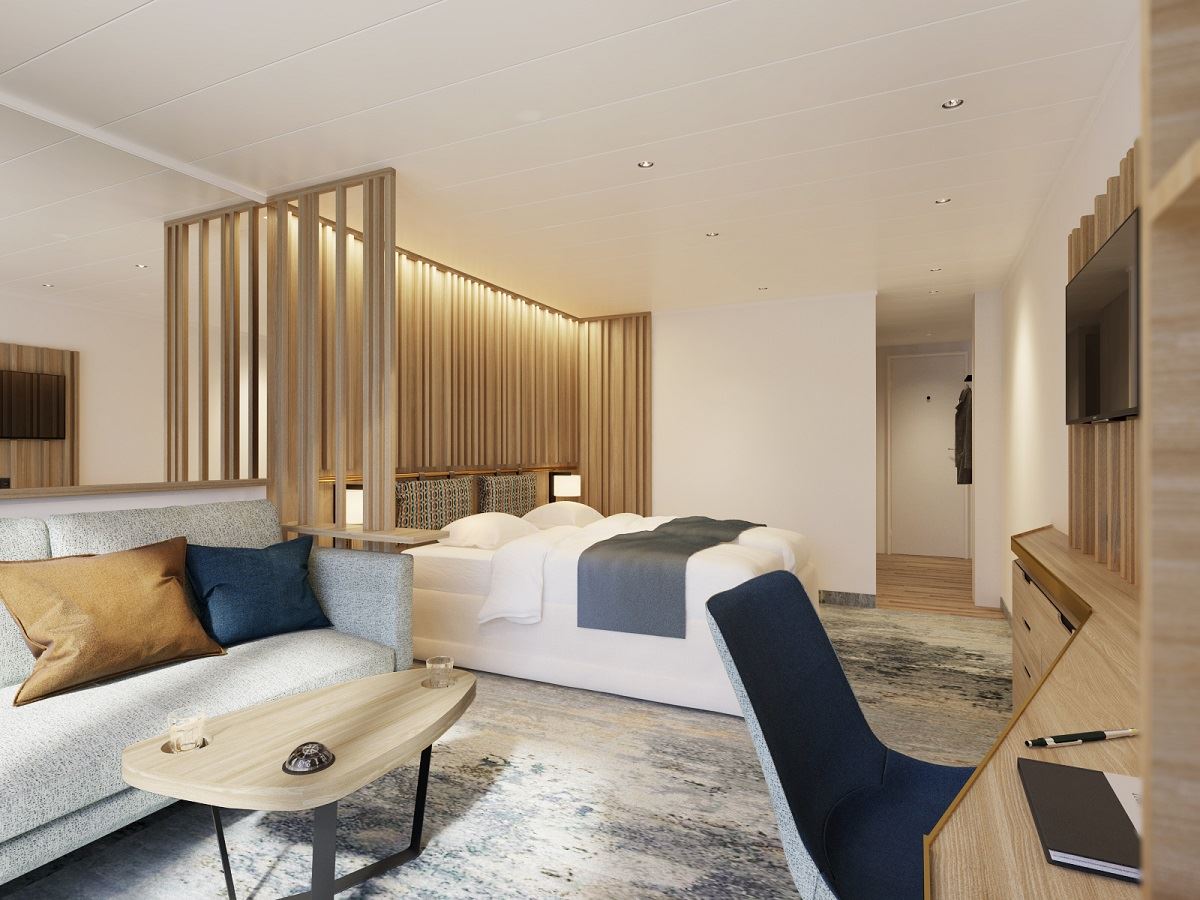 A Balcony Suite is one of nine suite categories.
"Three decades of polar exploration has taught us plenty, and one of the lessons we've taken away is that exceptional off-ship experiences are heightened by the exceptional on-ship experience. And this ship will have both," White said.
There will be two dining options, a main restaurant with a wine bar and access to the 360-degree wraparound deck, and the Panorama Lounge and Bar (which gets its name from the unobstructed views and an outdoor observation deck).
Other amenities include a lecture theater, where guests can learn more about Quark's team of experts; and a spa, sauna with floor-to-ceiling windows, and a fitness room with separate yoga space.
But, what White is most proud of is Ultramarine's ultra-small footprint, sustainability features that reduce its environmental impact. Optimized fuel, water, provisioning and waste-handling systems will enable a 70-day operational range. A groundbreaking onboard waste management system decreases waste by 95%, transforming most of it into reused energy.
"Ultramarine, which among other things means 'beyond the sea,' will enable us to continue to define new possibilities for those that share our curiosities for these wildernesses, and they will experience the polar region in ways they never before have seen."

The main restaurant boasts outstanding views from every seat.