Royal Caribbean Hints at Big Things to Come for Odyssey of the Seas
by Cheryl Rosen /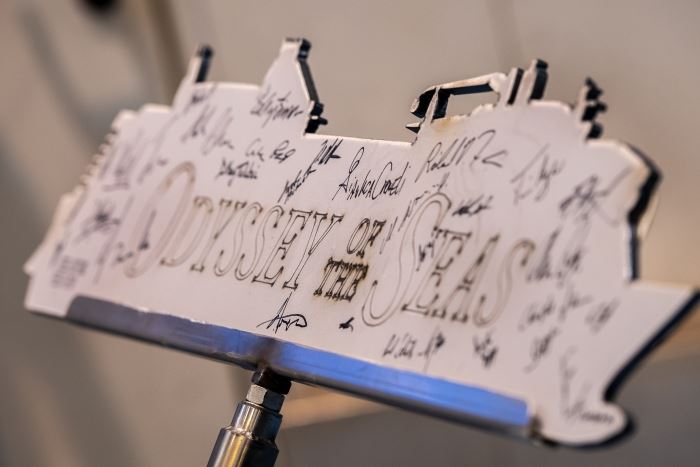 Addressing 1,000 travel advisors onboard Royal Caribbean's Symphony of the Seas, the cruise line's President and CEO Michael Bayley couldn't resist hinting at some big news to come. And while he declined to tell all his secrets, his Senior VP of Sales, Trade Support and Service Vicki Freed shared some news about the brand-new Odyssey in an exclusive interview with Travel Market Report.
Bayley told attendees that Odyssey of the Seas will be sailing out of Rome into the Eastern Mediterranean.
Odyssey "is going to fly off the shelves and you are going to make a lot of money," he said. "We're not going to talk about it yet, but it will be a game changer with a lot of brand-new ideas, just as Oasis class was a real game changer. We've got a huge amount of innovation and new stuff coming online in the next couple of years that's going to change the game."
Freed said Royal's 27th ship, the first Quantum Ultra class ship to call North America its home, will sail six- and eight-day itineraries from Fort Lauderdale, with calls to Aruba, Curacao, and CocoCay, leaving Bayonne between April and October. In the spring, it will sail back to Rome for seven- and nine-night sailings in summer 2021 and then come back to Fort Lauderdale.
In addition to the routes, "we're working on something super-special for Odyssey," Bayley told the attendees at the CruiseOne/Dream Vacations/Cruises Inc. annual conference. "We were in a meeting yesterday and I'm very excited about what we will be announcing, a twist we will be very pleased to announce."
With ASTA statistics showing that 64% of travel advisors work from home — a huge jump that almost doubled the 44% working from home in 2017 — "I'm amping up my personal game to find new ways to teach, to encourage and to support this growing piece of the business, making sure our salespeople in the field are working in tandem with travel advisors," and bulking up the number of local sales reps, Freed said.
Focus on kids
"People love new ships," Freed said, and Odyssey, in particular, will be very attractive to the family and the intergenerational markets.
To meet the demand, Royal Caribbean is working on "a major makeover" to its entire children's program, which will relaunch on Oasis with "all kinds of new features for kids."
Included will be The Play Place, a room with climbable creations, a workshop area for art and science projects, and a tech studio; an area called The Arena where there will be competitive sports and games; The Hangout with video games; and a revamped Adventure Ocean babies program, with lots of interactive and learning play and music, and Adventure Ocean Junior space (for 3-5 year olds).
The biggest change, though, will be the teen area, which will include a secret Speakeasy entrance. "It won't have a sign; it will be a secret place," Freed said. "To get in, you have to know where it is." Teens also will have a private outdoor deck and a new arcade lounge with arcade games teenaged guests have suggested.
Underscoring her commitment to the trade, Freed noted that she and the Royal Caribbean team changed the itinerary for this week's sailing of Symphony of the Seas to make sure that the 1,000 Dream Vacations, CruiseOne and Cruises Inc. agents onboard got to see CocoCay, whose Perfect Day concept will be repeated in other locations – including Tahiti – in coming years.
Tips for the trade
As for tips for agents selling cruises, Freed suggested that the most successful travel advisors are nurturing their group business. "Groups are everywhere, so find one that matches your passion and build around that to start," she said — be it mahjong or knitting or cigars.
And with the holiday season approaching, take the leap and throw out the idea of a cruise to existing customers who own businesses or professional firms.
"A three-night cruise is a great thank-you and the cost is not that different from a holiday party," she said. "Just dare yourself to try it. Say, 'William, are you doing anything special for your employees this year?' And let him answer. Then say, 'Maybe they'd be interested in a weekend cruise. I can share that in businesses like yours that have offered a three-night cruise for employees and their guests, it has created incredible loyalty to their employer.' So now you've told them the benefit and planted a seed, and if it was a profitable year and they want to reinvest in their employee base, they just might agree."
Royal Caribbean is hosting a two-night cruise in November for its own employees, plus family or a guest, to experience Oasis of the Seas, as a way to say thank you for all they do for RCCL and its travel partners.
"These are good times, our brand is strongly positioned, and we want to take some time to just enjoy it," she said.