Social Media Has Changed How Travel Agents Do Business, New Study Confirms
by Kerry Tice /

Travel advisors know the value of social media and a large majority (87 percent) confirmed they are turning to it to gain new clientele, according to survey results from a new "Outlook on Social Media" study released today from Travel Market Report.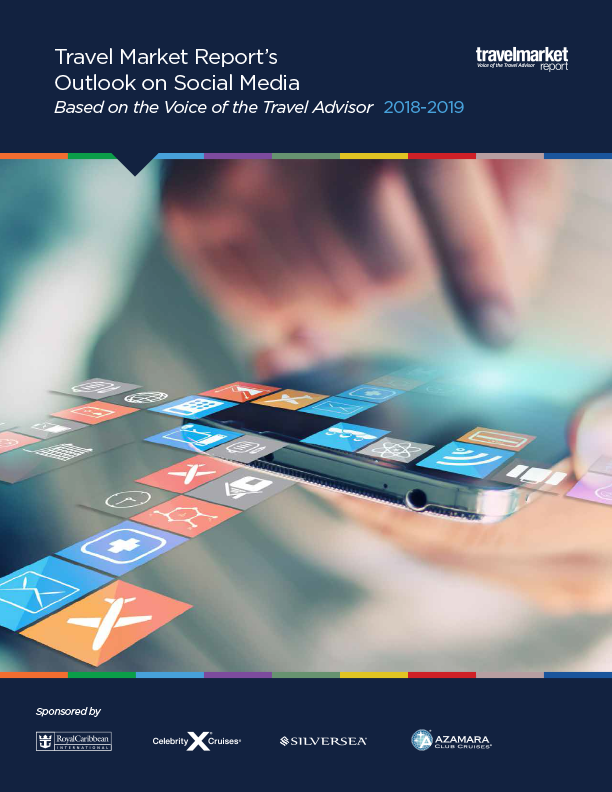 After surveying nearly 1,000 travel advisors and agency owners/managers about their social media practices, Travel Market Report has compiled a research report that highlights what agents are doing individually and at the agency level in the social media space. This includes which social media platforms are providing the most impact, what's working and what's not, as well as the practical steps agents need to take next to generate returns from their social media efforts.
Some of the highlights worth exploring in this report include the fact that nearly 90 percent of those surveyed said social media is very or somewhat important to their marketing plans, but only 40 percent have a formal plan for social media marketing, and 35 percent say they don't or can't track sales from social media (see tomorrow's story as Travel Market Report takes a deeper dive into this finding).
In other results, advisors and agencies alike are most likely to follow suppliers (81 percent), clients (70 percent), and trade media (51 percent).
And their main reason for using social media is primarily to gain new clientele (87 percent), while 77 percent say they use the platforms to position themselves as experts, and another 74 percent say it's a tool to market to existing customers.
In terms of what's having the most impact and ranks highest, respondents said pictures from their own travels, beautiful travel photography, and special offers. What's more, over two-thirds use video in their social media efforts; and 24 percent of agents post at least one video to YouTube each month.
When it comes to usage, Facebook was far and away the winner, with 97 percent of respondents participating on the platform, while 60 percent use Instagram, and 59 percent use LinkedIn. These three particular social media outlets were also rated as being the most important for their business.
Not surprisingly, Facebook also emerged as the preferred platform for posting by the majority of travel advisors, with 42 percent updating content at least 10 times per month, compared to 18 percent for Instagram, and 10 percent for Twitter. Eighty percent also reported having business profiles on Facebook; and half of the respondents said they run paid ads on the platform (versus just 10 percent on second-place Instagram).
In return for their efforts, eight in ten agents say they get at least one booking per month from Facebook, compared to just 33 percent from Instagram, 20 percent from LinkedIn, 16 percent from Twitter, and 13 percent from YouTube.
For more details on this comprehensive research on social media – a study sponsored by Royal Caribbean International, Celebrity Cruises, Silversea Cruises and Azamara Club Cruises – read and download the full report by clicking here.