Technology Will Never Replace Value and More Takeaways from Travel MarketPlace West
by Jessica Montevago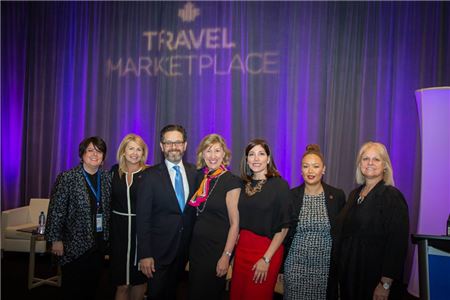 The second annual Travel MarketPlace West, held last week at the JW Marriott Vancouver, brought more than 250 travel agents, 30 speakers, and 50 exhibitors together for two days filled with educational sessions and networking.
Here are five key takeaways from the event:
1. Technology will never replace value.
When asked "what's keeping you up at night," 35 percent of travel advisors polled by ACTA listed modern technology as number one.
"So many of us think tech is our foe but is our friend it is not going anywhere so we need to figure out how it can work for us," said Wendy Paradis, ACTA President.
In actuality, she said, consumers are overwhelmed by choice and don't have time to figure out vacations, and they need an agent to help them. "Humans working with humans, there isn't anything better."
2. Advisors support suppliers who support them.
That same survey by ACTA found that supplier direct pricing and lower commissions were also among the top concerns of advisors, at 14 and 15 percent, respectively.
"We all need to make sure we are supporting the travel companies who support us," said Wendy Paradis, ACTA president, "we have a lot here today who are travel agent friendly and travel agent respectful."
3. All marketing is digital marketing.
Ryan McElroy, Travel Agency Tribes, said sometimes people hold themselves back, especially on social media, which is becoming more and more vital to marketing your agency. Try replacing those thoughts with new ones, he said, to achieve growth and momentum in your business.
He shared this advice: print out your database and search for them on Facebook, like them or invite them to be your friend. He cautioned to not try to sell them anything, "start by seeing their feeds, then share and THEN self-promote."
"We are not harnessing the content at our disposal." McElroy's other tip was to utilize everything at your disposal, like taking videos on fams as a simple tactic to get more eyes on your brand.
4. Create a deep, personal relationship with clients.
This point was echoed by a few speakers, but Mary Jane Hiebert, the general manager of Canada One Travel, shined a light on how simply sharing your personal story with clients can develop and deepen that relationship. What retains a client is loyalty, stemmed from that connection they have with you. Connecting on a personal level through shared experiences will sustain their business.
5. Have a social media plan.
It's important to have an integrated marketing plan that makes at least one social media platform part of that plan. Define what goals you are trying to accomplish, whether it's engagement or driving click-throughs to your website.
Planning will ensure posts complement each other, with seamless integration across all platforms, said Sonia Agle, director of global trade marketing for Silversea Cruises.
"Tailor the content to the platform. Twitter is good for updates; Instagram is easy-to-see-at-a-glance videos and clips content; Facebook is for a seasoned traveler," she said.