These Are the Busiest Airports for the Thanksgiving Holiday
by Daniel McCarthy /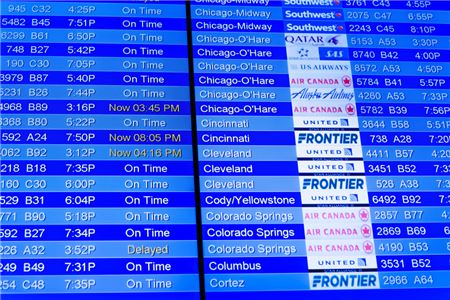 The Thanksgiving Holiday is a time of celebration, family, and food for Americans, but it can also be a traveler's worst nightmare, with airports and train stations busier than ever as travelers head home or out on vacation.
Last year, AAA estimated that more than 50 million people traveled for the holiday, the highest ever at over 1.5 million more than in 2016. And this year is expected to be no different.
According to research from Hopper and InsureTrip, the Wednesday before Thanksgiving, Nov. 21, and the Sunday after, Nov. 25, will again be two of the busiest travel days of the year. The research pinpointed five airports and five times that will be the most congested this year:
1. Hartsfield–Jackson Atlanta International Airport
According to the research, almost 1.3 million outbound passengers are scheduled to leave from Atlanta this Thanksgiving, with a lot passing through at 8:00 a.m. local time, the busiest hour for the airport.

More than 1 million outbound passengers are scheduled to leave from Atlanta this Thanksgiving. Photo: ESB Professional/Shutterstock.com.
2. Los Angeles International Airport
Just under 1.1 million outbound travelers are scheduled to pass through LAX this Thanksgiving, with the busiest time of the day being 7:00 a.m. local time.
Earlier this year, the TSA started testing facial recognition technology for international travelers at LAX. The agency began collaborating with CBP in 2017 at John F. Kennedy International Airport and expanded testing to LAX in August.
"
LAX is expected to be the second busiest airport this Thanksgiving week. Photo: Bayda/Shutterstock.com.
3. Chicago O'Hare International Airport
Another 1 million outbound passengers are expected at O'Hare, with the worst time to travel being 6:00 p.m. local time during the Thanksgiving holiday.
Chicago O'Hare was one of the airports that the Transportation Security Administration began using as beta testers for new scanners earlier this year that will allow travelers to keep their liquids and laptops in their bags.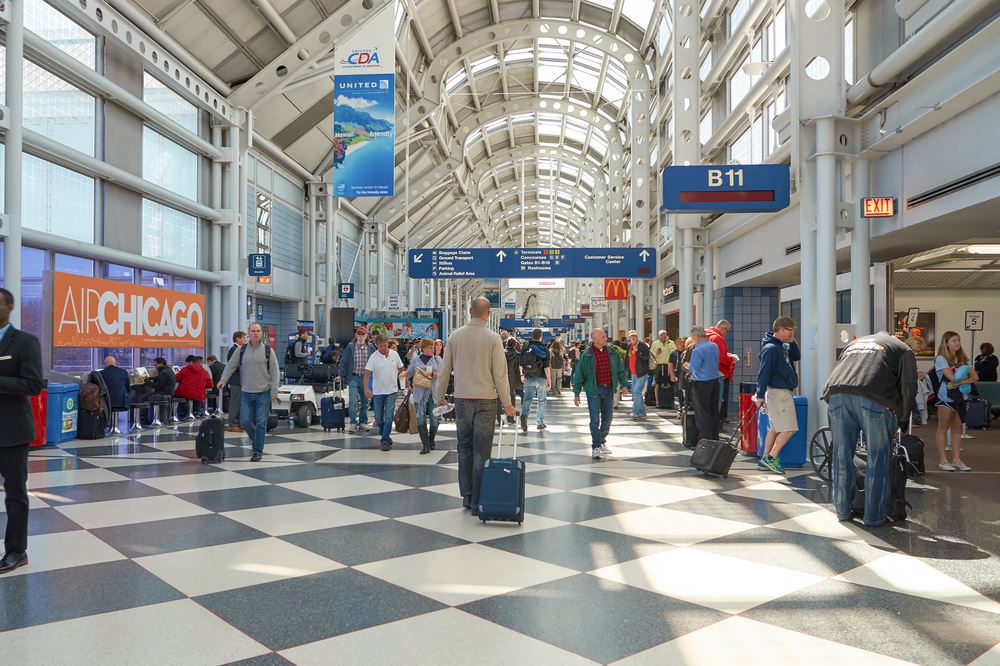 Chicago's O'Hare Airport. Photo: Sorbis/Shutterstock.com.
4. Dallas Fort Worth International Airport
Dallas, the largest hub for American Airlines, will serve an estimated 828,000 outbound passengers this Thanksgiving Holiday. A lot of those travelers are expected to travel around 9:00 a.m. local time, the busiest time for Dallas.
Dallas has long been ranked as one of the top American airport by travelers.

Dallas Fort Worth has long been one of the favorite airports of travelers. Photo: EQRoy/Shutterstock.com.
5. Denver International Airport
Physically, Denver is the largest airport in the country and will be one of the busiest ones this Thanksgiving, according to Hopper and InsureTrip.
Close to 790,000 outbound passengers are expected in Denver this Thanksgiving holiday, with 10:00 a.m. being the most crowded time for travel.

Denver International. Photo: Nico Schmedemann/Shutterstock.com.
Wrapping up the top ten, according to the research, is New York's JFK Airport (781,000 passengers), San Francisco International Airport (714,000), Charlotte Douglas International Airport (614,000 passengers), Orlando International Airport (603,100), and Seattle-Tacoma International Airport (590,000 passengers).