Tropical Storm Beryl Downgraded Before Passing Over Puerto Rico
by Jessica Montevago /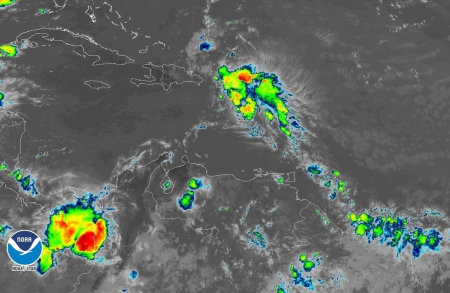 Tropical Storm Beryl was downgraded to a remnant low pressure system, the National Hurricane Center said, as it is expected to pass just south of Puerto Rico today.
The storm's remnants will bring rain and gusty winds as it moves across the northeastern Caribbean Sea, passing over Hispaniola into Tuesday. Rainfall amounts will reach between 2 to 3 inches — with some areas reaching as much as five inches — for the Leeward and Virgin Islands, as well as Puerto Rico, according to the hurricane center.
The first Atlantic hurricane of the 2018 season, Beryl posed a threat to islands that have not fully recovered from major Hurricanes Irma and Maria last year, though its strength paled in comparison.
Since Hurricane Maria devastated Puerto Rico nearly nine months ago, about 1,500 people remain without power on the island and about 60,000 still have tarps for roofs. Puerto Rico Gov. Ricardo Rossello, who declared a state of emergency on Friday, said the island could experience power outages with the fragile state of the island's grid, and urged people without sturdy roofs to move in with relatives or a government shelter.
People are packing the stores way ahead of #Beryl. This was the line outside Costco in Bayamón this morning. There were about 100 people waiting outside. Most people were coming out with bottled water. The trauma in #PuertoRico is real. pic.twitter.com/boQKnWWfvi

— Mónica Feliú-Mójer (@moefeliu) July 6, 2018
Gabriel Rivera-Cruz, a resident of San Juan, told CNN: "Most people I know are aware that this storm doesn't seem to be a second Maria, but is simply a wake-up call that the hurricane season is here and we are still extremely vulnerable."
Advisories for Guadeloupe, Martinique, St. Martin, St. Barthelemy, Saba, St. Maarten and St. Eustatius were discontinued Sunday afternoon.