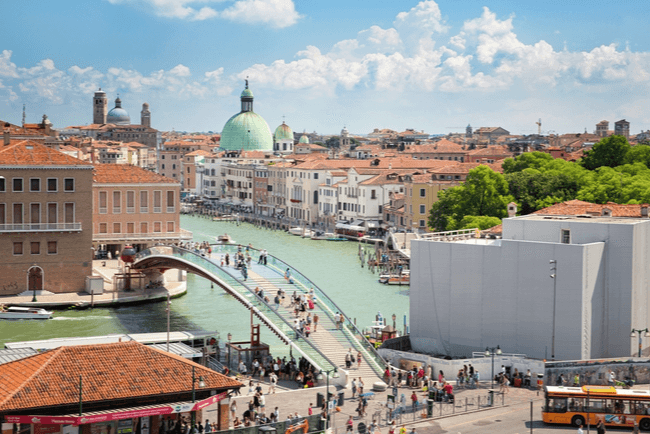 One of the more popular pedestrian bridges built over Venice is getting a facelift in the name of safety.
The New York Times on Sunday reported that the city will replace the glass on the Ponte della Costituzione (locally referred to as the Calatrava Bridge) with trachyte stone because of the number of slips and tumbles the glass has caused since the bridge was installed in 2008.
The project will cost just about a half-million euros and comes after other attempts by the city, including adding slips with resin and nonslip stickers, didn't do enough to curtail the accidents.
Accidents have become so common on the bridge that an Italian television news station caught a slip during a segment on the reopening of the city post-COVID-19.
The bridge, which was designed by Spanish architect Santiago Calatrava, has a long history of controversy.
Shortly after its opening in 2008, critics came out against the bridge's design, including the number of steps in the bridge, which discouraged elderly people from using it, and its lack of wheelchair accessibility.
Those protests led to a mobility lift system being installed in 2010, which was then scrapped in 2019 after the Italian Court of Auditors determined it was an expensive failure.
The change is just one of a number of changes that the city is making.
Venice, which has long dealt with infrastructure and other issues attributed to overcrowding, hopes to alleviate some of those issues with a new entry fee, which it believes will help control crowds during the busy tourist seasons.
Starting this summer, inbound tourists to Venice will have to pay an entry fee of somewhere between 3 and 10 euros (up to about $11.75 USD) and book their stay in advance with the city, in order to visit the destination.
The plan is for the fee's total cost to depend on the season and for electronic turnstiles to be installed at the city's main entrance points. Residents, along with their relatives and children under the age of six, will be exempt from the fees.