Virgin Voyages' First Ship Will Feature 20-Plus Eateries with No Surcharges
by Daniel McCarthy /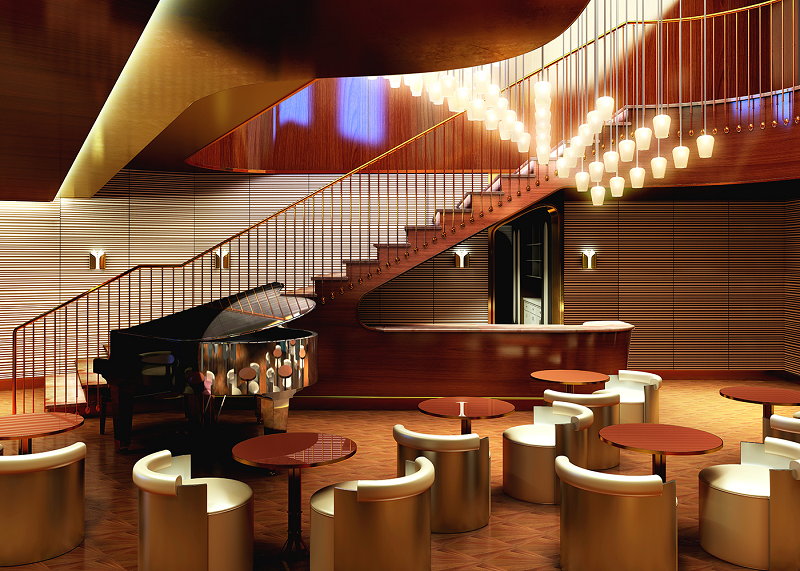 The highly anticipated cruise brand from Richard Branson, Virgin Voyages, will offer travelers more than 20 food choices onboard its first ship, Scarlet Lady, with no surcharges for dining at the specialty restaurants onboard.
The adults-only cruise line said this week that all restaurant food will be included in the cruise fare when it debuts in 2020. It is also breaking with traditional ocean cruise options by offering no buffet or main dining rooms, no assigned seating or dress codes, and dining hours that will extend well into the night and early morning.
"There's a Virgin twist on everything you'll see aboard the Scarlet Lady, which means there will be no stuffy formalities, boring buffets and no main dining rooms. Sailors are not going to want to leave our ship after they experience how we've designed our restaurants and tasted the dishes we are going to be serving up in 2020," said Sir Richard Branson.
Here's what's in store for culinary options:
Wake
Appropriately named for its views of the ship's wake, the eatery will offer steak and seafood. Virgin is calling it "the most glamorous restaurant on the ship, with a dramatic grand staircase entryway."
Razzle Dazzle
Built as a nod to WWI warships, which had to use patterns of black and white paint to camouflage themselves, Razzle Dazzle will offer "vibrant and creative twists on vegetarian fare and a juice bar" — including a "nice" menu with vegan and vegetarian dishes and healthy smoothies, and a "naughty" menu that includes meat add-ons and boozy shots.
Expect more than just food from Razzle Dazzle, too. "Razzle Dazzle will not simply brunch but rather Drag Brunch," Virgin said, "where sailors are treated to a performance by the Scarlet Lady's resident drag performer and friends."
The Test Kitchen
Inspired by Auguste Escoffier's famous "Ma cuisine" cookbook, The Test Kitchen will be part cooking school and part restaurant. Guests will get to discover just how their meal is being made before dining in "this laboratory-like eatery."
Geonbae
Geonbae will offer Korean barbeque in a restaurant designed by the Soft Room. Here, guests will be hosted by "the loudest servers at sea" who will host rounds of lively Korean drinking games during meals, including a complimentary round of Soju, a Korean alcohol, to kick off the meal.
Pink Agave
An elevated Mexican restaurant that will take on the vibe of the streets of Mexico City will offer specialties including: tlayudas, memelas, sopes, tortas, esquites, and tamales.
Extra Virgin
The ship's trattoria will serve food rooted in Italian culinary traditions, starting with a shared antipasti and followed by pasta-centric dishes. The restaurant will feature pasta handmade fresh onboard daily.
Dock
A beach club-inspired space at the aft of the ship, Dock will offer guests Mediterranean small plates throughout the day.
The Galley
The ship's food hall, Galley, will offer eight different shops and food carts including a dedicated bakery and pastry shop, a panini shop, a burger grill, a taco shack, a sushi bar with bento boxes, a noodle bar, a soup-and-salad stand, and an American diner.
The Pizza Place
The ship's pizzeria will offer a classic menu and bespoke options for guests wanting to customize their pizza.

The entrance to Pink Agave. Photo: Virgin.