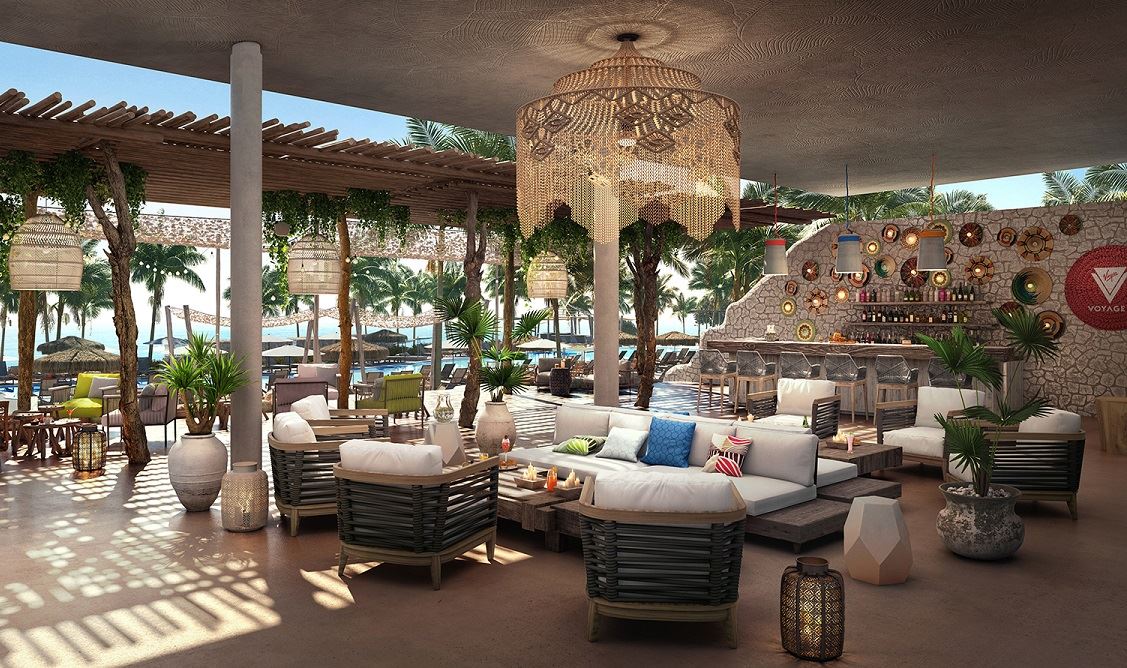 Virgin Voyages, the highly anticipated cruise line from Richard Branson, is now officially open for bookings for its 2020 inaugural season.
"I've dreamed of starting my own cruise line since I was in my 20s, and now the launch is finally getting close," said Richard Branson, Founder of Virgin Voyages. "We have taken the time to think about every detail and craft an experience that brings the Virgin brand to life and disrupts the travel industry."
The line, which has already expanded its plans to include four ships built with Fincantieri shipbuilders, with one debuting for each of four consecutive years starting in 2020, announced late last month that it is eliminating non-commissionable fares. All of Virgin's fares, starting with the cruise fare to add-ons like flights, hotel stays, insurance, shore excursions, spa packages, onboard credits, basic beverage packages, fitness classes, and taxes and fees, will be commissionable at 10 percent for its advisors.
Bimini Beach Club at Bimini
Virgin announced today also that all of the sailings will include The Beach Club in Bimini, Bahamas, a private Virgin getaway built in partnership with Resorts World Bimini that is a short transfer away from the pier.
The Beach Club overlooks the ocean and includes a central, lagoon-style pool. It offers morning yoga and meditation, and a DJ-led pool and flotilla parties in the evening. Each day will also feature a beach bonfire accompanied by an acoustic musical performance.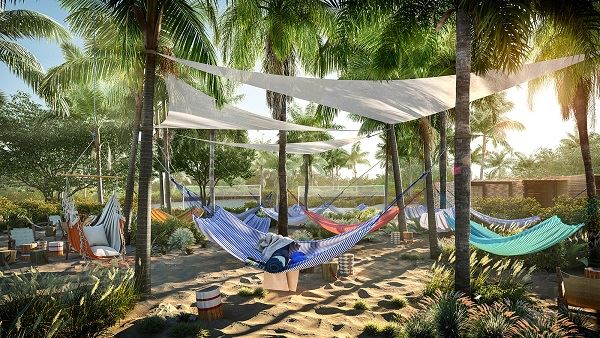 The Beach Club at Bimini has both areas of high energy and quiet spots.
Food at the Beach Club, included with the cruise fare, will be locally inspired with dishes such as conch and mango salad, banana leaf-wrapped queen snapper, and rum cake. Six different bars will be open along with private cabanas for rent.
Virgin's suite guests, which it's dubbing RockStar Suite Sailors, will get their own private enclave at The Beach Club complete with a dedicated bar, complimentary food service, an outdoor terrace lounge, sun loungers, and beach cabanas.
Guest will also be able to explore the rest of Bimini outside of the property.
Entertainment is anything but traditional
Also today, Virgin gave more details about its onboard entertainment — Scarlet Lady will not operate like traditional sailings. There will be no cruise director; and its onboard experiences, including interactive dance parties, will constantly break the fourth wall.
The ship's theatre, called The Red Room, will literally be a transformative space. It will be able to change into four different configurations depending on scheduled performances — according to Virgin, "including traditional Proscenium stage, to an alley stage used in fashion shows, to a dance flat-floor configuration, and finally a unique reverse stage setup."

The Red Room boasts the first transformational multi-form theater at sea.
Six shows will be on offer initially: "Phantom Folktales," a song-driven, micro-play that will take place throughout the ship; "UNTITLED DANCESHOWPARTYING," a Sam Pinkleton and Ani Taj-created hype music video that's disguised as an absurdist dance party; "Ship in the Night," a contemporary play that's told through digital projection; "Duel Reality," a take on Romeo and Juliet; "Never Sleep Alone," an audience-participation driven comedy; and several other "happenings" created by Spark Cooperative.
Branson's birthday sailing
Scarlet Lady will be sailing a very special voyage to celebrate Branson's birthday on July 15, 2020.