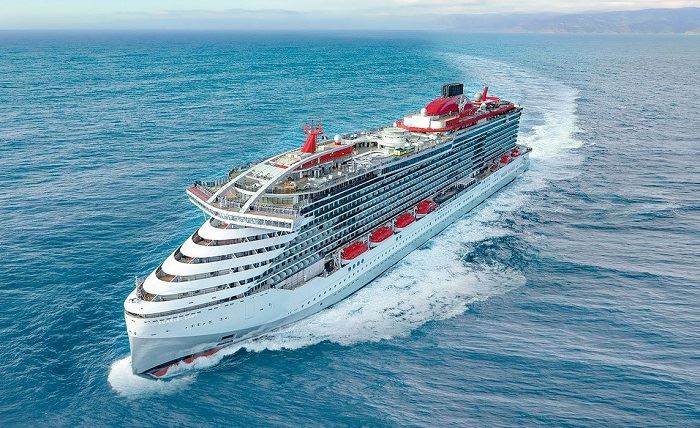 Virgin Voyages, the new cruise line from Richard Branson, will now debut in 2021 instead of later this year as COVID-19 continues to impact the cruise industry.
According to its website, Virgin will now launch its debut ship, Scarlet Lady, in January. The ship has suffered from a number of stops-and-starts caused by COVID-19. Originally, the plan was for the ship to debut at the beginning of 2020, but was pushed back to August 2020 because of COVID-19 and has now moved to 2021.
The ship, which is the first of four ships set to come from Virgin, is currently in Europe after being delivered to Virgin in Italy and then sailing to Miami. It has already sailed some preview voyages in the U.K., but has not yet officially welcomed its first set of guests.
"We remain excited for the future of VV and the epic sea change it will bring to cruising. The team have announced Voyage Well plans and remain focused on the well-being of sailors and crew. Right now we are working closely with the industry and the CDC on the right time to start sailing again, and at this time have made the decision to cancel our December sailings," Virgin said in a statement.
"We know with certainty that we are a resilient global community and will emerge for a bright future, together. We are committed to being flexible, understanding and human at all times. That's the Virgin way."
For any guests booked on sailings impacted by the delay, Virgin is offering a 200% future cruise credit (FCC) of the amount paid, which can be applied to any future sailing through 2022. It is also offering a refund option, paid along with a FCC of 25% of what's been paid.
For any guests now impacted more than once, Virgin is restoring the FCC to use for a future sailing.
Virgin will now look toward 2021 to officially start operations that were set to make waves across the ocean cruise industry. The line launched with a focus on non-commissionable fares (NCFs), for its travel advisor partners, or First Mates, as Virgin puts it. It also launched as an exclusively adult-only line, with an 18-year-old-plus age restriction.
Scarlet Lady will welcome guests with 20-plus eateries with no surcharges, 78 suites with eight different styles, access to a personal assistant that Virgin has dubbed a "Rockstar Coordinator," the first tattoo studio at sea, an original craft beer, Virgin's on-demand champagne delivery service, and much more.
Late last year, Virgin announced that its second ship will be called Valiant Lady. That ship is currently expected to hit waters in May 2021 in the Mediterranean.