While Political Rancor Dominates Washington, Travel Advisors Seek to Be Heard
by Richard D'Ambrosio /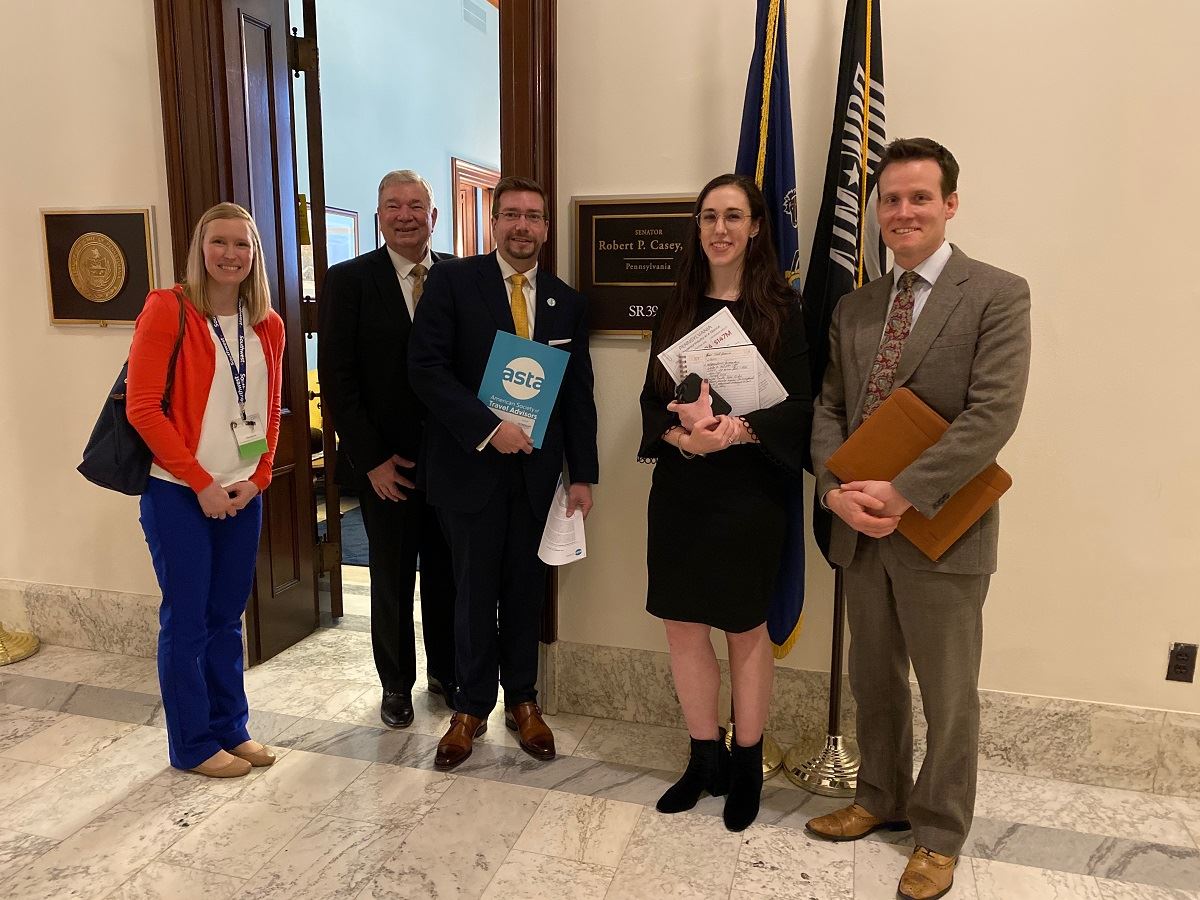 The American Society of Travel Advisors (ASTA) held its annual Legislative Day this week, bringing more than 200 travel advisors and industry members to the Capitol to address important independent contractor (IC) rules and the chaos that could potentially arise from the implementation of REAL ID this October.
As ASTA members strode the halls of Congress Tuesday, senators were on the chamber floor wrapping up the impeachment trial against President Donald J. Trump. Meanwhile security was heightened across the Capitol complex for the evening's State of the Union address.
But none of this was a distraction for Craig and Josh Bush, CFO and CEO respectively, of Avenue Two Travel. Based out of Villanova, Pennsylvania, the father/son team visited with staff from their two Pennsylvania senators, and two local congresspeople, asking for support for harmonization of rules defining the difference between an employee and an IC.
They also discussed draft legislation to protect American travelers from any chaos that may ensue when REAL ID is implemented on Oct. 1, 2020.
Josh Bush tried to explain to the respective legislative staffs how travel advisor ICs are not much different than real estate sales brokers who work for a real estate agency, but that the different Department of Labor and Internal Revenue Service definitions could cause penalties and legal issues for companies like Avenue Two, which employs close to 100 people, including ICs.
"Our independent contractors are not hobbyists. They are business owners, often sole proprietorships, LLCs, and they are making good money selling travel," Josh Bush said. "We're concerned that having different rules between Labor and the IRS could cause issues for them and us."
ASTA currently favors the "right-to-control" rules enforced by the IRS, as they support these small business owners in running their businesses as they see fit. The Department of Labor rules are more complex, and on occasion, have caused travel agencies to have to reclassify ICs as employees.
Attention to this disparity has been heightened over the last year, as states like California have moved to reclassify ICs such as Uber and Lyft drivers as employees, snaring travel agencies and ICs in their wake. ASTA supports the Modern Worker Empowerment Act (H.R. 4069/S. 2973), and was asking industry members to seek co-sponsors from the legislators they were meeting with this week.
500,000 weekly travelers could be grounded by REAL ID
At the same time, ASTA members were asking their representatives and senators to be aware of upcoming draft legislation to ease the transition of the long-awaited REAL ID program. On Oct. 1, 2020, an estimated 99 million Americans will not have identification in compliance with the 9/11 Committee's proposed rules, designed to ensure that all travelers have been fully vetted before boarding domestic flights.
On that date, travelers must either have a state-issued REAL ID-compliant driver's license or alternative enhanced screening ID, or a federally approved ID such as a passport or military ID. State-issued REAL ID licenses have a star located on the upper half of the card.
Experts believe this will mean about 500,000 travelers will be turned away at Transportation Security Administration (TSA) airport security checkpoints every week. The knock-on effect of those travelers tying up security lines could create interminable delays inside airports, and impact the traveling public's desire to fly, Josh Bush told the legislative staff he met with Tuesday.
Many staff members were aware of the REAL ID implementation this fall, and shared with Bush and his colleagues that they have been hearing regularly from interested parties that REAL ID is a serious issue.
"We're hearing pretty regularly about this," one staff legislative director told Bush during one meeting. "It's definitely on our radar screen."
ASTA says the Trusted Traveler REAL ID Relief Act of 2020 could be introduced as early as this week, authorizing federal agencies to exempt travelers with Known Traveler Numbers obtained through TSA PreCheck and Global Entry enrollment programs if their state is either out of compliance, or they are unable to obtain a REAL ID-compliant document by Oct. 1.
Another aspect of the draft legislation would be authorizing TSA's use of other enhanced screening techniques at airports, in case a traveler didn't have compliant ID. For example, when applying for credit, consumers are often asked a series of questions that only they would be able to answer correctly. The TSA would be permitted to access this kind of information to validate travelers who did not have REAL ID documentation.
The bill would also require TSA to work with travel agencies and their industry partners to promote the impending Oct. 1 deadline to travelers. According to research, 57% of Americans are unaware of the upcoming implementation of the REAL ID restrictions.