Why Travel Advisors Need to Learn to Say No to New Business
by Dori Saltzman /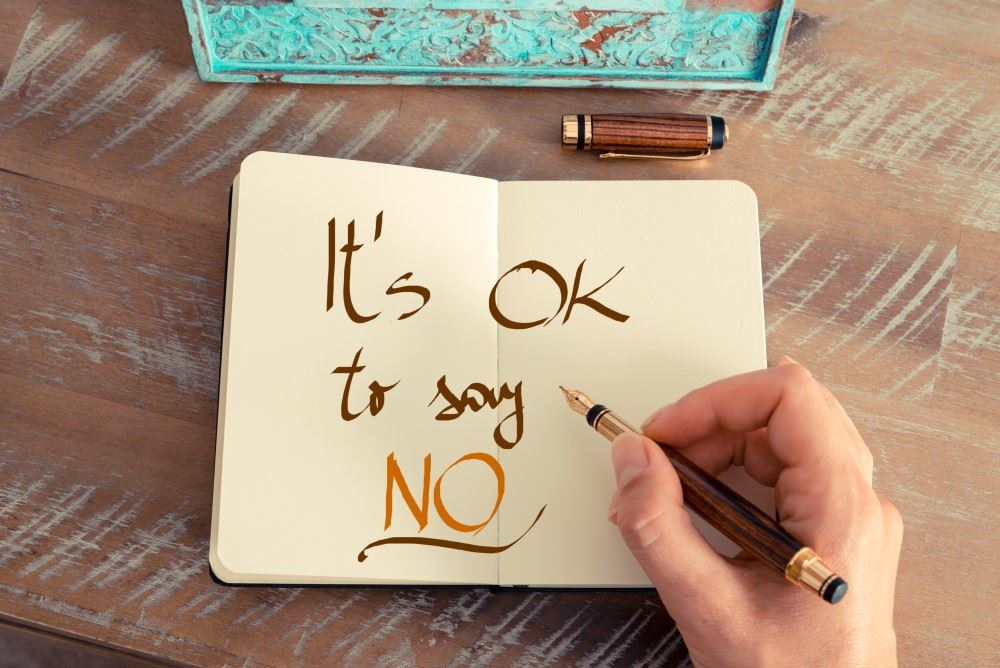 Travel advisors are busy. In some cases, advisors Travel Market Report has spoken with are busier than they've ever been, with some rapidly exhausting their capacity to take on more business. But how does a business grow if it can't take on new business?
For some of the most successful travel agencies, growth isn't driven by the quantity of clients, but by their quality.
Getting more "quality" clients involves a number of steps; one of the most important is learning to say no to clients that aren't going to get you where you want to be.
"If you're taking every single person that comes through the door just for the sake of not wanting to turn them away then you are not giving yourself the creative space to be able to grow into the clients you want to take," said Angela Hughes, CTC, owner of Trips and Ships Luxury Travel and founder of the Luxury Travel University. "If you're taking every client and working 16 hours, you never have that space to grow into higher-end clients because that takes marketing, it takes dripping content to them, it takes building programs that will attract them."
Sarah Groen, CEO and owner of Bell & Bly Travel Design, an independent affiliate of Brownell Travel, agreed.
"If you take on a client that is not going to be profitable or much less profitable than other clients that could come in, you're selling your time for less money than you could if you said no to that client and kept that space open for the next one."
A former investment banker, Groen added, "Travel advisors should really be thinking about every client they take on as an opportunity cost for something else they can be doing with their time…Every minute that you're spending doing a trip is time that you're not doing another trip or you're not working on bringing in new business."
In other words, make sure the trip you're working on is worth the time you're spending on it.
"The clients who are going to suck your energy are not just sucking your time for that trip," Groen told TMR. "They're also tiring you out so you can't do your marketing, you can't focus on the next trip. You're taking energy away from your good clients."
It's something Jamie Jones, president of Whirlaway Travel, a Signature member agency, decided to start paying attention to during the COVID-19 pandemic.
"I looked at the pandemic not as a time to scramble to take on anything we could get but as a time to hone in on the business I truly wanted to service," she told TMR. "This meant turning down things that were not a right fit for us."
Fear vs Faith
While the COVID-19 pandemic is solidly in the rear-view mirror when it comes to travel restrictions and planning, Hughes said she thinks a sense of PTSD is keeping many advisors from turning business away.
"I feel like when the world stopped and we lost everything, now people feel like they have to maintain everything," she said.
But operating a business from a place of fear is never going to get you anywhere, Groen told TMR.
"A lot of travel advisors lived through COVID and lived through financial crises, but at the end of the day, do you want to put your time and effort into something that you're not actually making money at," she asked. "There's always going to be new, nicer, happier, better clients."
When asked if she was afraid business would fall off when she implemented her new business model, Whirlaway Travel's Jones said no, adding they still get lots of new inquiries.
"There's no fear from my team. There was relief from my team… I haven't seen a drop-off that hasn't been a welcome one," she said. "I truly believes that when one door closes, another one opens."
"People feel like, 'maybe I won't get more clients coming through the door,'" Hughes said. "If you don't have more clients coming through the door, then you have a problem with your business development plan. That's what it all comes down to."
When you have a solid business development plan, when you know your ideal client, when you've scheduled a consistent marketing plan, the business will come.
First Steps
Once you've decided you're willing to turn some business away, how do you decide which clients to say no to?
"A lot of travel advisors aren't calculating the cost of what servicing these very difficult or low budget clients is costing them," Groen said.
Start by tracking the time you spend on each client, including initial conversations, research, travel planning, follow-up calls, all of it. Once you've been paid – or have an idea of what you'll be paid, including commissions and service fees – do the math to figure out how much each client is costing per hour.
You'll start to see patterns in how long certain things take to plan and be able to determine how much an hour of your time is worth.
For example, a couple calls with a $4,000 to $5,000 budget for a week in Italy (including airfare).
"You're going to have to search for hotels, find a driver and find something on Viator that's going to fit their budget, so now you're piecing something together," Hughes explained. "That's when I definitely say you need to decide if you want to take on something like that."
Similarly, if something is going to be stressful, you need to decide if that's worth your while, Groen added.
"I know there are a lot of travel advisors out there that do a great job at 24/7 service, really last minute stuff. Like, yes, I'll help you with that two-week trip to Iceland that you want to take and you leave in two days. That's not a fit for the way I built my company," she said. "My team doesn't work over hours unless it's an emergency situation. I don't want to take on something that I know we're either A. going to struggle internally or B. disappoint a client."
Let Potential Clients Opt Themselves Out
The early vetting process is critical to being able to make that determination.
"I'm a big fan of the 10-minute discovery call," Hughes said. "Have that discovery call with them and find out if they're the right fit for you… If you feel like they're going to be a general time suck or it's going to be too low revenue, you can say right there 'We have a minimum spend.'"
If you're nervous about being that upfront on the phone, you can start by letting clients opt themselves out.
Establish a starting budget you want your clients to have, along with a service fee. Put it all in a document – preferably with a questionnaire – that every new prospect gets sent before you even have a conversation with them.
"We have a form," Groen said, explaining her agency's model. "We ask questions to give us a good sense of whether they're a fit for us in terms of budget, their travel style, what they're looking for, that kind of thing."
In many cases, if they don't have the budget or don't like your fee, they'll move on to another advisor.
Jones has a similar form that gets sent to all new clients. As part of that in-take process, Jones and her team are very clear about the minimum spend they require in order to take on a new client.
"Those clients can self-select out," she said, so her team never has to waste an hour of consultation on a client that was never a good fit to begin with. "We can cut it off and say we are not for you. Somebody else might be, but not us."
Vetting Every New Client?
Should you do this with every client?
Advisors we spoke to had different answers for this.
"That's the rule. Everybody has to fill out that form, except current clients," Groen said. "The verbiage there is 'this will help us understand a bit more about the vision for your trip so I can do a better job of leading us on the [consult] call."
Then, if they're not a fit, someone from her team can reply with something along the lines of: "We reviewed this and we think it's going to be an amazing trip but either we don't have the capacity for this trip or this isn't the area of travel in which we specialize."
Her team also offers a referral to another agency.
"This is a personal touch business. Someone is reaching out to you to put their hopes and dreams into an itinerary and have an amazing trip. If they don't have the budget for the type of trips that we plan, that doesn't mean that it's not an amazing, super valid and wonderful trip. I never want anybody to feel bad."
With that said, Groen admitted there are times when taking lower budget clients is a good idea.
"It's easy for us to say [turn clients away], we have a bigger book of business, but I do think it's worth saying, for new advisors, sometimes the value of doing a trip like that is learning. I don't want to throw that out the window… If you're earning very little but you're learning a new skill or a new destination, that's also valuable for your future."
Hughes told TMR she'd add another time when lower budget clients are acceptable – when they're booking a cruise.
"Generally, don't turn down cruises," she said, "because that's a 15- to 20-minute booking. That's easy icing on the cake…. If somebody just needs a seven-day Caribbean cruise and they've got their own airfare, sure, make money on that."
But, she added, "you need to have that dialogue so they know, if they want custom planning with shore excursions, pre and post, there are fees."
Ultimately, Hughes said, it's up to each advisor to decide what's right for them.
"You own your own business, you should decide the course that you want. And that course doesn't have to be a course of desperation. You own your destiny. Where do you want to be in five years? In 10? Start doing what you want to see yourself doing in five and then built from there."
It's okay to start small. You don't need to turn every new client away who's not the right fit. Start by saying no to one new client a month that fits your criteria and go from there.