Carnival Cruise Line Gets Entire Fleet Back to Guest Operations
by Dori Saltzman /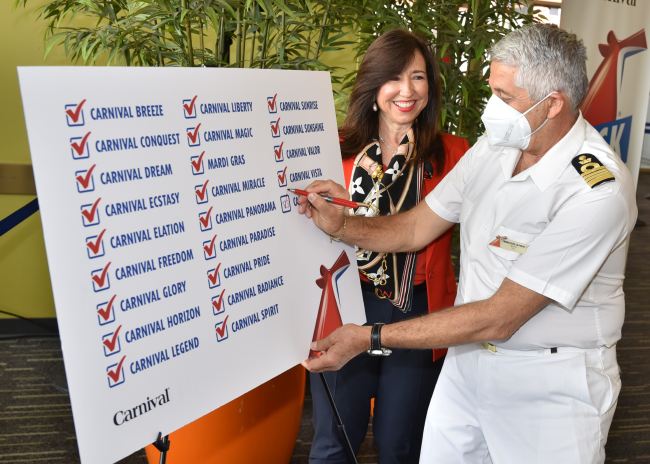 With the departure of Carnival Splendor from the Port of Seattle on May 2, Carnival Cruise Line reached full fleet guest operations, the first major cruise line in the U.S. to achieve that milestone.
Carnival Splendor is the 23rd and final Carnival ship to welcome guests back on board after the line's resumption of cruising from the U.S. last July. Carnival's president Christine Duffy was on hand to check off the ship on a tally board listing the 23 ships in the fleet, marking the line's full restart.
"With Carnival Splendor beginning operations today from Seattle, Carnival Cruise Line is thrilled to have our entire fleet of 23 ships back in service, providing more opportunities for our guests to enjoy our signature fun while traveling to beautiful vacation destinations," said Duffy. "We are especially excited to expand our Alaska program this season with three ships bringing more than 100,000 guests – including more than 6,000 this week – from Seattle and San Francisco to awe-inspiring ports."
Carnival first returned to service with Carnival Vista out of Galveston on July 2, 2021. The line is operating ship out of 12 U.S. homeports, including the line's first sailings from San Francisco. Additional seasonal service from Norfolk and New York City starts this month and June, respectively.