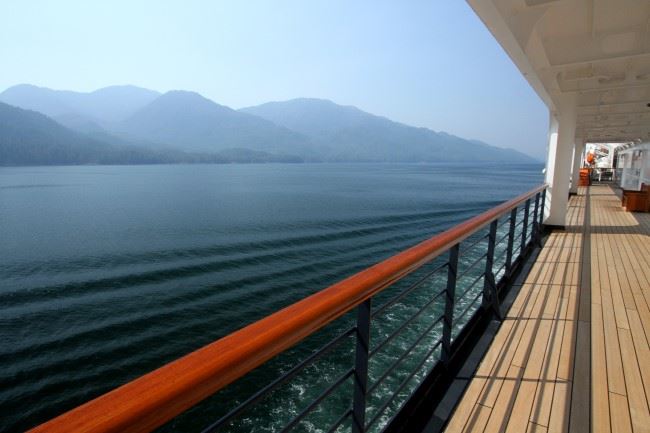 Three cruise lines – Princess, Holland America and Lindblad Expeditions – are bringing back mask mandates on some Alaska cruises in response to growing numbers of COVID-19 in the 49th State.
According to the Mayo Clinic, the positivity rate in the state climbed from just above 6% in mid-April to hovering at or above 13% on June 12. At the same time, the news is picking up more stories of Alaska-bound cruise ships seeing higher numbers of COVID-19 cases onboard.
Three cruise lines have responded by bringing back indoor mask mandates.
Princess Cruises
"In an abundance of caution, masks are required at all indoor locations on northbound and southbound Alaska voyages between Whittier and Vancouver until further notice," the line said in a statement it shared with TMR.
Princess has seen several spikes of COVID-19 cases onboard its Alaska ships over the past month. All six ships sailing in Alaska for Princess are in the CDC's Orange designation, meaning the "CDC has started an investigation and the ship remains under observation."
Holland America
Holland America sent a similar message to passengers booked on its open-jaw cruises between Vancouver and Whittier.
"Out of an abundance of caution due to the rise in positive COVID-19 cases throughout Alaska, all guests will be required to wear face masks at all times while onboard, except when eating or drinking or in their own staterooms."
Of six Holland America ships deployed in Alaska, four are in the CDC's Orange designation; one is Yellow (reported cases of COVID-19 are below the threshold for CDC investigation); and one is Green (no reported cases of COVID-19).
Lindblad Expeditions
Lindblad, which operates several small ships in Alaskan waters, had dropped its mask requirements in April at the start of the cruise season. As of May 18, the line reinstated its face covering requirement for indoor spaces, "due to an increase in COVID-19 cases globally."