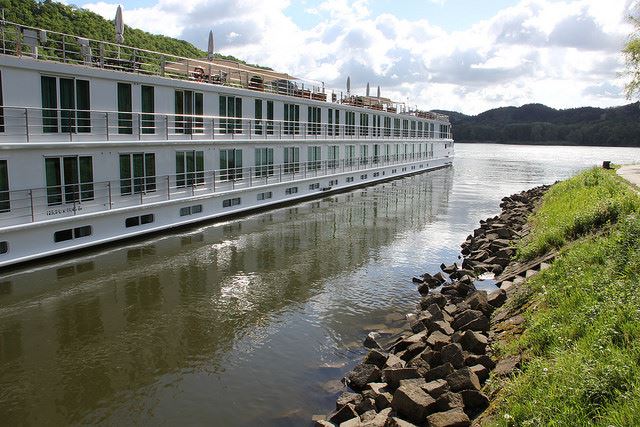 As the travel industry heads full steam into embracing the wellness sector, catering to demand and looking to attract the growing legions of wellness-minded travelers, its giving new meaning to the word "hydrotherapy."
The lakefront Lake Austin Spa Resort in Texas, for example, launched a new water-focused program, called the Ripple Effects, on Memorial Day weekend. It offers guests a dozen water activities, from kayaking to stand-up paddle boarding, from meditation on water to wake surfing.
On the seas, too, "wellness on water" initiatives are proliferating. Here are a few new ones:
Uniworld expands partnership with Butterfield & Robinson
This spring Uniworld announced it is expanding its partnership with Butterfield & Robinson by introducing 2018 itineraries along the Rhine River. The new, seven-night "port and pedal" program will run in May, June and September 2018 aboard the S.S. Antoinette, a vessel with 67 uniquely decorated staterooms and suites that Uniworld calls its first "Super Ship."
The ship will depart from Basel, Switzerland with port stops through France and Germany and daily biking excursions along the 600 miles of river bends and bike trails, exploring terraced wine regions, medieval castles and UNESCO heritage site. The two companies first partnered in 2016 with the offering of the cycling program on Danube and Rhone itineraries.
Oceania Cruises new tours and comp wellness offerings
Earlier this year, Miami-based Oceania Cruises introduced Wellness Tours Inspired by Canyon Ranch, a series designed to extend the wellness experience from ship to shore. The inaugural tour debuted in April, and 2017 destinations include France, Spain, Italy and Greece.
Oceania also has unveiled a wide range of complimentary wellness options aboard six of its ships sailing to more than 370 ports around the globe. Wellness-minded passengers now have access to the complimentary use of the gym and fitness facilities in the Canyon Ranch SpaClub, plus complimentary access to more than two dozen fitness and wellness classes with professional instructors.
Wellness instructor on select AMAWaterways sailings
Continuing to expand and enhance existing wellness-focused offerings, AmaWaterways is "testing the waters" on a new initiative that launched in April.
The seven-night program includes a dedicated wellness instructor and four to six scheduled daily fitness activities including group yoga, running and tai-chi classes. Available onboard the 158-passenger AmaLyra, the new initiative is an added feature on select Paris to Normandy itineraries.
The program expands on existing wellness-type offerings currently available, such as biking and hiking tours on European itineraries throughout the fleet, as well as healthy food options for various dietary preferences, plus a "healthy corner" for breakfast smoothies.
New cruise line for the active, environmentally-conscious
Billing itself as the "first cruise line for active, environmentally-conscious consumers," Miami-based Blue World Voyage is looking to make its debut in May 2018.
Company founder and CEO Gene Meehan, a biking and rowing enthusiast, and founder of multiple health clubs and gyms, says the new cruise line will be guided by the principles of sustainable tourism. The leadership team also includes a former fitness pro from Canyon Ranch and a Miami chef known for his farm-to-table cuisine.
According to a news release, Blue World Voyages will introduce a "distinctly different concept focused on wellness, personal health, thinking green and passengers as partners." The company is inviting passengers to become owners by purchasing one of 26 onboard suites. Itineraries are still in development.
Whether on land or at sea, Clapoff points out that "even if getting IN or being ON the water is not your 'thing,' then simply looking at the water has healing and medicinal effects that could improve your mental health."