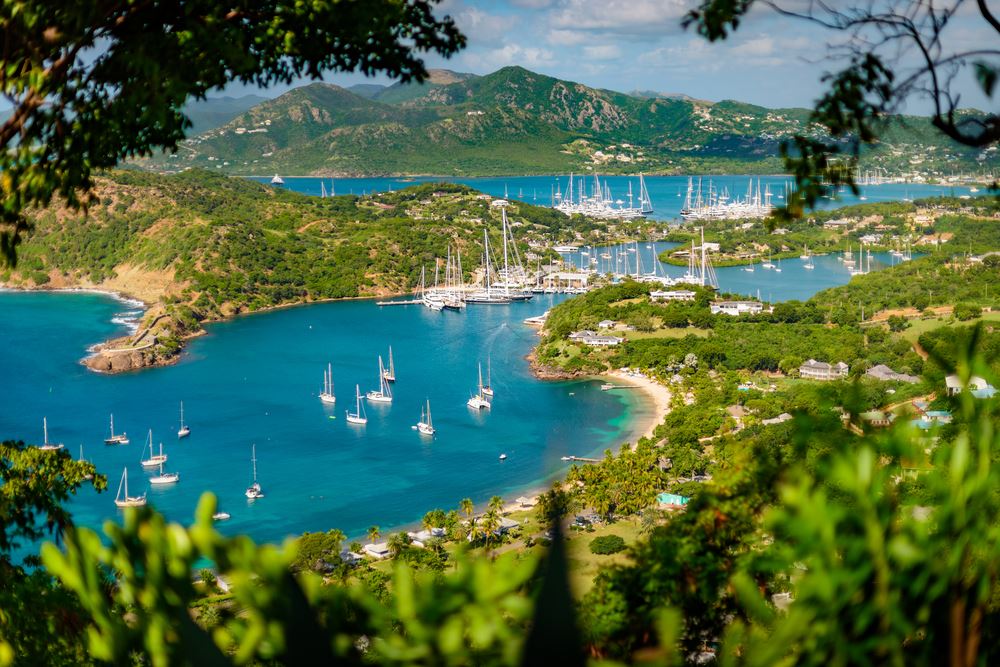 Antigua might be a small island, at 14 miles long and 11 miles wide, but its tourism industry is bigger than ever.
Tourism to the West Indies island welcomed a record-breaking 27,301 visitors in April, a 17% increase from the same period last year, according to the Ministry of Tourism and Investment.
Last year was a record year for tourism, and this year is shaping up to be the same. Year-to-date, tourism to Antigua and its sister island Barbuda is up 8.59% with 117,920 visitors.
The growth has been fueled by new luxury products, including the 294-suite Royalton Antigua Resort & Spa, which opened in May; and Hodges Bay Resort & Spa, which debuted in December, the island's first new-build in more than three years. Rosewood and Waldorf Astoria are also both slated to open resorts on the island.
"Antigua and Barbuda has always been strongly in demand by the high end part of the market. A lot of our top hotels are four- to five-stars, that part of the business is going well," Colin James, CEO of Antigua and Barbuda Tourism Authority, told Travel Market Report.
"But all in all, we have been trying to diversify the product, so we are not only high-end exclusive, but we also have the properties that are catering to the entire family in the three- to four-star range."
Families will also soon have the option of visiting Antigua through a new seaport infrastructure. The twin-island destination of Antigua and Barbuda recently inked a deal to increase deployment and development.
Antigua's government signed a memorandum of agreement with global cruise giant Global Port Holdings (GPH) to expand the St. John's Port facilities, allowing it to handle Royal Caribbean's Oasis-class ships, as well as modernize it and add new shops, Antigua and Barbuda Tourism Minister Charles Fernandez said. GPH will also be investing in a water park.
Royal Caribbean Cruise Lines (RCCL) is also partnering on the project. The agreement will include a strategy to double annual passenger arrivals to 500,000 visitors within five years, beginning with the construction of a fifth berth at Antigua's Heritage and Redcliffe Quay cruise pier and terminal in St. John's. It also includes a strategy to bring 30,000 passengers to Antigua during the traditionally slow summer months, in addition to the regular winter schedule.
"The fact that Royal Caribbean, one of the largest cruise lines, is partnering on this guarantees their support in terms of bringing passengers to the island," Minister Fernandez said, adding the cruise line has been on the island to look into building "some kind of leisure site for the cruise passengers," similar to that of its new Perfect Day at Coco Cay in the Bahamas.
"That is important for us because our aim is to double cruise passenger arrivals from the now 750,000 to 1.5 million in five years," Minister Fernandez told Travel Market Report. "The advantage of the cruise industry is that, although it is similar to an all-inclusive, the passenger at least gets a day on land, supporting taxi operators and local vendors.
Additional airlift has been put in place to support these new developments. A second Delta flight coming out of New York's John F. Kennedy International Airport will be added, joining direct flights from Miami, Charlotte, and Atlanta.
"The destination is well served out of North America," James said. "We're looking to expand, but for right now, it has contributed to the strong growth we're seeing."
These new flights are accompanied by a new international airport, which was voted the Caribbean's best airport by travelers in 2018, and "has been a catalyst, as well, for attracting new airline service."
James also highlighted the country's summer marketing campaign, "What Cool Looks Like," which aims make the destination more of a year-round place to visit.
"Traditionally, there's a feeling throughout the market that the Caribbean is closed throughout the summer, and we are trying to change that narrative," he said. "It's actually cooler in Antigua and Barbuda in June and the summer months than it is in a lot of the source markets in the States and Europe."
So far, the campaign has been successful. James said forward bookings are strong, particularly in September and October. "The awareness we're raising has really moved the needle with shoulder seasons, the traditional slow season, when we really need that business."
Initiative banning plastics
Antigua is known for its 365 beautiful beaches, one for every day of the year. Beyond that white sandy coast and into the turquoise blue water are miles of coral reef. Being home to such a fragile and important ecosystem, the government of Antigua and Barbuda decided to tackle plastic pollution head on.
It became the first country in the region to ban the use of single-use plastics and Styrofoam products nationwide. To celebrate, there was a joint concert earlier this month, with the United Nations and Norway celebrating the feat.
"I think the reason why we were so successful is that we managed to convince the general public of the importance of it, so we did a tremendous educational campaign," Minister Fernandez said regarding the process to smoothly roll out the initiative.
"We depend on the ocean for our survival, not just for tourism and livelihood, but for our very existence," James added. "It is incumbent on us to do what we have to do. And we are particularly pleased that a small nation of just over 100,000 people has raised the bar for the others to follow."
The tourism authority sees this as a lead-in to other wellness-inspired endeavors. "The modern traveler is living a healthier lifestyle and wants a healthier planet, and not just where they live, but where they vacation to," James said. "Our country will be one of the first to be wellness-certified, so we can have a checklist to preserve and protect the environment."