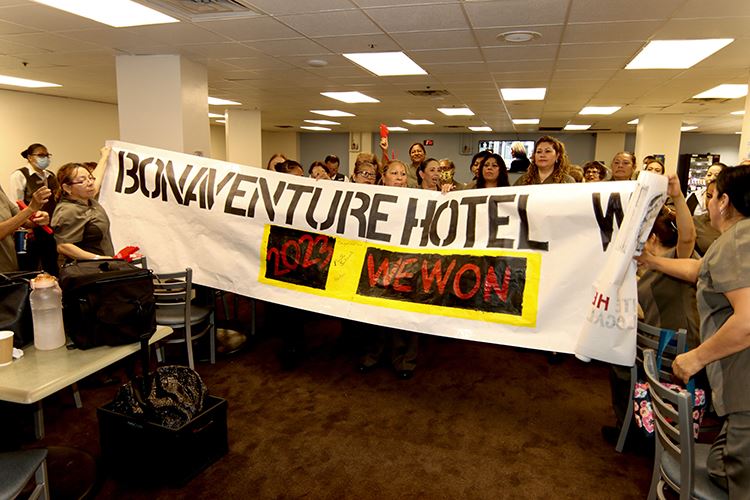 One of the largest strikes in the U.S. hospitality industry's history officially started this week.
Unite Here Local 11, which represents 15,000 hotel workers at more than 60 hotels in Los Angeles and the surrounding area, went on strike on Sunday, the first day of what could be a prolonged string of strikes.
The union, whose membership includes housekeepers, dishwashers, cooks, waiters, front-desk agents, and more, are striking for better pay ahead of negotiations for a new contract. The union is specifically seeking a $5 an-hour wage increase to keep pace with the cost of housing in Southern California, along with affordable family health care, a pension, and "a safe and humane workload."
Sunday's strike included workers at about a dozen of Southern California hotels, such as the InterContinental, Hotel Indigo, Millennium Biltmore and JW Marriott LA Live in downtown Los Angeles, Reuters reported.
Unite Here Local 11 is currently negotiating with a bargaining group representing 44 unionized hotels, with another 21 expected to accept the same terms.
Some hotels have already reached an agreement with then union—the Westin Bonaventure Hotel, the largest hotel in Los Angeles, celebrated a deal with Unite Here Local 11, giving 600 of its workers a new wage increase, more affordable healthcare, pension contributions increase, and more.
"We applaud the Westin Bonaventure and Peter Zen for putting the workers and our city first," said Kurt Petersen, Co-President of UNITE HERE Local 11. "LA is the world's most important tourist destination, with the World Cup and Olympics coming back to back in 2026 and 2028. This agreement takes steps ensuring that workers who work in LA will be able to live in LA. Now the rest of the industry needs to step up. If they continue to be greedy and short-sighted, workers will strike."