One Year In, Mad Apple Parties on at New York-New York
by David Yeskel /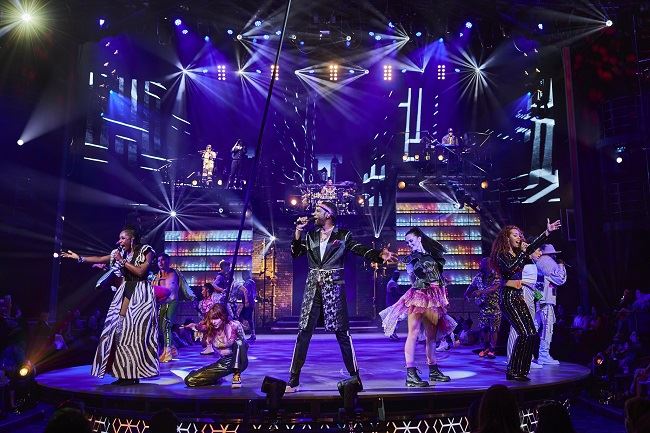 The travel industry's early pandemic shutdown in 2020 was a particularly brutal hit for Las Vegas.
After all, the mega-resorts and mega-conventions that define the city represented the exact antithesis of the quarantine ethos. For the first time ever, casino resorts closed down for months, and wildlife (yes, wildlife!) roamed the Strip. And within six of those shuttered casino resorts, Strip entertainment juggernaut Cirque du Soleil's massive showrooms stood eerily empty.
Then, in November 2020, Cirque announced that Zumanity, the company's adult-themed show at New York-New York Hotel & Casino (and arguably, its weakest Las Vegas production) would not reopen. That decision opened the door for Mad Apple, a cabaret-style performance that may be Cirque's most provocative show ever. And in contrast to the company's typical, massively-scaled, larger-than-life productions, Mad Apple is a more intimate affair that works well in the venue's 270-degree, theater-in-the-round format.

Photo: Matt Beard
A partial overhaul of the prior Zumanity theater resulted in the ability to incorporate a bar - the Mad Apple Bar, naturally - downstage that serves as a convivial gathering place for guests and cast to mix pre-show, setting the mood for the party to come. And it is Cirque's intention here to rev up an all-out, party atmosphere with a high-energy production that is akin to an amped-up New York night on steroids, with amazing circus acrobats, comedy, magic, music, and graceful, powerful gymnasts
Opened by trash-talking comedian Harrison Greenbaum, who simultaneously amuses, insults, and stimulates the crowd with his hilarious, stream-of-consciousness patter mixed with a little magic, Mad Apple fires on all cylinders right off the top in an apropos tribute to New York City's pulsating pace. After a classic NY yellow taxi pulls up to the bar, the action is unleashed with Icarian Games acrobats performing unbelievably fast - and complex - maneuvers that wow the crowd. And then The Game shows up, with a hip-hop crew executing massive jumps, crazy flips, and insane basketball dunks propelled by a trampoline.
This past March, the thrilling and high-flying Wheel of Death act was added, bringing an element of danger to Mad Apple. And while the Wheel of Death is certainly a dramatic highlight, every scene in the production is deeply infused with excitement and scored with New York's most iconic music, delivered by hip-hop artists, crooners, and torch singers backed by edgy dancers and cool visuals.

Harrison Greenbaum. Photo: Matt Beard
As the host, ringleader, emcee, and all-around smartass, Harrison pops in and out of the show, acting as a segue to the next amazing act, while hurling a few insults toward unlucky audience members. And, like its predecessor, Zumanity, Mad Apple is designed for adults only, principally due to Harrison's hilarious-but-dirty schtick.
The show's closing act, expertly choreographed as a tribute to New York's iconic, 1970s-era Studio 54, is a wild mash-up of great music, disco balls, confetti cannons, DJs, and acrobatics that feeds our nostalgia for the hedonistic club ethos that defined the disco era. Luckily for us, that spirit lives on in Mad Apple, which at its one-year anniversary has proven to be the best of New York - west of New York.