Cruise Line Sales Executives Talk Business Building, New-to-Cruise, & Myth Busting
by Dori Saltzman /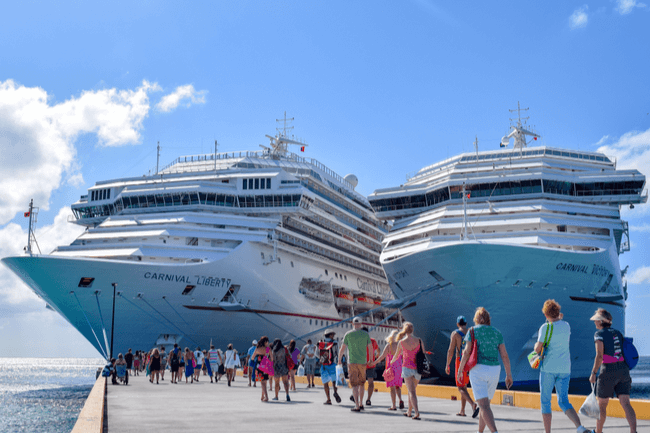 Sales executives from Royal Caribbean, Celebrity Cruises, and Norwegian Cruise Line spoke about how travel advisors can build their businesses, attract new-to-cruise clients, and address cruise misconceptions during a panel at the inaugural New York Travel & Adventure Show.
Moderated by Charles Sylvia, vice president of industry and trade relations at CLIA, the executives offered a wide range of practical advice that ranged from layering their communications and marketing plans to finding affinity groups within their local communities and personal networks to the best ways to deal with pricing obstacles.
Building Your Business
Being consistent with communications, layering your marketing, and piggy-backing off of the cruise lines' national marketing are the best ways for cruise-selling travel advisors to penetrate their local markets and grow their businesses, panelists said.
"There is no magical equation," Lisa Falango, director of sales, northeast region of Royal Caribbean International said, of growing an agency's business. "It's all about consistency and communication… those accounts that are having great success are those that have been in contact with their existing clients throughout the pandemic."
Corey Wallace, national accounts manager for Celebrity Cruises agreed. "There's an old saying that 'people don't care how much you know until they know how much you care.'"
Make sure you're following up with people after they cruise to ask them how their trip was. Call to wish them a happy birthday or happy anniversary.
"At that point they realize, they're not just a client. They feel more connected and more cared for and it helps take that relationship to the next level," he added.
Both Falango and Wallace talked about the need for multiple forms of communication, what Wallace referred to as "layered marketing."
"Make sure that you're sharing your stories on social media, have ads in the local newspaper, be a member of the local Chamber of Commerce and be visible in the community because the more people see you, the more you're out there, the more your name resonates with them. They may not book with your today, but you're planting the seeds for tomorrow," Wallace said.
Falango agreed that social media is particularly important. "Being visible on social media is probably one of the most key factors anyone can use to get their name out there and build a business," she said. "Most people like to see your story, like to know where you've been and what you've been doing and see you enjoying traveling in different places and on different cruises."
Derek Lloyd, vice president of trade sales at Norwegian Cruise Line, added that travel advisors should also look for ways to piggyback on the "millions and millions" of advertising dollars that cruise lines spend to amplify those brand messages and associate themselves with the brands.
"Whatever the tagline is you should be using the same in your marketing because you can amplify that message. You can associate yourself with that brand and that is how you get the business for yourself," he said.
Not sure what the local ad campaigns are for your market? Talk to your sales manager at the different cruise lines and find out how they're advertising in each market and what you need to do to hop on the message, he added.
Approaching the New to Cruise Market
A lucrative market for the cruise lines, and for travel advisors are people who have never cruised before. But how do you find them, CLIA's Sylvia asked the panel.
NCL's Lloyd advised mining your current client database. "Who do you have in there who simply has not done it yet and ask them why. Do you have families that want to travel together? Who is it that does the Mexican resorts? Who goes to the Caribbean? Who does bus tours in Europe."
Falango echoed Lloyd. "Work your database by who hasn't cruised. Who are some of your fun and sun land vacations? Maybe some of your Disney clients have grown up a little and are looking for something different."
Families, in particular, is a good source, Lloyd said. Find grandparents who want to travel with their entire family. "All of a sudden you've got a group of 10 or 12 staterooms of which half have never been on a cruise before… and we know once we get them, they will come back."
Affinity groups are another great source of new-to-cruise customers, the panel said. With affinity groups like wine lovers, church groups, knitters, golfers, and others, you can hook people with the group and the cruise piece is secondary.
"People will travel with like-minded people," Falango said. "If you put together some sort of group or trip with a common interest, you will attract new to cruise that way."
"The beauty of that is it helps you grow your pipeline of business," Wallace added. "Because now they've worked with you via the group leader and they've gotten comfortable with you and seen what you're capable of. Now, maybe they want to do a family reunion cruise."
Myth Busting
Panelists also took some time to bust a few myths about their brands, giving advisors talking points should they hear any of these objections from potential clients.
For Royal Caribbean, Falango said, it's the belief by some that their ships are too large and too over-scheduled.
"Our ships are designed so that there are intimate areas all over the ship based on what you want to do, either for the week or that day," she said, describing the neighborhood concept on the Oasis-class ships.
She recommended advisors show concerned clients the layout of the ship and point out all the different spaces. "Once you see the layout of the ship, you lose that feeling that it's overwhelming and too big," she added. "Yes, we have the biggest ships, but we also have a lot to offer in an intimate environment."
As far as being overscheduled, Falango said, "You can completely customize your entire cruise experience for what you want it to be. You don't have to eat at 6 or 7 o'clock. Maybe one night you want to eat at 5:30 and the next you don't want to eat until 8. You design your experience for what you and your family or friends are looking to do."
Celebrity's Wallace said the objection he hears most is that Celebrity is too expensive. "We are more expensive than the contemporary brands and we don't apologize for that," he said. "But amenities, such as the tips, the beverage package, Wi-Fi, those are things they're going to get with us all the time and those are built into the price."
He said that when you add the prices of these amenities to the fares charged by other cruise lines, "you'll find that our pricing is not significantly higher than the others."
Wallace also emphasized that the onboard experiences that Celebrity invests in – the experiences people are paying the higher are for – are "the things people are going to take advantage of every day, like the food and the service." As opposed to things like zip lines and roller coasters, cruisers might use only once per cruise, or not at all.
NCL battles the same misconception, Lloyd said, adding it's up to advisors to compare apples to apples.
"When your customers are standing in front of you, don't just say 'here's a $499 cruise and here's a $1,299 cruise' without any sort of frame of reference. You've got to say 'this is $499 and this is what you are going to pay additionally for onboard the ship' or 'this is $1,299 and includes all of these things.'"
Cruise Categories Are Out-Dated
One misconception both Wallace and Lloyd urged the audience of travel advisors to let go of is the concept of cruise categories like contemporary, premium, and luxury.
"The biggest myth about Celebrity that I'd like to dispel is that we are a premium brand," Wallace said. "We are new luxury. That's who we are. It's basically all of the benefits you find with a luxury cruise line such as excellent service, an excellent culinary experience, and attention to detail… but where we have an advantage over those guys is, it's a big ship." That means Broadway-style shows, an expansive casino, multiple pools, and boutique shops too.
"You need to stop putting cruise lines into these categorized buckets," Lloyd said. "You cannot say that an inside on Oceania is a more luxury product than a Haven suite on Norwegian. It's simply not the case. Every single cruise line has different customers… find the right product that works for them but not based on where your preconceived ideas are, that this is a premium brand and this is a contemporary brand, this is a luxury brand."