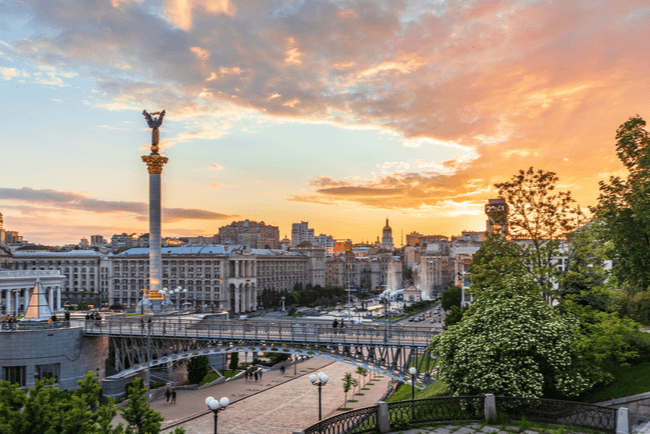 Story updating.
On Wednesday night, news broke that Russia had launched an invasion against neighboring Ukraine, another major geopolitical event that the travel industry will have to deal with as it is continuing its emergence from the COVID-19 pandemic.
According to the Associated Press, explosions were heard in Ukraine's capital of Kyiv, along with Kharkiv and Odesa, one of the major cruise ports on the Black Sea. While the situation is still unfolding and could change very quickly, here's how travel companies are currently reacting to the news:
Airlines
Lufthansa started halting flights to Ukraine on Monday, joining other European carriers including KLM. Lufthansa on Thursday said that all flights into Ukraine have been canceled until at least March 26. The carrier added that, at the moment, it was not stopping flights into Moscow.
Ukraine moved to close its airspace to civilian flights on Thursday after Russia's invasion began, which essentially halted all air travel into the country's airports. Bordering countries also did the same, including Moldova and Belarus.

Flights over Ukraine on Thursday. Source: FlightRadar
The European Union Aviation Safety Agency said that airspace within 100 miles of borders with Ukraine, including that in Belarus and Russia's own airspace in that area, could also be dangerous.
Tour Companies
Steve Born, chief marketing officer for the Globus family of brands, told TMR that the tour company is monitoring the situation, and has decided to make a number of itinerary changes.
"Our thoughts are with the people of Ukraine during this difficult time. The Globus family of brands is committed to the safety of our guests and as a result, we have proactively canceled upcoming tours to Russia," he said.

"We will continue to monitor the situation closely. If further alterations are needed, we will make them and update travelers and their advisors. We are hopeful for a quick and peaceful resolution to the situation."
A Travel Corp. (TTC) spokesperson told TMR that it is giving anyone booked to travel to Russia in 2022 options for rescheduling or alternative destinations, though it does not have any tours operating in the affecting areas at the moment and that all of its other European tours are operating normally.
"We are closely monitoring the Russia-Ukraine conflict. As always, the welfare and well-being of our guests and team members are our top priority," the spokesperson said.
Cruise Lines
Atlas Ocean Voyages said on Thursday that "as a result of current regional tensions," it was adjusting two late-summer 2022 Baltic itineraries.
The first is the Hamburg-to-Kiel itinerary that leaves on Aug. 26, which will see St. Petersburg dropped and Kotka and Mariehamn added; and the second is a Kiel-roundtrip itinerary that leaves on Sept. 7 that will see St. Petersburg dropped and the addition of Saaremaa, Estonia. Both ships sail on World Navigator, the line's debut ship.
"Atlas Ocean Voyages' top priority is the safety and comfort of our guests and crew," said Alberto Aliberti, President of Atlas Ocean Voyages. "With unrest in Eastern Europe, we have adjusted our voyages and replaced our Russia calls with equally exciting and charming destinations in Finland and Estonia. Guests will enjoy these unique and rarely visited destinations and immersive shore excursions to take in the rich cultures and breathtaking vistas of the Baltic."

Celebrity Cruises, in a statement to TMR, said that while no plans have been changed just yet, there are alternatives in place.
"The safety of our guests and crew is always our top priority and we continuously monitor world events, including the current situation in Ukraine. We are not currently sailing in this region and we will evaluate whether or not we will visit St. Petersburg, Russia, as scheduled for sailings starting in May. We have plans for alternative ports as needed and will communicate any updates to our guests. Guests do have the option to reschedule their sailing without penalty through our Cruise with Confidence program," a Celebrity spokesperson said.
Princess Cruises, which has an itinerary that includes St. Peterburg in late April, told TMR that it was not yet making any changes.
"In light of the current situation evolving in Ukraine, we continue to monitor this situation very closely and will amend itineraries as necessary as the safety and wellbeing of guests and crew is of the highest priority," a spokesperson said.
TMR is also reporting that other lines, including Viking Cruises, are making wholesale changes due to the crisis.