Carnival Celebration: First Impressions & Advice for Advisors
by Dori Saltzman /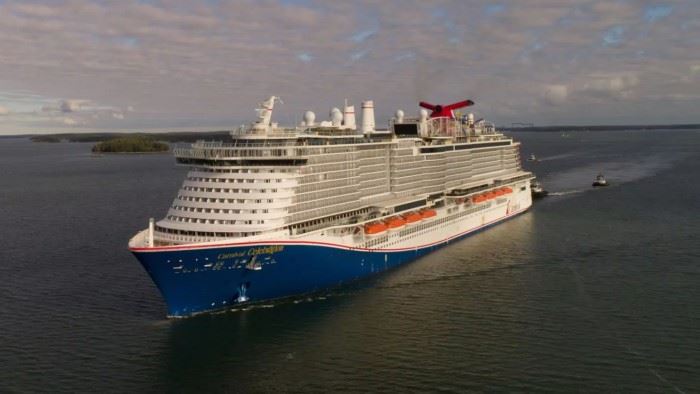 Carnival Celebration, the second in Carnival Cruise Line's Excel Class of ships, is the epitome of everything that Carnival stands for. Jam-packed with fun, Carnival Celebration is unabashedly a cruise ship. There's silly fun to be had, plenty of food to indulge in and lots to do from early in the morning 'til late at night.
The ship takes great pleasure in reveling in its cruise-ness. There's Carnival memorabilia everywhere on Deck 6, from the full-size 1934 Rolls Royce that came off of Carnival Ecstasy and the bridge-to-engine-room telegraph first found onboard the TSS Carnivale to the massive two-deck tall rainbow mural in the Aquaria Bar extracted from Carnival Victory to the artistic portholes that tell the story of Carnival Cruise Line from the 1970s through today. And that's not including the Golden Jubilee Lounge, which pays homage to Carnival's 50 years in business.
While Carnival Celebration is instantly recognizable as a Carnival ship, it's also different from any other ship in the Carnival fleet, barring sister-ship Mardi Gras. Not only is it bigger, it has a totally different entertainment and dining layout, and a suites-only outdoor area – something the line has always eschewed.
Travel Market Report recently spent a week onboard Carnival Celebration during its second-ever sailing from PortMiami. Here are some of our first impressions and things to know.
Lots of Free (& Extra Fee) Fun
Carnival Celebration maintains the cruise line's status as a fleet of "Fun" ships. With multiple venues open throughout the day offering games, dance classes and poolside competitions, as well as multiple water slides (including a freefall slide), a ropes course and mini-golf, there's so much fun to be had. And, because of the ship's size, it's the largest in the fleet (along with Mardi Gras, it's about 40% bigger than the next-largest ship in the fleet), there's usually more than one option at a time, something that isn't always the case on other Carnival Ships.
And that's during the day. At night, the entertainment ramps up with multiple comedy shows, Playlist productions in Celebration Central or the Grand Spectrum Theater, dance parties on the pool deck, and live music throughout the ship.
One of our favorite additions to the lineup are the midday comedy shows (usually starting around 3:30), either in the Punchliner Comedy Club or Limelight Lounge.
There's also plenty of extra-fee fun to be had for those willing to spend a little extra.
Riding the signature BOLT roller coaster, for instance, comes with a $15 a ride fee.
The once-per-week Deal or No Deal gameshow in Celebration Central was packed, with plenty of people plunking down money for a chance to win cash. (You don't have to buy a card if you just want to watch the show, which was quite entertaining.)
For foodies, there are a variety of hands-on cooking classes in Carnival Kitchen ranging from sushi or barbecue to cupcakes and more.
Advice for Advisors
Tell clients to book the hands-on cooking classes before sailing. By the time we boarded our cruise, every class except the cupcake class was full.
Food, Food, Food
Carnival has always been great for food variety, but Carnival Celebration takes the cake with nearly 20 dining options (including room service/anywhere-onboard delivery). Even better? More than half the venues are included in the price, with options for breakfast, lunch and dinner.
Unlike on other ships, where much of the free food is located mostly on the Lido Deck, on Carnival Celebration included dining venues are spread across the ship.
There's Pig & Anchor in the back on Deck 8. The Carnival Deli (Deco Deli) and Pizza (Miami Slice) have been moved down to Deck 8 and given their own seating area. Guy's Burgers has been moved up a deck above the Lido Deck and given its own large outdoor dining area. Taking the place of Guy's Burger on the Lido Deck is Street Eats, with its selection of dumplings, kebabs and cheesy fries.
One of the busiest spots onboard, particularly at lunch is Shaq's Big Chicken, located at the back of the buffet. We hope they give the venue a Guy's Burger-style space on later ships in the Excel Class.
Cucina del Capitano and Chibang (offering a mix of Chinese and Mexican dishes), both on Deck 8, are specialty-style restaurants offering lunch and dinner menus. Chibang was probably our favorite non-MDR free option. You can mix and match the dishes if you wish, having a Chinese appetizer with a Mexican entree (or vice versa).
The only problem with these venues is that diners assigned to early or late seating or shut out of dining at these restaurants until 7:45 p.m. or later. We sincerely hope this is something Carnival changes, because it's not uncommon for cruisers to get stuck with a late dining slot but would prefer early or anytime.
As with the main dining rooms, both Cucina del Capitano and Chibang require cruisers to check in before dining. Advisors should suggest that clients make reservation at these venues (particularly for dinner). Trying to check-in for dinner without a reservation at 6:30 will most likely result in a long wait.
With so many free spots, the buffet has been minimized quite significantly on Carnival Celebration. First, there's not a lot of dining variety. Secondly, the layout leads to a lot of gridlock during prime breakfast and lunch hours with not a lot of space but long lines.
Advice for Advisors
Travel advisors with clients used to older Carnival ships should advise them to avoid the buffet during peak hours. Remind them of the other free options, particularly at lunch.
Additionally, advisors with clients that want to dine at Bonsai Teppanyaki should suggest they book their dinner before sailing. With only three hibachi tables, it fills up fast!
Finally, new on Carnival Celebration, lobster on the second Elegant Night of the cruise is also available at Cucina del Capitano and Chibang – they just have to ask for it when ordering.
And, as always with Carnival, remind your clients to opt for Anytime dining as soon as possible, unless they specifically want an early or late dining slot.
Celebration Central
On previous ships,Carnival has toyed with moving some of its entertainment to "in the middle of everything" with its Ocean Plaza concept. But with Carnival Celebration, the line has gone all in with Celebration Central (the Grand Atrium on Mardi Gras).
The three-deck high atrium/theater is where you'll find a huge chunk of Carnival's entertainment and activities, from Bingo and Thriller dance classes to two of the ship's Playlist Production shows.
It's great during the daytime. Lively and fun and rarely too crowded.
Sadly, in the evening, the design of the space makes it clear why it's probably the weakest link on what is otherwise a fantastically well thought out cruise ship.
With a capacity for several hundred, we'd hazard that only 10% of that can actually see the action on the stage (or floor or midair, as the case may be). Truly, the sightlines are awful. And because of that, cruisers in the know stake out the best spots an hour or more before show time. The floor seats (the best seats in the house) are roped off and don't open until about 30 minutes before show time, but the lines are so long by the time it's opened that if you're not online an hour before, you're probably not getting a seat.
This was most pronounced for the four showings of The Most Magnificent Circus (which features quite a bit of aerial work). We got there 45 minutes early and were able to stake out a standing spot that gave us about 75% visibility. We made a game of counting the number of people who sat down in the front row of the stadium-style seating on Deck 7 (the middle deck of the three-deck high space), then got up because they couldn't see anything. It was well over 20 people.
Advice for Advisors
Crowds seemed to be thicker for the first showing and were definitely the worst for The Most Magnificent Circus. We'd suggest recommending clients confirm there will be four showings (over two days) of this show, then opt for the fourth show (second show on the second day), to escape some of the hassle of needing to find a seat or get in line more than an hour ahead of time.