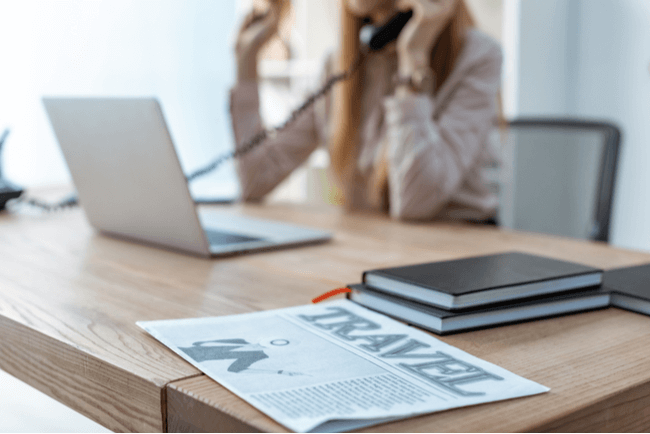 Putting customer service first, pushing back against things that scare you, and hitting the road for your own travel are three of the most important pieces of advice experienced travel advisors say they have for new entrants into the industry.
In this last installment of a five-part series, Travel Market Report spoke with several long-time travel advisors to find out what piece of advice they'd give new advisors if they had to boil it all down to just one thing.
(In last week's installment, we spoke to advisors to find out what advice they have specifically for independent contractors.)
Customer Service Comes First
Few people go to a travel advisor simply to book travel. Travelers who use advisors come for the service, including the depth of knowledge advisors can draw on, advisors' ability to guide people in the direction that's right for them, and the knowledge that someone is taking care of their needs.
"The industry is much different today than it was in the past," said John R. Schmitt, Jr., president of Frankenmuth Travel, a TRAVELSAVERS member agency. "Travelers have expectations, and the best tip is to do whatever it takes to understand them and fulfill them."
Ann Sadie Osten, president of Sadie's Global Travel Ltd., also a TRAVELSAVERS member agency, told TMR that includes meeting their customer service expectations.
"Always have a smile on your face when you're talking with potential clients or regular clients. They will know if you're having a good day by hearing your tone on the phone. Be positive and enthusiastic… Thank them for allowing you to assist with their travel plans."
David Locke, co-owner of Seize the Seas, an Avoya-member agency, echoed Osten. "Be nice! This is an industry of relationships and we are in a happy place selling vacations. Don't make demands and find common ground to find solutions for your clients."
Like Schmitt, Jr. Osten added it's important to meet your client's expectations. "Follow-through with what you promise. Be thorough. Make sure you call your clients when they return from travel to see how their experience was. Get feedback and listen."
Specialize
Penny Rushing of Four Points Travel, an Avoya-member agency, told TMR if she could tell new advisors only one thing it would be to choose a specialty.
"Specialize in the suppliers that you want to sell. Start with one supplier (cruise, tour, all-inclusive, etc.) and get to know their product inside and out."
"When you start out, you are tempted to say, 'I can sell anything,'" Seize the Seas' Locke said. "But if you are selling cruises, land tours, resorts, FIT, weddings… you will be a jack of all trades, master of none. If you buy or get leads from your host agency, limit the portion of the industry you are best at selling, and limit the number of suppliers' leads you chase. Don't put all your eggs in one basket, but become an expert and an 'insider' to one or two or three suppliers. Get to know now only the product, but some key people in the supplier's management team. You will succeed and the suppliers will support you."
Don't Let Fear Rule You
Several advisors TMR spoke with offered advice that boiled down to one clear message: don't let fear influence your decisions.
"Don't be afraid to change," said Alan Rosenbaum, owner of an Atlanta-based Dream Vacations franchise. "I've changed many times over the past years…. If you're afraid of change, you'll get stuck and you'll lose business."
For Rosenbaum, that's included charging fees despite the fear of losing clients. "There's been very little pushback. Don't be afraid. You don't want the bargain basement client anyway."
Change for Rosenbaum has also included switching up his marketing when old tactics – like newspaper ads – stopped working.
But fear can also stop advisors from choosing to specialize or from saying no, even when they know what the client is asking for isn't right.
"Always be upfront and honest with your clients," said Ray Teet, co-owner of a Florida-based Dream Vacations franchise. "It is better to say 'I don't think we can achieve the result you are expecting' than to mislead them just to make a sale."
Travel!
Part of what gives travel advisors an edge over DIY booking tools is the first-hand knowledge advisors bring to the table. But you can't get that if you don't travel… a lot.
"Travel, travel, travel," said Justin Smith, president of Ensemble-member agency The Evolved Traveler. "Don't pass up any opportunity to travel. When you can say, let me explain why that doesn't work, or let me suggest this and they know you've been there, they trust that. The more first-hand knowledge you have, the better an agent you're going to be and the stronger you're going to be able to serve your clients."
John Gawne, co-owner of a Virginia Beach-based Dream Vacations franchise agreed, saying being able to travel four to five times a year has given him the ability to be able to provide "first-hand knowledge of the products we are selling and the ability to share it with our prospects and customers," which he said has been essential to his success.
Do It Full Time
While working as a part-time advisor is possible, Gawne said it's hard to find success that way. If you're going to do it, do it full time, he emphasized.
"To be really successful, you need to consider this as your full-time job. Not berating part-timers, but success requires devoting your full time and resources to the job."
Service, Not Gifts
Finally, Richard Stieff, owner of a Florida-based Cruise Planners franchise reminded new travel advisors that the value they bring their clients is their customer service and their knowledge, not giving gifts or rebates or special perks.
"Do not start your career by giving gifts and amenities," he said. "The guest will expect them forevermore. Your 'gift' is your service and the fact that you are available to them whenever they have an issue or a need. Sell your service from day one."