AI Unleashed: Empowering Travel Advisors for Business Growth
by Parm Parmar /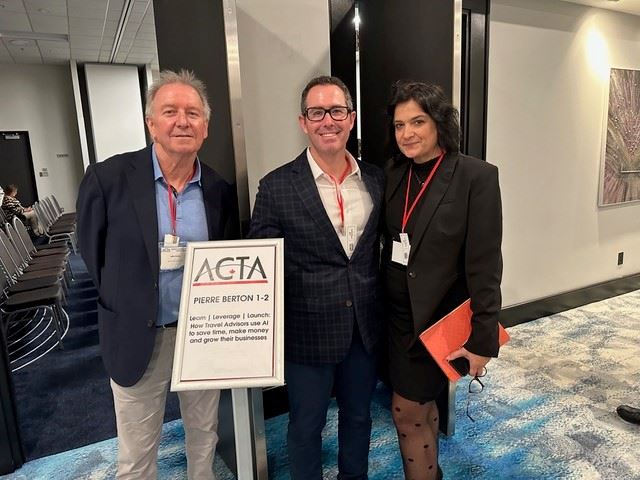 One of the most anticipated sessions at the Association of Canadian Travel Agencies & Travel Advisors (ACTA) summit was the Artificial Intelligence (AI) session with a timely focus on how travel advisors can leverage and grow their business using new tools.
Ryan McElroy, moderator, CEO, and founder of Travel Agency Tribes, a B2B travel Technology Company, started the session by saying, "I firmly believe that AI represents the most significant advancement for travel advisors, and it should be welcomed rather than feared. AI tools are something that you should embrace."
McElroy introduced his two co-panelists – Christine Vincent, business technology manager, TRAVELSAVERS North America, and Mike Foster, president, Nexion Travel Group-Canada.
Before starting the discussion, McElroy discussed AI's purpose and shared that most people are already using AI whether they know it or not. Think about "Siri" -- the iPhone assistant. Whenever you issue a command, Siri sifts through massive amounts of data before suggesting the output content and recommendations.
Another common example is Netflix, when the streaming service suggests the next show to watch, it's assessing AI data to determine recommendations based on your own past viewing habits and searches.
McElroy stated there are different types of AI, known as narrow or weak AI, and includes things like voice assistance, SIRI recommendations, and streaming platforms like Spotify or Apple Music. Next, there's General AI, capable of handling any intellectual task humans can.
"You might wonder, how will this impact my career as a travel advisor?" expressed McElroy. "Before travel advisors become concerned about their roles, it's essential to remember that this hinges on data. These machines undergo training and learn from code to enrich our lives. The bottom line is that the personalized experience and human touch that a travel advisor offers are crucial."
So, how can advisors embrace AI?
According to Mike Foster, leveraging AI in travel benefits everyone involved. It's akin to having a team of assistants at your disposal. Foster employs tools like Calendly to streamline calendar management, and similarly, you can utilize such tools to enhance your writing and thought organization. While he wouldn't recommend relying on AI for budgeting, business planning, or marketing strategy development, it's valuable for testing ideas and gathering feedback, such as exploring a fee model or seeking advice on selling customer fees.
McElroy emphasized "that embracing and leveraging this technology, rather than avoiding it, will accelerate your growth as a travel advisor."
As part of her job at TRAVELSAVERS, Christine Vincent comes up with website solutions for travel agencies. She specializes in getting agencies to utilize AI effectively and helps them understand how these tools condense extensive information into a user-friendly format that they can readily grasp and use.
"After the pandemic, we're not back to the same; we are back to better. So I'm looking forward to seeing how these powerful tools will give my travel agency a leg up on the competition, said Vincent. "The key to using AI is to ensure you are asking the right questions, known as prompts. Such as "Create ten captions for Instagram on why we should be going to Greece today."
"Play with your AI tools like ChatGpt or Copy AI, and keep refining your questions so you get the most relevant answers back. Context is crucial. If you're asking for restaurant recommendations at a particular destination, make sure the list is valid. With the pandemic, many places closed worldwide," emphasized Vincent.
Vincent personally likes using Copy AI because of how it is structured for blog posts. She prefers ChatGpt for emails, especially if she has to change the tone of disseminating information to co-workers or travel advisors.
"ChatGPT organizes my thoughts more clearly, and in seconds, I have content. I'll edit the content because we still need to supervise it. So although it's an amazing, resourceful tool, you're still looking over the shoulder of this intern (ChatGpt)," Vincent said.
Customized emails with a theme are easy to draft with ChatGBT; you can copy and paste them into multiple emails if needed.
Concerns about growing dependence on tools like ChatGPT?
Wilson said, "We're at the beginning of all this AI stuff. We won't recognize any of this six months, 12 months down the road, it'll be completely different. I mean, it's just changing so quickly. We will have more tools at our disposal than right now."
Wilson noted, "We're in the AI revolution's early stages. What we see today will evolve rapidly, and it will be unrecognizable in six to 12 months. The pace of change is astounding, and we'll soon have an even greater array of tools at our disposal."
Regarding access to information, it's worth noting that information dating to before September 2021 is free to access.
"However, a subscription or payment is often required for the latest updates. Reflecting on the past, consider the early days of the internet, like America Online; many of those companies have faded into history."
A few of the more commonly used AI tools Travel Advisors can use in day-to-day work include:
ChatGPT: an AI-powered language model developed by OpenAI, capable of generating human-like text copy.
Copy.ai: Creates Blog Content, Social Media Content, Website copy, etc.
Imglarger: an AI photo enhancer.
Grammarly: Helps you write mistake-free in Gmail, Facebook, Twitter, LinkedIn.
Bard Google: A chatbot AI tool by Google. (US only).
Bing: Microsoft's AI chatbot.
Magic Eraser: A free AI background remover for your images.
Instanovel: Generates the contents of a book.