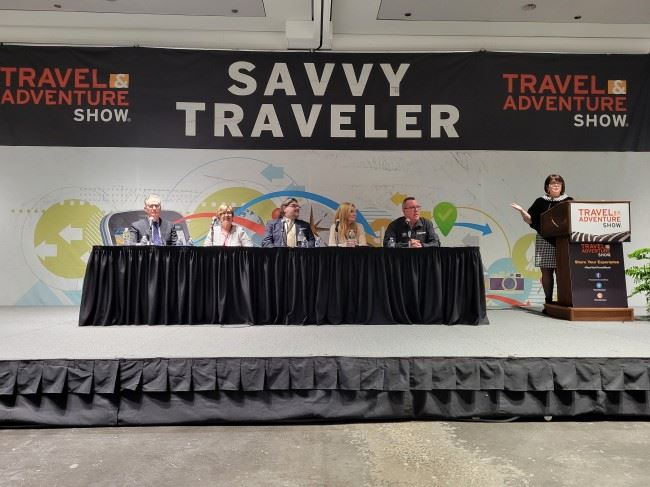 Consistency, a commitment to learning, and a plan for the future are some of the most essential elements necessary for success as a travel advisor said a panel of agency host, consortia and franchise leaders.
The panel, "Leadership and the Importance of Consortia, Franchisors, and Host Agencies That Represent Your Interests" was moderated by Anne Marie Moebes, publisher of Travel Market Report, and was one of several on offer to trade attendees at the inaugural New York Travel & Adventure show.
Characteristics of Top Advisors
Asked about the characteristics they see in their most successful advisors, panelists agreed that consistency in engagement, a commitment to education, and a business-first attitude are the most likely predictors of success.
"Those that are successful tend to do the same things," said Ignacio Maza, executive vice president of Signature Travel Network. "Number one, they engage. They engage with the network they belong to…, they engage with their travel partners and they engage with their best customers."
His choice of the word "best" was no accident for Maza, who cited the 80/20 rule. (Twenty percent of clients in most businesses drive 80% of the profit.)
"They look at this as a business not a charity," he said of Signature's most successful agencies. "They focus on their best customers and the people that take a lot of time and are not worth it, they let those people go."
Maza added that part of a business-first mentality is thinking long term. Don't just think about the trip you're planning for a client now. Ask them about the holidays or next summer. "We have to think of our best clients and have a plan, not just for today but for the future… so you have a continuous loop of possible trips coming up that your client is attached to and you are attached to them."
A commitment to education was top of mind for several of the panelists including Dan Hicks, vice president of franchise development at Cruise Planners. "You need to stay educated. Don't just take our classes. All of the suppliers offer classes, as well. Shows like this are crucial to your education… do the fam trips. Learn about the world. The more education you have, the more money you're going to make because there's more you can sell."
Nexion president Jackie Friedman agreed but said advisors shouldn't try to learn too much. "If you think you're going to know it all, you're wrong. If you focus on fewer things and get to know them really well, whether that's what your niche is or the type of customer you want to sell to, it will help you get up and running from an education perspective and it will help you be more effective from a marketing perspective."
Nancy Bennett, senior vice president of global sales at TRAVELSAVERS also emphasized becoming a specialist. "Educate yourself in something that you truly have a great interest in… become a specialist, decide what your niche is going to work best for you and market yourself," she said.
James R. Ferrara, co-founder and president of InteleTravel, agreed that education is important, but cautioned advisors not to get stuck on education. "You need to do all of that training, but all of that is runway. At some point you have to take off."
Ferrara said that among InteleTravel's most successful advisors, creativity and courage are the characteristics he sees most often. The courage to be creative when it comes to marketing and to creating different types of vacation products to sell, like Holy Land tours led by well-known church leaders or mega-Zumba cruises, both of which are types of travel InteleTravel advisors have planned.
Keep Your Bicycle Balanced
Friedman offered an analogy to help advisors visualize how to balance everything there is to know.
"When you think of a bicycle, there are two wheels. The wheels are the same size, and they're balanced. That front wheel is your soft skills, selling skills, marketing skills, communication, how you are to do business with. The back wheel of the bicycle is your knowledge, destination knowledge, booking tool knowledge. The thing you want to keep in mind as you evolve in your career is keeping your bicycle balanced."
New advisors with selling skills from past jobs might need to "pump air" into their back tire. Others might need air in both their tires. As business needs change, advisors might need to pump air into their front tire to learn new types of marketing.
Plan for Future Growth
To set yourself up for the future, panel members recommended having a plan, sticking to it and keeping on top your client database.
"It starts with a plan," said Friedman. "Know your why. Your why is 'why are you in this business in the first place and what are the high-level goals for your business.' Then break it down and have very specific goals… Put together a tactical plan. What are you going to do to achieve those goals? The most important things are to have a plan, make sure you work the plan, review the plan and adjust, and celebrate smaller successes along the way."
Maza agreed. "Some of the people who have been the most successful were the folks that had a plan and stayed on course despite the storm."
Bennett added that marketing needs to be a vital part of business plans, something that was particularly important over the past two years. "Agencies are doing amazing jobs on behalf of themselves, because so many of them have set an example. They are out there traveling and are on social media promoting it. They're promoting a desire to travel and that incentive to dream for their clients."
Maza also suggested that agency owners and advisors take the time to clean up their client databases. Get rid of contacts that aren't good anymore and look for prospects you may have missed. Agencies that took the time during the pandemic downturn to clean up their database "are seeing growth of 50%, 60%, 70% year-over-year because they are being a lot more efficient and effective," he said.
Industry Advocacy Starts with You
One issue Moebes raised during the panel discussion was the role of ASTA and agency organizations like the groups the panelists belong to when it comes to industry advocacy. Friedman, who sits on ASTA's board of directors said advocacy doesn't belong to ASTA alone, nor only to the panelists' organizations.
"Advocacy doesn't start and end with ASTA. They are the conductor but we are the orchestra and you have to understand the power of your own voice," she said.
In many cases, ASTA – and the host, consortia and franchise groups – can provide guidance and communication templates for agency owners and advisors to reach out on their own.
"Our organizations don't have as much power as you, the constituents in a particular area. But we can give you the tools and resources to be an effective advocate."